Issue Date: November 9, 2007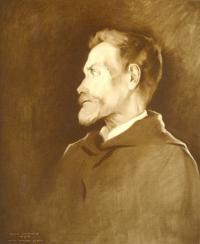 -- Courtesy of the Thompson Collection, Burns Library, Boston College
Portrait of Francis Thompson by John Lavelle
A misfit poet of heaven
Ne'er-do-well Francis Thompson wrote the still-haunting 'Hound of Heaven'
By VERONICA WHITTY
From 1887 on, a frail, shabby man with an abstracted air could be spotted on London's streets. He was constantly alone and would walk past, looking always straight before him. He would retrace his steps and go to and fro along a certain beat as if indefinitely postponing the moment of food or sleep.
If he had taken laudanum, which was frequently, he would look flushed and his eyes dazed.
He was the English poet Francis Thompson, who died at dawn on Nov. 13, a hundred years ago, at the age of 48.
Thompson wrote the poem "The Hound of Heaven," which begins:
I fled Him, down the nights and down the days;
I fled Him, down the arches of the years;
I fled Him, down the labyrinthine ways
Of my own mind; and in the mist of tears
I hid from Him, and under running laughter ...
Few religious poems have had such an impact on the society of their day. The author was a profoundly Catholic poet in a non-Catholic society.
Thompson was the son of a doctor who converted to Roman Catholicism. He was born Dec. 16, 1859, just 30 years after the Catholic Emancipation Act of 1829 had brought to an end official penalties against Catholics in Britain and nine years after the restoration of the Catholic hierarchy in 1850.
Anti-Catholic feeling remained widespread in Britain. Where did Catholic loyalties lie first: to the monarchy and country or to the pope? The question may go some distance toward explaining why Thompson, who used imagery drawn from the liturgy and doctrine of the Catholic church, never received the recognition that certain of his poems deserve.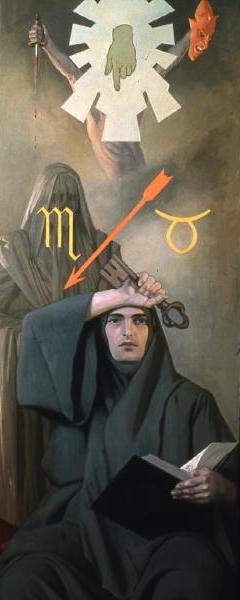 -- Courtesy of the Maryhill Museum of Art
The first image of R.H. Ives Gammell's series of paintings inspired by "The Hound of Heaven" by Francis Thompson
Thompson studied at Ushaw College outside Durham, England, for seven years from 1870 to 1877. He arrived at the Junior College at age 10, from his home in Preston, Lancashire. The Junior College was then a self-contained entity with its own chapel, refectory, dormitory and study rooms. Each boy had his own garden outside.
It was at Ushaw College, a Roman Catholic seminary, that Thompson first began writing poetry. The liturgy of the church was at the heart of college life, and it influenced Thompson's poetry for the rest of his days. At Ushaw, Thompson excelled at Latin and English; he was hopeless at math. He moved to the Senior College, but "nervous timidity" and "natural indolence" led the college authorities to advise him not to continue to study for the priesthood.
He left Durham and went to study medicine in Manchester and quit that after a row with his father. By this time, 1885, he had become addicted to laudanum, an opium tincture that was commonly taken at the time as a soothing powder. (Elizabeth Barrett Browning was another addict.) He asked his father for the fare to London and with an edition of Blake's poetry in one pocket and the plays of Aeschylus in the other he set off "without hope and with the gloomiest forebodings, in the desperate spirit of an enfant perdue."
Thompson wanted to make his way as a writer. His father provided him with a weekly allowance, which over time Thompson failed to collect. He got by with odd jobs -- tending horses, selling matches, pencils or bootlaces, running messages. Sometimes he would get the address mixed up or take too long. As long as he earned sixpence a day, he could sleep in a shelter, in an oblong box, without a lid, on a mattress with a leather apron to cover him.
In despair at the continual rejection of his work, in 1887 Thompson considered suicide. He was saved from it, he said, by a vision of the poet Thomas Chatterton who had taken his own life a century earlier and appeared to Thompson to restrain him from going forward with his death wish.
He continued to write poetry and prose and submitted manuscripts to Wilfrid Meynell, who ran a Catholic monthly magazine for the arts called Merry England. The editor tried but failed to contact him, so he printed one poem and then prepared to print another when Thompson came to visit him in 1888. Mr. Meynell recorded the visit thusly: "The door opened and a strange hand was thrust in. The door closed but Thompson had not entered. Again it opened, again it shut. At the third attempt a waif of a man came in. No such figure had been looked for; more ragged and unkempt than the average beggar, his feet without stockings, showing through his boots, his coat torn and no shirt."
He looked so thin and haggard that "he seemed in the last stage of physical collapse."
Mr. Meynell and his wife, the poet Alice Meynell, gradually began to take responsibility for Thompson and continued to do so for the rest of his life.
As a result, Thompson recuperated in the country and wrote "Ode to the Setting Sun" with lines that presaged what was to come later:
It is the falling star that trials the light,
It is the breaking wave that hath the might,
The passing shower that rain bows maniple.
Here Thompson uses the word "maniple," the name of the cloth that a priest wore over his right arm as he celebrated Mass, but he changes it from a noun to a verb to add impact. Thompson was to continue to change the use of words and invent new ones. He would use words that critics did not recognize because his reading was wider than theirs. Thus, "shard" is Shakespearian; "soilure" and "immures" are in "Troilus and Cressida"; "adamantean" is from Milton; "femineity" is from Browning.
"The Hound of Heaven" appeared in Thompson's first and most acclaimed book of poems in November 1893. The origins of the poem can be found in the spiritual writings of St. Augustine: "Thou was driving me on with thy good, so that I could not be at rest until thou wast manifest to the eye of my soul."
Meister Eckhart was another influence -- "He who will escape Him only runs to his bosom; for all corners are open to Him" -- as was the 13th-century medieval mystic Mechtild of Magdeburg, who recorded her heavenly visions.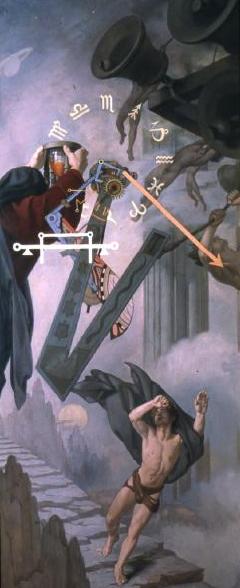 -- Courtesy of the Maryhill Museum of Art
The third painting in Gammell's "Hound of Heaven" series
Thompson may also have been thinking of the Romantic poet Shelley, a committed atheist, when he wrote his poem. Thompson wrote an essay on Shelley, whose words seem to anticipate some of Thompson's own in "The Hound of Heaven." Shelley wrote:
Once the hungry hours were hounds
Heaven's winged hound.
"The Hound of Heaven" is the song not yet of maturity but of declining youth, of the hour when we begin to draw up the balance sheet of dead friendships and to seek the name of that mysterious being who makes a desert around the soul in order to take possession of it.
"The Hound of Heaven" was read in all religious communities and schools and was popular with both Catholics and Protestants. " 'The Hound of Heaven' is the only religion left at Eton," said one of its students. " 'The Hound of Heaven' allows us to penetrate into the heart of a piety that is as natural as humor."
Thompson remained addicted to opium. He was always cold and invariably wore a great brown cape (an ulster) even on the hottest days, accompanied by a disastrous hat. He carried a fish-basket slung around his shoulders, which he used to carry away his books for review. His pockets bulged with telegrams and unopened letters.
He was not easy to care for, but his landladies in the lodging houses tried hard. He caused fires by leaving his pipe still lit in his coat pocket. In 1897 he inadvertently started a fire in his room and when he failed to put it out, he left the room and the house without alerting the other occupants. They, fortunately, woke in time to put the fire out. When he was asked why he'd left, he replied: "A burning building is no place to tarry." The same landlady had him back.
Thompson's New Poems appeared in May 1896. His poem "To a Snowflake" uses Thomas Hood's "Bridge of Sighs" meter and owes something to Richard Crashaw. Crashaw was driven from Cambridge when he became a Catholic in 1645 and took sanctuary in Italy. Thompson had published an essay on Crashaw in Merry England in May 1889. Here he speaks of "the human and lover-like tenderness which informs Crashaw's sacred poems, differentiating them from the conventional style of English sacred poetry, with its solemn aloofness from celestial things." He seems to refer to the "curled drops" of snow, as in a falling petal, in Crashaw's "Hymn of the Nativity" in his own poem "To a Snowflake."
What heart could have thought you? --
Past our devisal
(O filigree petal!)
Thompson sees God's power and presence in the perfection of the snowflake.
His critics did not know what to make of New Poems. Terms, symbols and whole concepts drawn from the Catholic liturgical and mystical tradition left them baffled.
However, Thompson could not have been plainer when he fell in love with Katie King, a young friend of the Meynells. There was opposition from her family and the Meynells. He wrote "Arab Love Song" for Katie King in which he implores her to leave her family and come to him:
And thou -- what needest with thy tribe's black tents
Who hast the red pavilion of my heart?
But Katie King married another man. She died in childbirth a year later in 1900.
Thompson lived on and off in London and Sussex and continued to write poetry. He reviewed books, wrote essays and was commissioned to write a life of St. Ignatius of Loyola for which he was paid a pound for every three pages.
Charles Lewis Hind, editor of The Academy, gave him as many books as he cared to review. Both editor and staff tolerated his unpunctuality for the sake of what he could produce. His appearance deteriorated, but he was never "seedy."
"Unembittered, he kept his sweetness and sanity, his dewy laughter and his fluttering gratitude," said Wilfrid Whitten, assistant editor of The Academy.
Thompson weighed just 70 pounds when he was finally admitted to the Hospital of St. John and St. Elizabeth, St. John's Wood, London, in November 1907. There he died at dawn, possibly of beriberi caused by lack of nutrition over many years. The artist, sculptor, woodcarver, letter cutter and typographer Eric Gill was asked to do his tombstone. Gill engraved on Thompson's tombstone in Kensal Green cemetery the words "Look for me in the nurseries of Heaven" taken from the final line from Thompson's 1893 poem to his godson, Francis Meynell.
In Thompson's room, among his papers, pens, broken pipes, newspaper cuttings and a bill for laudanum, Wilfrid Meynell found an unpublished poem. Titled "The Kingdom of God in No Strange Land," it begins this way:
O world invisible, we view thee,
O world intangible, we touch thee,
O world unknowable, we know thee,
Inapprehensible, we clutch thee!

Does the fish soar to find the ocean,
The eagle plunge to find the air --
That we ask of the stars in motion
If they have rumour of thee there?
"It was the potentiality in him for such a vision as 'In No Strange Land' incarnates," writes J.C.Reid, author of Francis Thompson: Man and Poet, "that drew people to him, and made those who knew him best make light of his faults. Thompson, may, for most of his life, have done grievous harm to himself; but he never injured anyone else. The poet in Francis Thompson is less important than the religious man."
Though Reid goes on to say, "The greater part of his poetry has already faded and is unlikely ever to arouse interest again," there remains the other Thompson, the poet of "The Hound of Heaven," "The Mistress of Vision," "All Flesh," "Contemplation," "A Fallen Yew" and "In No Strange Land," wherein precious experience is distilled in a bare, simple style and which we must acknowledge as enduring poetry. It is by such poems that Francis Thompson still lives; it is through these poems that we are brought to the heart of a vision so true and so profound that a life of suffering may seem small enough price to pay for it. For Thompson was right when he mused on a casual note: "Where I find nothing done by me, much may have been done in me."
Veronica Whitty has been researching the life of Francis Thompson for three decades. She offered tours of Francis Thompson's haunts in London in the early 1990s. She now lives in Newcastle-Upon-Tyne and recently published her autobiography.
Thompsonís diverse and unexpected influence
The poetry of Francis Thompson has had an influence in diverse and unexpected ways. His most famous poem, "The Hound of Heaven," is the source of the phrase "with all deliberate speed" used by the Supreme Court decision in Brown v. the Board of Education, the famous decision on U.S. school desegregation. The poem was admired by J.R.R. Tolkien, among others, and served as an inspiration for both a song of the same name by the Christian rock band Daniel Amos and a series of 23 paintings by the American painter R.H. Ives Gammell. The series drew on biblical and mythological sources, medieval and primitive culture and the ideas of Carl Jung and is considered Gammell's greatest work. The painter, who lived 1893-1981, completed the series titled "A Pictorial Sequence Painted by R.H. Ives Gammell Based on the Hound of Heaven" in 1956. The paintings are housed at the Maryhill Museum of Art in Glendale, Wash.
Boston College holds many of Thompson's original manuscripts and notebooks in the Francis Thompson Room at the college's John J. Burns Library. Ranging from Zulu to Afrikaans, there are more than 60 translations of "The Hound of Heaven" in the library's Thompson Collection.
-- NCR staff
National Catholic Reporter, November 9, 2007