Issue Date: November 9, 2007

A rabble-rouser in the parish
By COLMAN McCARTHY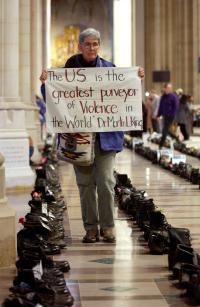 -- UPI Photo/Roger L. Wollenberg
At the Washington National Cathedral in 2005, Kathy Boylan protests against the war in Iraz as visitors view the Eyes Wide Open exhibit of boots representing U.S. soldiers killed in Iraq.
One of my favorite agitators is Kathy Boylan. One of hers is Dorothy Day. Fittingly, Ms. Boylan is a longtime member of the Dorothy Day Catholic Worker House of Hospitality in Washington.
Like those she lives with, Ms. Boylan, 64, collects and distributes food for the hungry, befriends families sheltered at the Worker house, gets arrested at peace demonstrations and serves prison time. On Sunday mornings, she attends the 9:30 Mass at St. Aloysius, a Jesuit parish near the U.S. capitol. Her letters on matters of concern to her have often been published in NCR.
Not everyone shares my admiration for Ms. Boylan and her agitations. Not Fr. Thomas Clifford, the St. Aloysius pastor. Not the parish council. And not a fair number of the flock.
It's Ms. Boylan's prayer, the one she offered one recent Sunday and similar to the countless others when she takes her turn during the prayers of the faithful and intones resolutely: "I pray for the millions of Iraqi brothers and sisters who have been killed in the 16-year war of the United States against the people of Iraq. I pray that all soldiers will put their guns down and refuse to kill. I pray that no young person will join the military. And I pray that we will not pay for war any longer. For this I pray to God."
I was sitting too far from Fr. Clifford, the celebrant, to note whether he joined with those in the assemblage of about 130 who answered "Lord, hear our prayer." But I do know that the priest has no taste at all for Ms. Boylan's prayers. On Aug. 28 he wrote to his parishioner and likened her supplications to a "tirade." He accused her of using "community prayer as the time for you to lecture the congregation ... and provoking members of the parish." Further: "Your abuse of this community has been a grave injustice for years. I clearly indicated to you both in writing and in person that you must stop. I had hoped that being made aware of the nature and purpose of prayer might cause you to change your behavior and your attitude towards the people of St. Aloysius. I had hoped in vain."
Oddly, St. Aloysius is the one parish where you'd think a Kathy Boylan would be a fine fit. It is known as a welcoming and caring community that attracts political progressives. It is host to the Father McKenna Center where counseling and comfort is given daily to poor people. On Sundays the gospel choir gets the place rocking. At the entrance, The Catholic Worker newspaper is on sale -- a penny a copy, same price since 1933.
My prayer is that good Kathy Boylan keeps at it. I have another prayer, that good Fr. Clifford stops overreacting. Has it come to this, that praying to end a war, to end militarism and to end bankrolling the killing is objectionable? What's wrong with a bit of fire?
Ms. Boylan, who contributes financially to the parish, argues that if anyone objects to her choice of words, the solution is to decline answering, "Lord, hear our prayer." That's her reaction to some petitions: "There were people here praying about football games and baseball games, and no problem. I don't want to pray about baseball."
It's true that Ms. Boylan has caused a pious brow or two to furrow in the next pew over or tempted someone to call out, "Knock it off, lady." When W sent troops to Iraq, she prayed for Saddam Hussein. She objected when the congregation sang, "God Bless America." Granted, too, she has occasionally spoken out of turn.
All right, she's not perfect. But it's mostly the prayers that steam the pastor, telling her to get calm or get out. "If you cannot respect this parish and its worship," he wrote to her last March, "you owe it to them to withdraw."
If I were the St. Aloysius pastor, I'd handle it differently. I'd go out of my way to encourage Kathy Boylan, not stifle her. I'd become her lecture agent, phoning Catholic elementary and high schools in the Washington area to get her in to speak at assemblies and in classrooms. I'd get her bookings at seminaries. I'd call the three Catholic universities in Washington -- Georgetown, Trinity and Catholic -- and urge them to hire Ms. Boylan to teach courses on social justice.
At whichever site, she'd be a natural. Plus a side benefit to the St. Aloysius uptights: She'd burn a lot of that excessive energy she brings to Mass every week.
Colman McCarthy teaches peace studies at four universities and three high schools in the Washington area.
National Catholic Reporter, November 9, 2007