Issue Date: November 16, 2007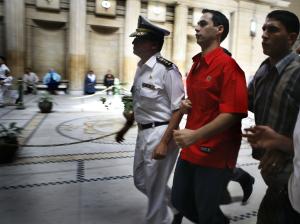 -- Reuters/Amr Dalsh
Police Capt. Islam Nbih, center, leaves a courtroom in Cairo, Egypt, Nov. 5, after he and Cpl. Reda Fathy were sentenced to three years in prison for torturing 22-year-old taxi driver Emad al-Kabir.
Anti-torture activists claim victory
By EMAD MEKAY
Inter Press Service
Cairo, Egypt
Anti-torture activists in Egypt scored a rare win Nov. 5 when an Egyptian judge handed down three-year prison sentences in a high-profile case to two police officers filmed last year abusing and sodomizing a man with a broomstick.
Torture is not uncommon in this country whose regime is known for its brutality, but what shocked the nation of 74 million people was that this act was caught on a mobile phone camera and deliberately distributed by the police in the victim's neighborhood to humiliate him.
The video clip was posted online, and later picked up by independent Arab media outlets and rights activists.
A search on the word "Egypt" on youtube.com will turn up several copies of the torture film along with other documented cases. Entire Web logs, such as kefaya7aram.blogspot.com were created to follow the case.
Dozens of Egyptian columnists have rallied around 22-year-old taxi driver Emad al-Kabir, seen victimized on the tape. Lawyers volunteered to defend him and bring the case before court.
The infamous video clip dates back to 2006 when police officer Islam Nabih arrested the victim, a young man in the poor Cairo neighborhood of Bulaq, who was known for challenging police officers and standing up against their harsh methods.
To break his will and make an example of him before others, the officer and his assistant Reda Fathy from Bulaq Dakrur police station in Giza governorate decided to sexually abuse the man on tape and show it around.
The graphic video shows the two men handcuffing the victim behind his back and using a broomstick on his anus. They ordered the victim to call himself names and to say that he was actually a woman.
Kabir's loud screams for mercy inspired several documentaries and TV shows on pan-Arab TV stations on torture and abuse in Egyptian and Arab prisons.
On Nov. 5, as dozens of media cameras and reporters looked on during the hearing, Kabir made an emotional appeal for justice, and broke into tears as he recounted to the judge how he was unlawfully arrested and abused.
When the judge sent the police officers to three years in prison -- previously unthinkable punishment given the immunity abusive police officers enjoy -- Kabir shouted in jubilation, "Long live justice! Long live justice!"
"That's all I wanted; for my rights to come back to me. I want nothing more," he said as he shouted the traditional cries of elation, Allahu Akbar! ("God is great!").
International human rights organizations say torture in Egypt is well documented and is widespread in police stations, sometimes even for traffic violations.
Groups like Amnesty International and Human Rights Watch point to the infamous State Security Investigations services for most of those violations. State Security Investigations have wide powers under the state of emergency that the government has maintained almost continuously for the past 40 years.
The human rights groups say that punishing abusive officers is the exception, not the rule.
"Trials of alleged torturers before criminal courts are mainly restricted to cases where the victim died, and only in criminal, not political, cases," said Malcolm Smart, director of the Middle East and North Africa program at Amnesty International. "In most cases, security forces have been allowed to act with virtual impunity."
National Catholic Reporter, November 16, 2007