Issue Date: November 16, 2007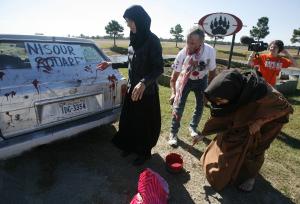 -- The Virginian-Pilot/Chris Curry
Protesters reenact the Nisour Square massacre at Blackwater Worldwide's headquarters Oct. 20 in Moyock, N.C. Blackwater security contractors have been implicated in the Nisour Square killings that took place in Baghdad, Iraq, Sept. 16.
Blackwater neighbors join protest against security firm
By PATRICK O'NEILL
Moyock, N.C.
For 10 years Teresa Stanley has lived in the shadow of Blackwater USA, the private contracting firm that has brought in about $1 billion in contracts to protect U.S. officials in Iraq.
Stanley, a member of Kitty Hawk's Holy Redeemer Catholic Church, said she brought her whole family, including her grandchild, and members of her parish JustFaith group with her when she heard a demonstration was being organized at Blackwater's headquarters Oct. 20. Seven people were arrested for civil disobedience at that protest. Stanley said she was there to support them.
Located on 7,000 acres in the northeast corridor of the state amid the Great Dismal Swamp, Blackwater, which recently changed its name to Blackwater Worldwide, has been under intense scrutiny since Sept. 16 when one of its security details fired on civilians in Baghdad's Nisour Square killing 17 civilians, an attack Iraqis say was unprovoked.
"I'm here because I welcome the opportunity to finally speak truth to power, to something that's been going on in our name," Stanley said as she stood in vigil near the end of Puddin Ridge Road at Blackwater's main entrance as local sheriff's deputies arrested the protesters. "To be a sign of solidarity and witness is just vital to making sure that we don't continue to have these atrocities done in our name."
Stanley, who is employed in the Richmond, Va., diocesan Office of Justice and Peace as Tidewater liaison for about 30 parishes, said Blackwater is allowed to carry out its work without accountability.
"This is the first time that anything's been done right here on the property, so yes, I feel like it's in our backyard and in some ways I'm ashamed that we haven't spoken sooner."
Fearing a counterprotest by Blackwater supporters, Stanley said she "put the word out quietly, but with great conviction that this is an important thing."
The protest, which was designed as a reenactment of the Nisour Square shootings, began when the protesters drove a station wagon riddled with faux bullet holes and red paint past Blackwater's gate. Wearing clothes stained bright red with paint, one person slumped over the steering wheel of the car, while others placed red-paint handprints on Blackwater's sign. All six then pretended to be dead. A seventh person was arrested for kneeling in prayer near the others.
Arrested were: Steve Baggarly, Norfolk, Va.; Beth Brockman, Durham, N.C.; Mark Colville, New Haven, Conn.; Peter DeMott, Ithaca, N.Y.; Laura Marks, Ayden, N.C.; and Bill Streit, Louisa County, Va. The six were charged with second-degree trespassing, injury to property and resisting arrest after refusing to walk to the police cars. The seventh protester, Mary Grace of Madison County, Va., who prayed, was charged with trespass only. Because they were North Carolina residents, Marks and Brockman were released without bond. The others were held in the Currituck County Detention Center for five days before a judge released them on unsecured bonds. They have a Dec. 5 court date.
Blackwater spokesperson Anne Tyrrell said the company did not release a statement about the arrests because the protest "didn't get all that much attention." She had no further comment other than to say Blackwater would cooperate with the prosecution of the seven if necessary.
For retired Catholic school teacher Vince Martin of Holy Redeemer, the Blackwater demonstration was his first. Martin said he and his wife attended the parish's JustFaith program (see accompanying story), and that led him to join the action.
In the past year since his retirement from Paul VI Catholic High School in Arlington, Va., Martin said he was inspired after reading JustFaith materials and Catholic social teachings.
"Blackwater and other contractors have to be better supervised and organized and held accountable by our State Department. That's the biggest reason I'm here, to call attention to what's happening and the little supervision," he said. "I guess I always held these opinions, but I've never acted on them. I never felt it was proper in my career to do these things. I think I'm more enlightened, more aware, more conscious of what's going on."
Kim Williams, wife of Steve Baggarly, one of those arrested, said, "Seeing him splattered with the [fake] blood really took my breath away, and it makes real for me what ordinary people in Iraq must be feeling when they have to see this every single day."
Tim and Renee McCarthy of Holy Family Catholic Church in Virginia Beach, Va., joined the group. "I just feel like we should be here," Renee McCarthy said. "We need to have a voice and say what we think."
Tim McCarthy said Blackwater's lack of accountability allows the United States to circumvent the rule of law and human rights standards.
"Blackwater's presence in Iraq undermines our own military's accountability," he said. "What we've done in Iraq has just been a horrendous deed in the world, and Blackwater has been a part of that."
A man who refused to identify himself stopped mowing his lawn and sat on his riding mower and watched the action unfold. He said the protest was the most excitement he'd ever seen on the street.
"Everybody has a right to their own opinion," he said. "I don't get involved. They [Blackwater] are my neighbors. Without them that road you're standing on wouldn't be there, and they've never given me any problems since they've been here. So I don't get involved against them."
Patrick O'Neill is a freelance writer living in Raleigh, N.C.
National Catholic Reporter, November 16, 2007