Issue Date: November 16, 2007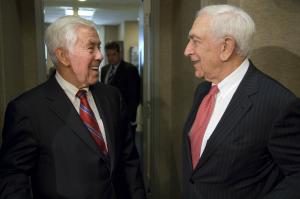 -- Congressional Quarterly/Scott J. Ferrell
Sens. Richard G. Lugar, R-Ind., and Frank R. Lautenberg, D-N.J., talk before a news conference on the Farm Bill.
Bipartisan alliance lobbies for Farm Bill reform
By THOMAS C. FOX
An unusual alliance of progressive and conservative groups lobbied vigorously last week in a last ditch effort to radically change the 2007 Farm Bill, attempting to end a system of farm subsidies widely criticized for favoring agribusiness while harming small farmers here and overseas.
Progressives such as Oxfam, Bread for the World, Environmental Defense, Environmental Working Group and the National Urban League joined conservatives such as Club for Growth, Council for Citizens Against Government Waste and the National Taxpayers Union, calling upon their members to support the Lugar-Lautenberg amendment to the Farm Bill.
As the once-every-five years Farm Bill was taken up by the Senate last week, Sens. Frank Lautenberg, D-N.J., and Richard Lugar, R-Ind., tried to persuade colleagues to pass their amendment instead of a $280 billion, five-year extension of current farm subsidies approved two weeks ago by the Senate Agriculture Committee.
Lautenberg and Lugar argue the committee's bill continues to send federal payments to big agricultural corporations that don't need them, especially when crops like corn are selling at or near record-high prices.
Their amendment would end Depression-era federal crop subsidies that benefit wealthy farmers in key agricultural states. Instead of subsidies, the amendment calls for creating a safety net that would be an insurance program available to all American farmers.
As currently written, the Farm Bill backed by the formidable farm lobby will pay out some $280 billion in commodity subsidies over the next five years.
Oxfam, calling for support of the Lautenberg-Lugar amendment last week, told its supporters that "all signs from the Senate Agriculture Committee indicate support for a status quo" bill that will keep in place "trade distorting commodity subsidies and do little to limit handouts to large corporate farms."
"The 2007 Farm Bill provides a powerful opportunity to reduce poverty at home and abroad," an Oxfam Internet alert stated. "The Farm Bill passed by the House of Representatives, however well-intentioned, maintains an unfair system of harmful commodity subsidies."
From fiscal years 2002 to 2006, the government spent $93.3 billion subsidizing "commodity crops" such as corn, wheat, rice and soybeans, flooding the international market with cheaper U.S. commodities. Farm Bill critics say the subsidies might keep the American farm economy going, but the policy threatens free-trade agreements and is a subsidy to wealthy agribusiness. They note that 72 percent of the money went to just 10 percent of the recipients.
Bread for the World asked its supporters last week to contact their senators and lobby for the amendment. The Lugar-Lautenberg Amendment, Bread for the World stated, would broaden the agricultural safety net by making a free revenue insurance program available to all farmers, "saving billions of dollars to be used for nutrition, conservation, the McGovern-Dole international school meals program and more."
Reform advocates were also backing a less sweeping reform measure, the Grassley-Dorgan Amendment, which would cap commodity payments at $250,000 per household, helping ensure that payments are better targeted to those who need them.
National Catholic Reporter, November 16, 2007