Issue Date: November 16, 2007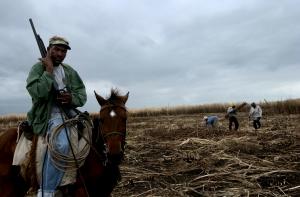 -- Walter Astrada
An armed guard watches over the fields of Consorcio Estatal Azucarero while behind, workers gather the sugar cane to be loaded in carts and transported to the refinery in February 2005.
'The Price of Sugar' tells a bitter story
By LAURA LLOYD
Even in the 21st century, the story of sugar isn't all sweet.
Dispossessed Haitian workers, many of them children, toil on plantations in the Dominican Republic, harvesting the cane that is refined into American sugar. Denied medical care, sick from unhealthy diets, unable to leave their temporary homes, the Haitians exist in a state of near-slavery. Guards on horseback toting rifles keep order on behalf of the Vicini family, who employ the Haitians. In this near-feudal society, the Vicinis have all the power. Meanwhile, not far away, wealthy Americans and Europeans lounge on sparkling beaches, unaware of the oppression nearby.
It's not a pretty picture, but few Americans would know about it if they didn't see "The Price of Sugar," an award-winning documentary directed by Bill Haney. Now in theaters around the country, the movie depicts the drama involved in Dominican sugar production and the fierce campaign of a Spanish priest who worked to make conditions better. The film is full of color and conflict, good guys and bad, and it makes the ritual of putting sugar into one's morning coffee a lot more awkward.
Haney, who calls himself a human-rights filmmaker, is a former businessman and a Catholic who spent much of his childhood in a monastery. "My father taught at Portsmouth Abbey in Rhode Island and I grew up around a lot of priests," he said. While not perfect, he noted, neither were they beset with the troubling behavior that has diminished some in the Catholic clergy. He said the priests he knew were, in general, fully human, complex individuals who sought to improve the world in one way or another.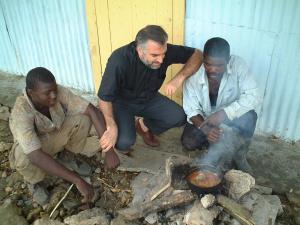 Fr. Christopher Hartley in the Dominican Republic
The undisputed star of the "The Price of Sugar" is a Spanish priest with the incongruous name of Christopher Hartley (his father was a wealthy Englishman and his mother a Spanish aristocrat). Like many religious figures, Fr. Hartley gave up a life of privilege and comfort to follow God. For years he worked with Mother Teresa. Then he landed in the Dominican Republic, looked at conditions in the sugar fields and started chipping away at the injustices he saw. Handsome and burly, he is the photogenic embodiment of the good priest: sacrificial, concerned with the poor and larger than life. Fr. Hartley starts out feeding the hungry Haitians and then takes on bigger issues: the secretive Vicini family, who stays behind shuttered windows and doesn't appear in the film.
They are the ones providing decaying barracks for workers, where they subsist on small wages and a diet heavy with sugar cane. The Vicinis turn a blind eye to child labor and the insecurity in which their employees work. Haitians come to the Dominican Republic of their own accord, drawn by stories of good paying jobs on sugar plantations. Instead, they find themselves in a legal no man's land, where they are denied the full rights that Dominican workers would have and exploited as illegal aliens.
According to the documentary, the Vicinis, as well as other sugar barons in the Dominican Republic, make political contributions in the United States. This ensures that the sweetheart deal continues between the two countries: The United States buys the entire Dominican sugar crop and pays twice the world price to monopolize the supply.
The movie depicts some of the improvements brought about by Fr. Hartley. Meanwhile, the Vicinis have chosen to make their displeasure known by filing a defamation suit in Massachusetts. They want to have "The Price of Sugar" removed from theaters. "They're taking a blunderbuss approach." Mr. Haney said. "So far, the lawsuit has cost me $25,000 or $50,000. Would I rather not be sued by foreign billionaires? Most certainly. Because they can say, 'If I decide to sue you, I can make your life complicated for a very long time.' "
Despite the unpleasantness of a legal challenge to the film's accuracy, Mr. Haney is optimistic about his work. He said he doesn't make movies in order to make money but to publicize causes -- and individuals -- that are meaningful to him. "I am interested in ordinary people doing extraordinary things," he said.
The Vicinis' lawyer was contacted by NCR for comment, but did not return calls.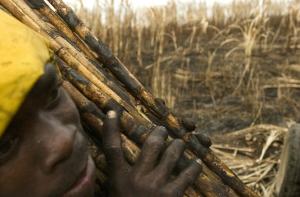 A Haitian man carries sugar cane from the fields.
"The Price of Sugar" took three years to make and cost $750,000. Mr. Haney served as the film's director, producer and screenwriter. It's the 10th film that Mr. Haney has been associated with, either as a director, screenwriter or producer. "All my mistakes are my own," said Mr. Haney, who called himself "self-taught" in both filmmaking and business. The filmmaker started his first business at age 18 while an undergraduate at Harvard University, selling it at age 26 for $15 million. After successfully investing in two environmental firms and a software company, Mr. Haney, 45, became interested in filmmaking in the mid-1990s. Based in Boston, he segues back and forth between documentaries and feature films. His next project, "American Inquisition," is a feature film about an African-American single mother who fights drug-related corruption, based on a true story. Mr. Haney wrote the screenplay and his partner in Uncommon Productions, Tim Disney, is directing.
Mr. Haney has come upon some of his documentary topics by chance, including "The Price of Sugar." He was helping to deliver medical supplies in the Dominican Republic when he met Fr. Hartley, who urged him to make the film and spread the message.
Mr. Haney's objectives for "The Price of Sugar," are to "help the Haitians. If more people see the movie, more will be inspired by Father Christopher and maybe they'll want to do something about the situation," he said. He recommends calling or writing congressmen and senators to register concern. He hopes "The Price of Sugar" will inspire Americans to think about their "consumer responsibilities" as well as immigration issues.
Looking forward, Mr. Haney is tempted by topics that may lay down a "bigger footprint." Not the Iraq war, where other filmmakers are already at work, but the topic of nuclear proliferation, he says. As someone who worked for Al Gore's presidential campaigns in 1992 and 1996, he has another idea gnawing at him: "redesigning the plumbing of our democratic system." He has found out that of the 180 nations that adopted democracy after the U.S. Constitution was written, only Nigeria exactly copied our system of government, all the way down to an electoral college.
Mr. Haney admits that a documentary about the Electoral College might be a hard sell with audiences. Still, he thinks about film projects that could make the world better. "Do I want to help the world be a healthier place? Most definitely. And would I rather 100 people see my films than 10? Yes, I would," Mr. Haney says. He adds that he didn't grow up wanting to be a filmmaker. Making movies is just an excellent way to share a story and a viewpoint.
Laura Lloyd is a freelance writer living in Kansas City, Mo.
National Catholic Reporter, November 16, 2007