Issue Date: November 16, 2007

Sign says, 'No trespassing' at the border, 'Help wanted' at the workplace
By RICHARD P. McBRIEN
One of the most difficult issues for U.S. politicians, and especially presidential candidates, to face nowadays is that of immigration reform. One common estimate is that there are at least 12 million immigrants who are in the United States illegally, without proper documentation. Those on the conservative side of the political spectrum tend to favor stronger enforcement. The more extreme among them believe that a longer and higher wall is the answer, while others believe that the 12 million must somehow be rounded up and deported. They do not say how this can be done.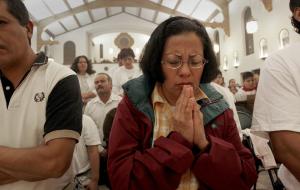 -- CNS/Eastern Oklahoma Catholic/David Crenshaw
Eva Esquivel prays during a special Mass dedicated to immigrants at St. Francis Xavier Church in Tulsa, Okla., Oct. 31. The Mass was celebrated on the eve of the implementation of a new state law that imposes penalties on those who provide assistance to illegal immigrants.
Those on the liberal and/or moderate side of the political spectrum express their appreciation for the contributions of immigrants, both those who entered the country legally and those who did not. The politicians among them propose some form of legal accommodation, involving stiff penalties for the latter group, but not deportation. Those on the right dismiss this as "amnesty."
The leading presidential candidate for the Democratic nomination, Sen. Hillary Rodham Clinton of New York, found herself caught in the middle at the end of the debate telecast late last month from Drexel University in Philadelphia.
She was accused of giving two different answers to questions about New York Gov. Eliot Spitzer's proposal that undocumented immigrants be given driver's licenses. Talk show conservatives had a field day excoriating her debate performance as a "debacle." Sen. Clinton later clarified her position as favorable to the plan.
This column, however, is not interested in the political dimensions of the issue, regardless of their importance. Immigration is also a moral problem, which Cardinal Roger Mahony of Los Angeles and others have pointed out. In early October at an immigration forum sponsored by the University of Notre Dame, Cardinal Mahony insisted that the church has to speak out on the immigration issue because of the Gospel mandate, with strong roots in the Old Testament, to welcome the stranger (Matthew 25: 31-46).
"To the church," he said at Notre Dame, "the immigration issue is primarily a humanitarian one. Because it impacts the well-being of millions of human beings, it has moral implications and must be viewed through a moral lens."
The overwhelming majority of those who cross the nation's borders illegally do so, he said, because they "simply want to work, and they work hard and contribute to the American economy."
The problem, he believes, is systemic. U.S. immigration laws are outmoded. The country admits too few immigrants each year and then employs an enforcement-only approach to the problem, "which has failed and led to more human suffering."
"As a result of this outmoded system," the cardinal continued, "migrants desperate to survive and support their families are compelled to enter the country illegally and, because of their undocumented status, become subject to abuse, exploitation and even death in the desert."
"In short," he pointed out, "our national immigration policies are not consistent but contradictory. While we post a no trespassing sign at our border, we erect a help wanted sign at the workplace."
"In considering the penalty for unlawful migration," Cardinal Mahony continued, "we also must consider whether the law that has been broken is itself a just one. ... I would argue that our current immigration laws are unjust."
The cardinal supports -- and urged Notre Dame students to support -- a bill sponsored by Sen. Richard Durbin of Illinois. It is known as the DREAM Act (Development, Relief and Education for Alien Minors), which would permit young persons who are foreign-born, without legal status and who have lived in the United States for at least five years, to adjust their status and eventually become citizens.
"This is not amnesty," Cardinal Mahony declared, "because the young persons who would qualify came to this country with their parents at a younger age and are without legal status through no fault of their own."
Needless to say, the cardinal is not popular with those who favor a punitive approach to the problem. But you do not have to be politically right-wing to have legitimate concerns about the importance of law and the protection of the nation's borders.
Unfortunately, there are extremists on both sides. Those on the left are sometimes quick to chastise fellow liberals and moderates who express such concerns, lumping them together with far-right elements whose views do, in fact, resemble those of the old nativist types responsible for such window signs as "No Irish need apply."
We should be able to work together rather than snipe contemptuously at our natural allies, especially within the church. I suspect that Cardinal Mahony would agree.
Fr. Richard McBrien is the Crowley-O'Brien Professor of Theology at the University of Notre Dame.
National Catholic Reporter, November 16, 2007