Issue Date: November 16, 2007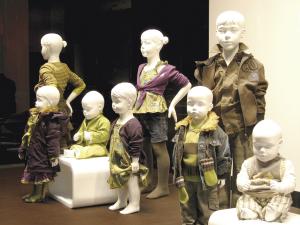 -- Dreamstime.com
Kids and consumerism
Social justice minded parents seek ways to resist pressures of commercial culture
By KRIS BERGGREN
The Declaration of Independence, the founding document on which our national sense of identity is grounded, mentions prominently "the pursuit of Happiness" as an essential condition of our American-ness. And to many Americans, that means the pursuit of stuff. One might sum up the aspirations of many Americans in the words of rocker David Lee Roth, "Money can't buy happiness -- but it can buy you a big yacht so you can pull right up next to it."
That's funny, but what's not so funny is the pressure that many American parents feel to supply their children with goods that not only clothe their bodies or occupy their time but are somehow linked to their children's happiness and well-being. Here's a perfect example of how some families find the lure of the marketplace irresistible: One misguided mom, profiled in an Oct. 25 Wall Street Journal article on "fashion bullying," had invested heavily in her sixth-grade daughter's prestige by filling the girl's closet with fashionista clothing brands like Juicy Couture, True Religion and Seven for All Mankind, only to see her daughter's popularity quotient nosedive as her pals moved on to other brands. Even the label names seem intended to tease the spiritually deprived American consumer toward false salvation. And if you're still not convinced that consumption is like a national religion, picture this: a bright yellow Hummer with this vanity plate: HE ROSE. I saw it with my own eyes.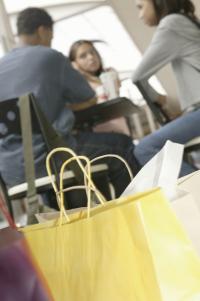 -- Jupiterimages
From toddlers to teenagers, marketers know a target when they see one. Designers are unabashedly creating high-priced collections sported by the likes of Madonna's and David Beckham's kids. Teenagers do tend to crave the coolest cell phones or i-gadgets with the newest features or colors. But even ordinary kids -- and little ones at that -- can get sucked into branding.
"My children are just starting to request things their friends have that they would like," said Rachel Morris of Minneapolis, who is reluctant to indulge budding consumer desires. "So they are starting to feel pressure. Toy guns, action figures, Game Boys are the kind of things Noah [age 5] wants. For Maggie [age 3], it's Disney princesses." Morris has managed to say no for now.
Though Morris limits her kids' television viewing and won't buy branded clothing, she admits she's tempted to buy stuff she doesn't really need, even if it's something small like the Halloween party game for Noah she bought impulsively at Target, but later realized she could have made herself. She likens in-your-face consumerism to an intravenous drug. "It's there. You can't battle it all day long. You just let it drip in."
Families who manage to resist rampant consumerism tend to be social critics. "I think the sense of consumerism in the American context -- being marketed to, made to feel insecure, and then filled up -- is really negative and harmful to us as a society," says Juliann McDermott of Minneapolis. She credits her own beliefs to her family's strong values about American privilege and responsibility for the needs of others. Maryknoll magazine was prominent reading material in her home. "I learned at an early age that although there were things I wanted, there were many people in the world who had genuine needs. Knowing that has helped me to feel lucky for what I have and to be content living as simply as possible." She and her husband John Alterini, an artist and cabinetmaker, share those values with their daughter, Johanna, 8.
But McDermott says consumerism isn't all bad -- people have needs and wants that are met through buying and selling goods. Denise Atwood of Spokane, Wash., agrees that Americans should be accountable to the global community for their consumer practices. "As the largest consuming country in the world we can make a lot of impact by our consuming decisions."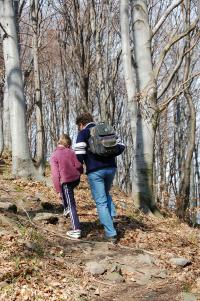 -- Dreamstime.com
Atwood and her husband, Rick Conner, own Ganesh Himal Trading, a fair-trade import company. With their son, Cameron, 10, they've made numerous trips to Nepal to source the handcrafted goods they buy and sell to about 200 fair-trade stores in North America. Witnessing the vast differences between the American lifestyle and that of the Nepalese people the family has befriended has honed her son's ability to distinguish needs from wants, said Atwood. "He doesn't whine for things. 'Because I have so much,' he says. He sees through other people's eyes how fortunate he is."
Still she recognizes the relativity of how Americans perceive those needs and wants. "I feel all the time I have way too much. For me, everything is relative to the people I work with in Nepal," she explained. "Others' lives may be relative to their coworkers [here]. They may see themselves as having less compared with their coworkers."
In Alpharetta, Ga., an affluent suburb of Atlanta, Jim Mahon, a retired electronics manufacturing sales representative and father of four adult children, teaches 100 eighth graders each week in his Sunday school classes at St. Thomas Aquinas Parish. He helps his students to connect the dots between what goes into their brains -- specifically the influence of media, advertising and peer groups -- and the choices they make as consumers, as citizens, and as Christian stewards of God's creation.
"I work with them on marketing and advertising," Mahon said. "Millions of dollars are poured into research to figure out how to get you to part with your money. There is nothing wrong with buying something, but don't get sucked into it. In fact I tell them spend your money, it keeps our economy going. But have a reason, don't just do it subconsciously."
One way to avoid the impact of mindless marketing messages is obvious: Abstain from the media that deliver them. Half the families interviewed for this article do not watch television. McDermott and Alterini don't, nor do they use the Internet at home, and "none of us knows how to play a video game," said McDermott, a Montessori elementary teacher. "That is probably where we are the most odd as a family," she admitted. And she won't buy brands that are advertised on television, or that bear a store name. But they aren't completely immune to their daughter's desire to fit in with friends; Johanna loves a certain type of T-shirt favored by skateboarders, so when she saw one and told her dad she'd like it, he bought it for her.
It's not surprising that families who forgo TV spend time reading, playing music or sports, or being outdoors. McDermott's family goes to the off-leash dog park weekly. "Spending time out of doors helps us to combat some of the consumerism. Because you don't need a lot if you are out walking in the woods; clothing is about function, not fashion. It's more about having experiences together than the stuff."
Laurie Powers, a lawyer in Spokane, takes Carter, 11, and twins Fiona and Bridget, 7, to the library each week to stock up on books instead of buying them. "They can see visually; if we were buying all this stuff, we would have books everywhere!" Her children practice karate and soccer together, and take piano lessons. They don't have television but they do have a game cube, and a Wii game system that Carter paid for himself.
These parents do give an inch. They know there are times when surviving the daily grind preempts idealistic values. As families' needs shift, they may depend more on conveniences that are less in keeping with their overall values, or conversely they may find time to be more conscientious about their choices.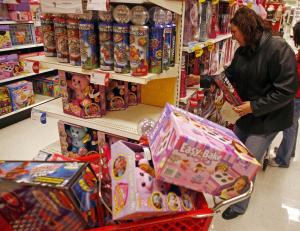 -- AP Photo/Darren Hauck
A customer loads up her cart as she shops for her two children the day after Thanksgiving at Target, Nov. 24, 2006, in Milwaukee.
Powers and her husband, Breean Beggs, also a lawyer, are activists who compost and recycle, serve on committees in the community and at their church, Westminster Presbyterian, and attend events like the Bioneers Conference, an annual gathering of progressives interested in environmental and social justice causes. Yet Laurie recalls, a few years ago the family "went through the McDonald's phase," during an especially hectic period when they were relocating to Spokane, remodeling a home, and juggling two jobs and three children.
"There was a time when that worked for us and that's just what we did. Now we have more time to be more conscious," Laurie said. Today the children are well versed in reduce-reuse-recycle practices and engaged in family decisions such as whether or not to go out to eat or to save the money and resources.
Living one's values is not a zero sum equation, in other words. The meal you finish tonight won't, in fact, immediately prevent a child from starving in Biafra, Iraq, Darfur or Haiti. But choosing not to waste food or to avoid excess packaging or to save money on brand names that you can invest in college savings or donate to charities or even buy fair-traded goods shows your kids you don't have to go with the flow.
Morris sums up her attitude about the daily experience of resisting the consumer machine. "It's really more a practice of awareness. It's a path. I want to be a person who thinks about all the issues that are related. And to know how I can be, at least, not part of the problem."
Kris Berggren is a Minneapolis freelance writer and longtime contributor to NCR.
National Catholic Reporter, November 16, 2007