Issue Date: November 16, 2007
N.J. church launches training on postpartum depression
By PATRICIA LEFEVERE
Newark, N.J.
Just when a woman should feel happiest -- upon giving birth to a child -- many are afflicted with deep sadness that lingers over months, even years, sometimes resulting in harm to the baby, as well as the mother and other family members.
Often the condition, which can rapidly progress from sadness to feelings of despair and even suicidal and homicidal thoughts, is kept secret as mothers are too ashamed to speak of it and friends and family members fear to intervene.
"This is a terrible disease," noted Newark Archbishop John J. Myers. Its affects not just the mother and her baby, but the whole family, he said.
On June 28 Myers welcomed some 80 attendees to the first ever archdiocesan-run training session for priests, deacons and pastoral associates on the topic of postpartum depression.
Meanwhile, the New Jersey Catholic Conference is working with the statewide Maternal and Child Consortia to educate clergy, religious and lay leaders in the state's 684 parishes to recognize the warning signals of postpartum depression.
Myers told NCR that the program was the first statewide initiative in the nation. It involves the Camden, Metuchen, Paterson and Trenton sees as well as the archdiocese. Two more workshops have been held since the one in Newark and each diocese has been asked to host at least one training session in 2008. Parishes and deaneries are also encouraged to plan training seminars, said Marlene Lao-Collin, director of social concerns for the New Jersey Catholic Conference in Trenton.
Whether the initiative expands to other parts of the nation remains to be seen, but Patrick Brannigan, the new executive director of the New Jersey Catholic Conference, shared the work being done with 30 members of the National Association of Catholic Conference Directors when the group met at a conference center outside Denver in August.
Those on hand for the training in June heard advice from several professionals working in the field and from a postpartum depression survivor (see related story).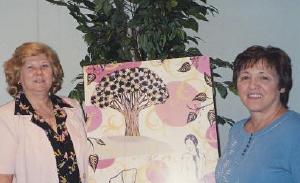 -- Patricia Lefevere
Judith King, left, and Kay Furlani at the Newark, N.J., archdiocese's session on postpartum depression.
Judith King gave a detailed presentation on how to spot the disorder and how to refer women for help. King is a social worker with the Hudson Perinatal Consortium in Jersey City, a provider of maternal and child health services.
"You know your parishioners. You know when something is not right with this person," King told participants. She encouraged them to be good listeners and not to "explain away" a woman's symptoms.
Among signs of postpartum depression are lack of interest in the newborn, crying uncontrollably, irritability, nervousness, low energy, feelings of worthlessness and guilt, lack of interest in family and friends, and changed patterns of eating and sleeping.
While a high percentage of new moms experience the "baby blues," these feelings are resolved within two weeks in about 80 percent of women with symptoms, King said. But in about one-fifth of the cases, baby blues evolve into postpartum depression. "We're even seeing some [postpartum depression] in men now," she said.
Just three cases in a thousand go on to postpartum psychosis, she said, "but these are the one that make the headlines." In this stage of the disease women may experience hallucinations, delusions or feelings of mania, racing thoughts and euphoria, King said.
In New Jersey, which has 110,000 live births annually and 800 fetal deaths, there are an estimated 11,000 to 16,000 women at risk for postpartum depression each year, she said. A higher percentage of single moms and those with low incomes manifest the malady than do those with a husband or partner and some financial security.
The Catholic church took notice of the disorder -- as did tens of thousands in the state -- when Mary Jo Codey, wife of former governor and state senate president Richard Codey, disclosed her "hellish 11-month journey" that brought her "to the brink of suicide."
At a news conference at the Newark Archdiocesan Center in May, Codey told how she'd been treated for postpartum depression several years ago. Her treatment included electric shock therapy. Codey, a Catholic, has become the leading advocate for postpartum depression education in New Jersey. She also believes the church can play an important role and help provide a "safety net" for pregnant women and new mothers.
As a result of the public attention the Codeys have brought to the sickness, New Jersey became the first state in the nation last year to require health care providers to screen new mothers for postpartum depression and educate them about it.
Fr. Donald Hummel, who directs the archdiocesan office for continuing education and formation of priests, and Kay Furlani, director of the Department of Human Concerns and coordinator of the initiative, helped gather a wide variety of archdiocesan personnel and pastors to the training session.
Furlani, whose daughter had postpartum depression three years ago, told NCR that the more parishes that are able to have someone reach out to women with these symptoms, the less likely will it be for women to feel stigmatized and alone.
Patricia Lefevere is a longtime writer for NCR.
National Catholic Reporter, November 16, 2007