Issue Date: November 16, 2007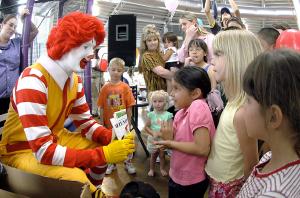 -- AP Photo/Roswell Daily Record/Andrew Poertner
Ronald McDonald visits with children at a McDonald's Restaurant in Roswell, N.M., in May 2006.
Hard to find sanctuary from $17 billion in marketing to kids
By TERESA MALCOLM
Parents who find their values in conflict with American consumerism face a juggernaut of marketing aimed at kids of increasingly younger ages, using a myriad of venues, more pervasive than simply television ads during children's programming. There are product placements in movies and tie-in toys sold at fast-food restaurants. Brands are featured in books and games and toys. Corporations donate to schools in exchange for direct advertising displays and products -- usually junk foods -- sold on school grounds. Channel One donates video equipment if schools agree to show its programming, including ads, to students every day. A private radio network pipes ads into school buses. And one company organizes slumber parties at which girls market products to their peers.
"Children are bombarded with marketing messages designed not just to get them to buy products, but to turn to brands for happiness and self-worth," said Susan Linn, author of Consuming Kids: The Hostile Takeover of Childhood. "Given that the amount of money corporations spend on targeting children has escalated from $100 million annually in 1983 to about $17 billion today, it's hard for one family in isolation to counter the messages alone."
Linn, who teaches psychiatry at Harvard Medical School, is cofounder of the Campaign for a Commercial-Free Childhood, which pushes for societal change to limit commercial messages aimed at children. Among the group's recent actions, she said, was to work with clergy to counter Disney's efforts to market "The Chronicles of Narnia" film in churches. "While the message of the movie was positive, it was rife with brand promotions [approximately $150 million in corporate tie-ins, according to the campaign's Web site] which really are antithetical to spiritual values," Linn said in an e-mail to NCR.
Linn, who is Jewish and a member of Temple Beth Zion in Brookline, Mass., said that faith communities can play an essential role -- by helping parents and children impart alternatives to commercial values and also "by ensuring that churches, mosques and synagogues are sanctuaries from commercial culture."
Adult family members can "provide satisfying, joyful life experiences that are away from commercial culture," said Linn, who has a grown daughter and stepson and two grandchildren ages 22 months and 5 years. "Baking, cooking, playing games, building, hiking, artwork, and all sorts of creative projects help children find satisfaction and meaning away from electronic screens, which really are primary sources of the false, and constant, message that 'things' will make us happy."
Jesuit Fr. John Kavanaugh, author of Following Christ in a Consumer Society, agrees. "You couldn't do a better thing for your child than to have them cut down on media time and add to time together. The experience of being with a person is so radically different from being with an object."
And now kids' personal relationships are often mediated through objects such as computers, which can be "a fantasy world," in which you "present yourself as a commodity," he told NCR.
"Parents, I think, acquiesce too easily," said Kavanaugh, an ethics professor at St. Louis University. "That's easy for me to say as a celibate, I guess, but I know parents who do not acquiesce. They help their child internalize the ability to say no, the ability to have an understanding of who they are that's not dependent on the expectations of other people. You're going to have a stronger child. Part of helping children to form their own identity is to help them understand the nature of limits, the nature of being able to resist."
Kavanaugh, who gives talks on media and consumerism at parishes, noted that youth rebellion against parental strictures is normal, but at a time when media and its commercial messages are "colonizing our lives," he added, "this is a struggle for freedom and I think kids respond to that."
Teresa Malcolm is NCR special sections editor. Her e-mail address is tmalcolm@ncronline.org.
National Catholic Reporter, November 16, 2007