Issue Date: November 16, 2007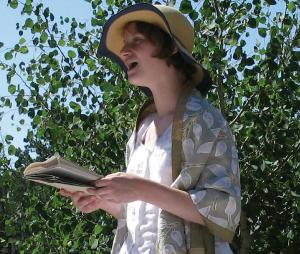 -- Religion News Service/Amy Usdin
Hannah Nemer reads from the Torah during her bat mitzvah ceremony on a Colorado mountain in 2005.
Some young Jews seek out alternative bar mitzvahs
By JOANNA CORMAN
Religion News Service
Hannah Nemer's bat mitzvah was still a year away, but already she was feeling reluctant about such a big production.
Based on other Jewish coming-of-age ceremonies she had attended, she worried the ritual would be more an empty performance rather than the spiritual transformation she desired.
But when her mother found Rabbi Jamie Korngold (aka the "Adventure Rabbi"), who agreed to perform Hannah's bat mitzvah on a Colorado mountain, Hannah knew she would find the spiritual meaning she was looking for.
She celebrated her bat mitzvah two years ago and returned to her Reform temple in a suburb of St. Paul, Minn., where she has immersed herself in congregational life.
"When I had my bat mitzvah, I really felt like I connected to God," said Hannah, now 15. "I really felt a spiritual connection after that, and it was something that had been missing before. When I came back to temple, I didn't want to lose that feeling."
Traditionally, bar mitzvah (for boys) and bat mitzvah (for girls) ceremonies are held in synagogues, where 13-year-olds demonstrate their proficiency in Hebrew and symbolically enter adulthood.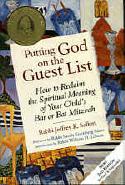 American families have been searching for ways to make the rite of passage more meaningful by changing the service, adding a charitable focus, taking it out of the synagogue or forgoing the fancy party, Jewish experts say.
"It's often the rebels who get us thinking about this anew and open our eyes to some of the possibilities," said Rabbi Jeffrey Salkin, author of Putting God on the Guest List: How to Reclaim the Spiritual Meaning of Your Child's Bar or Bat Mitzvah.
Yonah Biers-Ariel, a ninth grader from Davis, Calif., created an alternative rite of passage with the help of his parents. He studied Hebrew in preparation for a bar mitzvah, but as a self-described atheist, the ancient language of Jewish worship just didn't resonate. "I also thought it lacked a practical purpose," Yonah said.
His parents, Djina Ariel and Matt Biers-Ariel, encouraged Yonah to mark turning 13 in a meaningful way. This summer, Yonah, his parents and 9-year-old brother biked from San Francisco to Washington to deliver an anti-global warming petition to Congress with some 2,000 signatures collected online and along the way. Yonah delivered a speech about the trip to friends and family, accompanied by a slide show.
National Catholic Reporter, November 16, 2007