Issue Date: November 16, 2007
Connecting in cyber-parishes
Young Catholics find kindred souls on Facebook
By KATHY GILSINAN
Though much coverage in recent years has been dedicated to the revolutionary nature of Facebook -- a social network Web site that has exploded in popularity since its creation at Harvard in 2004 -- Facebook's ability to connect disparate individuals is nothing so new for members of the Catholic church. Facebook works according principles shared by any network, organization or even religion, making it easy for like-minded individuals to find one another and communicate. The Facebook difference is one of geography and scale. Catholics are discovering that if their geographic parish does not meet their spiritual needs, they can join cyber-parishes, organized around favorite causes and concerns. It can be a way of offering a handshake of peace outside the pew, even from the other side of the country, or the other side of the globe.
Molly O'Gorman, a young Catholic college graduate who works for the Service Employees International Union in Washington, likens a Facebook profile to a quick snapshot of an individual's life and concerns. Facebook allows you to either specify, or leave blank, various facets of your personality and indicators of your values -- relationship status, religious views, interests, activities, employment. You can list your favorite books, movies and TV shows. You can share pictures of yourself and your friends.
You can join or start a group. These are virtual collections of people, sometimes with as few as one member, sometimes with several thousand, ranging from inside jokes to support of political candidates to social justice concerns. Anyone can start a group, and groups are often set up so that anyone can join. O'Gorman notes that it's easy for her to find kindred Catholics if she sees a member who lists their religion as Catholic and has joined a group in support of a campaign to end student debt. When she worked for the American Medical Student Association's Health Equity Campaign, she recalls, she noticed that over half of the people who had joined their Facebook group identified themselves as Catholic. This encouraged her to seek the involvement of clergy, and helped her spread her message even further. This method of organizing has proven much more effective than wandering around a college campus with pamphlets in hopes of encountering a sympathetic soul and getting brushed off repeatedly. Facebook members can seek out the groups in which they would like to be involved. In addition, groups have message boards where their members can post notices of events.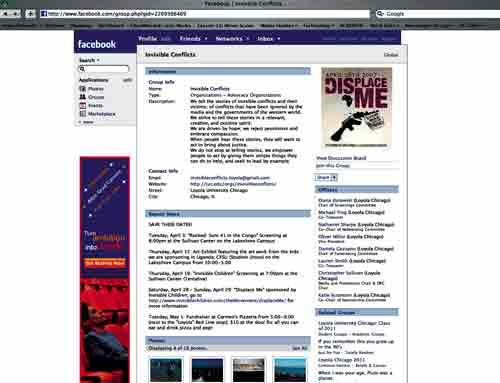 -- NCR staff
Loyola Chicago student Nathan Mustain's Facebook group focuses on the world's underreported wars.
Johanna Hatch, who is studying for her master's in theology at Washington Theological Union recounts similar experiences. "One thing that has been helpful about Facebook for my spiritual life is connection to other progressive Catholic young adults through [Facebook] groups like Call to Action and Catholics in Support of Women's Ordination," she reflects in a Facebook message. "It's also helpful for me to know that there are other people in solidarity with me. For instance, I started a group, Seminary Girlz, for women in graduate theology, since there aren't a whole lot of us out there." Indeed, she reports, the group has only has six members. Hatch notes, too, "It's nice for me to be able to keep tabs on my little cousin as she goes out to college in Utah."
Rebecca Boucher, a mother of five in Montana, also uses Facebook to find like-minded Catholics. She has found information and support there that have assisted her in her work at a crisis pregnancy center. She admits to being "a little nervous" about her 15- and 17-year-olds using the site, but she is happy that they can keep in touch with distant relatives and friends that way. She says it helps that they all use the same computer in the same room, so that she can keep track of whom they're talking to.
She reports to being amazed at the way young people publicly embrace their faith online. "They can see that this Catholic church is indeed universal by the contacts they have made."
Catholics are called to live the universality of the church in practice. It seems inevitable that the Internet would be part of that process, easing as it does the challenges of finding the faithful and aiding the needy of other continents. Invisible Conflicts, a campus-wide group at Chicago's Loyola University with a new branch at the University of Illinois, Urbana, has collected a number of loyal members. Nathan Mustain, a Loyola senior who founded the organization in 2006, says that the group's mission is to "tell the story of conflicts that are ignored." He founded the group after reading an article about a 20-year-old conflict in Uganda. He recalls being shocked by the article, not only because of the horrors it described. He was also vexed that he had never heard of Uganda's pain. "It's not right that it's going on and people don't know, especially in this age of communication," Mustain said.
He began dedicating himself to making his schoolmates aware of underreported wars. The Facebook group has helped get the word out, he said. In particular, members post videos from Invisible Conflict's office in Northern Uganda, which hosts an afterschool program with art and cultural activities for about 20 Ugandan children. Mustain describes a video of children singing their gratitude to the group's members. It is powerful, he said, for members' classmates at Loyola to see the videos on friends' profiles, proof that people their age have it in them to ease some of the world's suffering.
And cyber-organizing can be just as effective across campuses. There are hundreds of groups with thousands of members dedicated to raising awareness and money to stop the Darfur genocide -- some are campus-wide groups, and some are "global," meaning that anyone, in any campus, high school or city network, can join. One of the most popular groups, "For every 1,000 that join this group I will donate $1 to Darfur," has over 430,000 members from all over the world. It's a gimmick, and it works.
Kathy Gilsinan is a New York writer.
National Catholic Reporter, November 16, 2007