Issue Date: November 23, 2007
Labor of love can be financially draining
By VIJI SUNDARAM and MICHAEL SIV
New America Media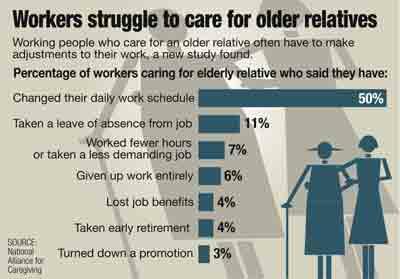 -- MCT/Quin Tian
Benjamin Baez, 100, needs someone to bathe him, change his diapers and remind him when it's time to eat.
Yet he can count himself lucky because he has someone in his own family who cares for his every need.
"He's slipping, but I take care of him 24/7," said his daughter, Linda Pleger, as she wheeled him into the Fremont, Calif., Senior Center last week, where about 50 other elderly residents had gathered, their caregivers in attendance so the City of Fremont could recognize them for their service.
"Caregivers rarely get any appreciation, let alone any rest," observed Nancy S. Rothschild, who coordinates the city's Family Caregiver Support Program, started six years ago with a grant from the Area Agency on Aging. "They don't have a whole lot of time to socialize."
Family caregivers are critical to enabling more and more individuals to stay at home, where family support gives individuals better survival skills. "A lot of seniors are terrified of nursing homes," asserted Carolyn Walters, a professional caregiver in the San Francisco Bay area for eight years. "Once they are put in unfamiliar surroundings, they start slipping fast."
Like Pleger, some 42 million Americans take care of elderly family members in their homes, according to an AARP study, taking on the title "family caregiver," a job many find themselves suddenly thrown into. It's a title more and more people are going to assume as Americans are finding themselves living longer.
"Family caregivers play a vital role and are the backbone for the long-term care network in this country," said AARP director of policy John Rother. "But the unpaid services they provide are not without costs. Lost time at work and reduced benefits add to the emotional and physical strain of actually caring for a loved one."
The AARP study showed serious economic consequences for caregivers in the workforce. The most frequent fallouts caregivers experience are having to take leaves of absence, going from full time to part time to adjust for their responsibilities, and putting their own health at risk. According to AARP, the productivity losses to U.S. businesses associated with caregiving are up to $33 billion a year.
Because Medicare, the federal health insurance program for those over 65 or disabled, won't pay for any long-term care for chronic illnesses, family members assume the duties normally provided by trained nurses and social workers. At most, some federal programs will pay for limited home care.
Pauline Le of the Orange County, Calif.-based Caregiver Resource Center said that 80 percent of family caregivers experience burnout and 68 percent experience depression.
Even though family members are shouldering enormous responsibilities, sometimes depleting money they had set aside for their own retirement or for their children's education, Congress has yet to make their burden less cumbersome. Last year it passed the Lifespan Respite Care Act, which provides funding to states to develop local respite-care programs for caregivers, but it has yet to appropriate money for the program. One of the provisions in the Act gives family caregivers tax credits.
"The only way we can slow the aging process is if it makes its way through Congress," maintained Rothschild.
Mary Masamitsu is a full-time caregiver to her 88-year-old husband Ken, a World War II veteran, who was diagnosed with "severe dementia" three years ago. Her husband's memory, she said, is getting dimmer each day, and he no longer knows how to feed himself.
"He doesn't know where to put his fork," said Masamitsu of her husband of 49 years. "Providing him care is a 24/7 job. My time is no longer my own."
Neither is Pleger's. Asked if she would put her father in a nursing home if his condition became worse, Pleger gasped.
"How can I do that?" she asked, sounding incredulous. "He's my papa."
National Catholic Reporter, November 23, 2007