Issue Date: November 23, 2007
SISTER WENDY ON PRAYER
By Wendy Beckett
Harmony Books, 144 pages, $21.95
A wise and witty guide to prayer
Reviewed by ERIN RYAN
Though she has been a hermit for the past 37 years, lots of people know Sr. Wendy Beckett. Her books and TV documentaries about art, such as "Sister Wendy's Grand Tour" and "Sister Wendy's American Collection," took her to galleries around Europe and the United States and brought her name into the homes of viewers everywhere. In an introduction to her new book, Sister Wendy on Prayer, David Willcock, a producer at Spire Films who worked on many of Sr. Wendy's TV programs in the United Kingdom, explains the nun's impact on the television milieu. Wherever they were filming, he writes, "Resolutely agnostic producers, world-weary crews and hard-bitten press men could all be found, once the cameras were wrapped, pressing for answers to deeply felt questions about life, God, prayer and religion."
Still, the 77-year-old contemplative nun always regards these sojourns into the media world as an interruption in her "real life" of prayer, which she lives out in her hermitage, a trailer behind a Carmelite monastery in Quidenham, Norfolk, England.
While writing Sister Wendy on Prayer, she says she hesitated at first to extend her insights. Most other people are not able to spend seven hours a day in prayer, and so "I have been tempted to think that my privilege invalidates anything I say." But she realized that some people are afraid to try prayer because it seems too complicated. Sr. Wendy's advice is just to do it. Prayer is simple, she says, and it is as unique as each of us.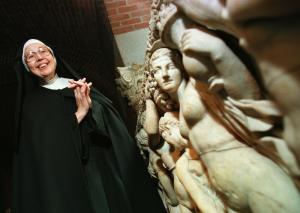 -- AP Photo/Victoria Arocho, File
Sr. Wendy Beckett stands near a sarcophagus at the Isabella Stewart Gardner Museum in Bostin in September 1997.
"Each of us is called to an individual fulfillment that only God understands," she writes in "Holiness," a chapter in Sister Wendy on Prayer. "Because we are all different ... 'holiness' will be different for each of us." In a chapter called "What Should I Do?" -- one of the most frequently asked questions she receives -- she writes, "The answer is of the usual appalling simplicity: Stand before God unprotected, and you will know yourself what to do." There is no magic template, no formula that can be followed.
Mr. Willcock's biographical introduction to Sr. Wendy is an integral part of the book. Without knowing what kind of person Sr. Wendy is, we have no basis for understanding where she is coming from. Early on, Mr. Willcock introduces an epiphany that Sr. Wendy had at age 3 or 4, a mystical experience of God's presence that "has shaped her entire life and thought." Sr. Wendy wrote in her own words that this was "an overwhelming experience of greatness and of goodness and of protection. I remember feeling with wonder that the world ... made sense, that it was God's world and I was a blessed child within it. ... From then on God was always with me, the center of all I did, giving it significance."
The young Wendy grew up to enter the Sisters of Notre Dame de Namur, the order that taught in the high school she attended in South Africa. She was sent to Oxford to study English in 1950 and spent the next 20 years teaching in local schools around South Africa and lecturing at Witwatersrand University in Johannesburg. All that time, she struggled with being in an active order that allowed only two half-hour periods for prayer. In 1970 she was allowed to leave the order and become what Mr. Willcock calls a "freelance nun," a consecrated virgin under the protection of the Carmelite monastery behind which she now lives. In the 1980s she turned to studying and writing about art, which put her on the radar of people producing a documentary about the British National Gallery. "When the program was transmitted, the controller of BBC2 rang the film's director and memorably told him to 'give that nun a series,' " Mr. Willcock writes.
Sister Wendy on Prayer is divided into three sections: "The Practice of Prayer," "Prayer and Belief," "Prayer and Personality." Within each section are short chapters of about a page, on particular themes such as "Virtue" or "Do We Need Organized Religion?" (The answer: It's up to you.) Throughout, Sr. Wendy weaves in reflections on different artworks as they enrich her own understanding of God. They range from an eighth-century icon of the Mother and Child to the floating rectangle of color that is "Judith Juice," an abstract canvas by artist Jules Olitski painted in 1965 to El Greco's "Christ on the Cross," which she calls one of the only images of the crucifixion she has been able to regard without flinching. Looking at great art, she says, fills her with "profound and transforming joy, a call to enter into something beyond what is seen."
In the biographical details and in her own words, Sr. Wendy emerges as a witty, honest, self-effacing, independent person. In these pages she judges no one. She is not concerned with inclusive language or with criticizing church doctrine or with promoting her way of life above anyone else's. "My regime, my life, may sound more romantic, more spiritual than yours, but yours is equally valid, equally a place for God to reveal Himself," she writes in a chapter called "Prayer in Everyday Life." "Crying baby, difficult boss, the pressures of the mortgage, all the horrors of the workplace -- none of these are invalidating; they just make part of the reality that is you, and it is only to this reality that God can respond."
This is a book that might best be read bit by bit rather than devoured all at once. Because it is so personal, the same concerns keep emerging: the supremacy of the individual relationship with God; the clarion call that prayer is a choice, not a feeling. Taken all at once, the emphases might seem repetitive, but taken slowly, each chapter emerges as a lucid pearl that reveals Sr. Wendy's passion for God -- a passion in which we are all invited to share.
Erin Ryan is an NCR staff writer. Her e-mail address is eryan@ncronline.org.
National Catholic Reporter, November 23, 2007