Issue Date: November 23, 2007
Contemporary tales of New York
Money haunts 'Before the Devil Knows You're Dead'; 'Bee Movie' hums with jokes and gags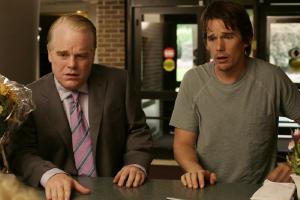 -- © ThinkFilm
Philip Seymour Hoffman and Ethan Hawke in "Before the Devil Knows You're Dead"
By JOSEPH CUNNEEN and KEVIN DOHERTY
As the year winds down, the major studios begin to bring out their Oscar hopefuls. Before the Devil Knows You're Dead, a brutal family drama directed by veteran Sidney Lumet, should be one of the top contenders. A contemporary tale of middle-class New York City and its suburbs, it has overtones of Greek tragedy. Two adult brothers, in constant need of money, devise an outrageous plan to rob a mom-and-pop jewelry store in Westchester.
Unfortunately, the mom and pop happen to be their own parents. Older brother Andy (Philip Seymour Hoffman) tries to maintain a lifestyle that includes an emotionally needy wife (Marisa Tomei), a drug habit and sexual liaisons in upscale Manhattan.
Beneath his smooth-talking confidence lies a life that unravels faster than the tie he keeps wearing. His younger brother Hank (Ethan Hawke), recovering from a miserable divorce and unable to keep up alimony and child support, lives in a shabby apartment where he is having a secret affair with Andy's wife. The robbery is doomed from the beginning, mostly by Hank's ambivalence, which leads to a series of clumsy mistakes that end up with two bodies in the street -- one, a hired punk; the other, their mother. A desperate cover-up by the brothers follows, but that too is doomed, as left-behind items and insistent witnesses keep pressing in. Their father (played by Albert Finney), in a performance that will make many viewers think of "King Lear," begins his own investigation, revealing truths that are almost unbearable.
The innovative screenplay by Kelly Masterson begins with the robbery, seen through the eyes of Hank, and is followed by a series of segmented flashbacks that are told from the viewpoint of each of the other men. The distinctive parts overlap, allowing viewers to retrace and complete scenes shown earlier. Each segment advances the story little by little, peeling away each character's tenuous facade. Strangely, the film moves from a cold nihilism to a strained humanity as we are unavoidably drawn into each story, sharing both the pain and guilt of these fragile characters.
Sidney Lumet has been making movies for 50 of his 83 years. Since "Serpico" and "Dog Day Afternoon," he has been one of cinema's top chroniclers of New York. Here he moves effortlessly into the Scorsese/Tarantino era without missing a beat. His work with actors is legendary and the performances he commands here are some of the best of the year.
The greed that surrounds the film leads director Lumet to project an edgy energy in all his actors as they struggle through a massive verbal and physical battleground.
Much of the story is told in its details, like the money, or the lack thereof, that permeates every scene. Money is talked and dreamed about. The real stuff falls out of suitcases and is thrown about in bars. Money not only propels the drama, it's the hidden desire that haunts everyone in this powerful film.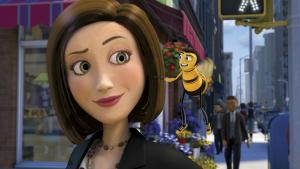 -- CNS photo/DreamWorks/Paramount
Vanessa, voiced by Renee Zellweger, and bee Barry B. Benson, voiced by Jerry Seinfeld, are seen in the animated film "Bee Movie."
You may have assumed that Bee Movie, the new release from Dream Works Animation, is only for children under 8, but give it a try yourself. Though it makes wonderful use of Central Park and New York, it's not as visually sophisticated as the best recent animation movies from Disney's Pixar, but it has a lot more verbal gags aimed at semi-grown-ups like you. This is hardly surprising, since its leading man (or bee, and also one of its script writers) is Jerry Seinfeld, better known for his work on television, as the voice of main character Barry B. Benson.
Barry, after three days in grade school, three days in high school and three days in college, is told he must choose his work, which he will have to perform for the rest of his life. His pal, Adam (Mathew Broderick), accepts his assigned role, but Barry is unsatisfied with his options as nectar stirrer and pollen crud picker. He ventures out into a dangerous world. A lovely flower shop owner named Vanessa (Renée Zellweger) saves him from insecticide, and he breaks the bees' code by voicing his thanks.
Fortunately, we're not given a chance to worry about the unlikely romance between them since there's lots of jokey one-liners delivered in Barry's detached or Vanessa's more enchanted voice, both of which work to develop their basically New York story.
Things get even crazier when Barry becomes a crusader with a cause after discovering that honey is sold in supermarkets while bees are forced to live in fake hives. He sues the whole human race, including Ray Liotta, Sting and a bee Larry King, who all play cameo parts. The courtroom sequence works well, but when the judge finds for Barry, the result is that bees and humans seem permanently at odds.
Most of you should enjoy the joke of considering Winnie the Pooh as a disreputable honey thief or of hearing the mosquito explain how he became a lawyer for the bees: "I've been a blood-sucking parasite all my life. All I needed was a briefcase." Needless to say, the movie's ultimate moral is that bees and humans should respect each other and work together, which should hardly alienate either the youngsters or the adults in its audience.
All in all, "Bee Movie" is first-rate holiday fun. Its understated, throwaway humor is pure Seinfeld, delighting in the small ironies of human and bee existence. It may even help you appreciate the hard work bees put in for the flowers, and for all of us.
Joseph Cunneen and Kevin Doherty review films for NCR.
National Catholic Reporter, November 23, 2007