Issue Date: December 7, 2007
As numbers grow, SOA protest evolves into teach-in
By PATRICK O'NEILL
Columbus, Ga.
In 1990, Maryknoll Fr. Roy Bourgeois convened a handful of mostly Catholic veterans for a fast at the gates of Fort Benning on the first anniversary of the murders of six Jesuit priests and two others at the University of Central America in El Salvador.
Some of the soldiers implicated in those killings were graduates of the U.S. Army School of the Americas, a Fort Benning training school for Latin American soldiers now called the Western Hemisphere Institute for Security Cooperation.
Seventeen years later on Nov. 18, Bourgeois stood on a stage and addressed an estimated 25,000 people packed into a street at the entrance to the fort for what has become the emotion-packed ending to three days of teach-ins, leafleting and protest. What began as a gathering to challenge U.S. Latin American policy has grown into arguably the largest ongoing antiwar protest in the United States. While the Sunday afternoon mock funeral procession and rally -- including tearful mourners, large puppets, lots of music and a drumming circle -- remains the iconographic center of the event, the weekend has evolved into a gathering spot and extended teach-in for thousands of young people whose concerns range over a host of social justice issues.
The event is largely Jesuit-driven, with busloads of students arriving from all 28 Jesuit colleges and universities around the country, as well as many Jesuit high schools. A vigil Mass sponsored by the Ignatian Family Teach-In drew a standing room-only crowd of more than 3,000 people to the Columbus Convention Center.
Ann Magovern, executive director of the Ignatian Solidarity Network, the group that oversees the teach-in, says the gathering is an important cross-generational experience for Catholic youth.
While young Catholics may be hard to find in a parish setting, such is not the case at the teach-in, Magovern said. "Here, it's the reverse. It's this huge influx of people who are between age 18 and 25, and then there's a really strong influence of mentors. The sense of the next generation of the church is really palpable, and probably really critical to the justice work of the church."
Magovern said the SOA experience and the teach-in is having a lasting impact on the students. "There are people who are campus ministers now who came to the teach-in seven, eight, nine, 10 years ago, and so now they're coming and leading their own delegations of students," she said.
Some parents and campus ministers have been wary about their children going to a protest. Magovern suggests they send a small delegation, perhaps with some parents, to scout out the protest. "Go, experience it and then make a decision," Magovern said she tells them. "That has really made a difference in some schools."
Magovern said her work does not end in Columbus. "The key is getting them to focus locally, really applying what they learned here in their local environment" through service and advocacy work.
Amanda Proulx, 22, is a senior at St. Joseph's College in Standish, Maine. This was her first trip to the SOA protest, and she was excited to talk about it.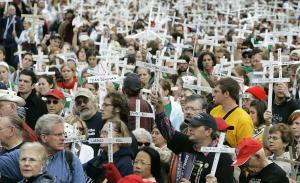 -- AP Photo/Rob Carr
Demonstrators hold up crosses during the 18th annual School of the Americas protest at Fort Benning, Ga., Nov. 18.
"My faith informs my values, my way of life and my love for all people," said Proulx, a theology and political science major who plans to go to graduate school in pastoral ministry and "work to create greater opportunity for feminine spirituality in the church."
Mentored by the founders of St. Joseph's College, the Sisters of Mercy, Proulx said the nuns who taught her are "understanding, compassionate and they are great witnesses for the power that women can have within the church."
Rebecca Hilton, St. Joseph's director of campus ministry, was also making her first trip to the SOA protest.
"It's a wonderful opportunity to get young people to start asking questions and trying to combine their conscience with their conviction. I think it's a great starting ground for people to realize that they have an individual responsibility as well as a corporate responsibility," Hilton said.
After completing a year in the Jesuit Volunteer Corps working with the North Carolina-based People of Faith Against the Death Penalty, Katie Maslanka, 23, took a job this year as Romero House coordinator at Denver's Regis University. Romero House is an intentional community on campus that focuses on simple living and peace and justice issues.
After her first visit to the School of the Americas protest, Maslanka said she agreed with her coworker, the university's faith and justice coordinator, Erin Benson, who called the protest and teach-in "the best that Catholicism has to offer."
Maslanka made the trip to Georgia by plane with 28 students and three other staff members.
"It's very moving for me to be here," she said. "It really opens people's eyes to the fact that these issues do exist and gets them out of the college bubble that we tend to be in, myself included, working on a college campus. I knew this is what my Catholicism should be, this integration where faith is justice and doing justice."
Regis senior Ashly Blincow was at the protest for the third year. After working for five weeks in a hospital in El Salvador last summer, Blincow met families that lost loved ones in the violence. This year, she came with a new purpose, to be in solidarity with the people she knows personally to have suffered because of soldiers trained at the School of the Americas.
On Friday evening and all day Saturday, Nov. 16-17, workshops were held on immigration, nonviolence, Christian community, environmental justice, with breakout sessions on Iraq, voter registration, Appalachia, the Ignatian Pro-life Network, opposing human trafficking and slavery, the aftermath of Katrina and parish social justice ministry.
Jack Jezreel, who coordinates the JustFaith program for Catholic Charities, said the focus of the weekend "has become much larger than just a focus on SOA. The SOA becomes a kind of symbol of a whole bunch of things that are wrong," Jezreel said.
"The delightful thing about this is it has become one of the largest, if not the largest gathering committed to peace and justice in the country, at least that I know of."
Jezreel called his first trip to the November protest a "hopeful and encouraging experience."
Even with its thousands of devoted peace activists, the SOA gathering represents just a small number of people working for change, but Jezreel remains hopeful. "The history of human kind is that human beings can make things better," he said.
Patrick O'Neill is a freelance writer living in Raleigh, N.C.
National Catholic Reporter, December 7, 2007