Issue Date: December 7, 2007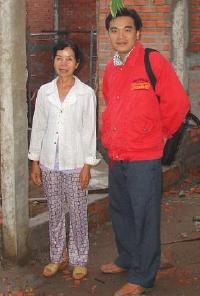 -- UCAN/Vu Phuong Bich Van
Fr. John Baptist Nguyen Tien Sang stands with Teresa Nguyen Thi Lien Hoa in front of Hoa's house.
Priest sings to build homes for the poor
By UCA NEWS
My Tho, Vietnam
Reluctant to ask people for money, a priest in southern Vietnam relies on a God-given talent to help him carry out his housing ministry.
"I sold many CDs of hymns I sang and used the money to build 30 houses for poor families in my three parishes this year," Fr. John Baptist Nguyen Tien Sang told UCA News.
"God gave me a fine voice, and I want to use it to earn money to help my poor parishioners," said the priest, who obtained a music degree in 1996 before studying at St. Joseph Major Seminary in Ho Chi Minh City.
Sang, 34, who was ordained in 2005, ministers to 2,600 Catholics in Ba Giong, Cho Bung and Tan Hiep parishes in Tien Giang province's Chau Thanh district, 31 miles south of Ho Chi Minh City. He is based in Ba Giong.
After celebrating Sunday morning Masses at his parishes, he rides his motorbike to Ho Chi Minh City, where he celebrates Masses and invites Massgoers to buy the CDs as a way to help him house poor rural people.
Sang has produced two CDs with 10 hymns each, relying on friends to record them for him. He sells copies for $1.25 each, the same price as other CDs of hymns sold at Catholic bookstores.
Martha Hoang Thi Ngoc Ly from Ho Chi Minh City told UCA News she appreciates Sang's effort to house the poor and bought 10 of his CDs as gifts for relatives and friends.
Another purchaser said many people would consider such a small donation insignificant, but "poor people like me feel happy that we also can do something for those who are even poorer."
Sang said money he earns from his CDs is used to build houses for poor families, regardless of religion. The total cost of each house is between $500 and $650. Sang buys around $350 to $400 worth of building materials and the beneficiary family covers the rest of the cost and the labor. If a family is too poor to afford even this, he covers the full amount, he added.
"I want beneficiaries to give their own money and labor to build their houses so they do not rely entirely on me," the priest explained.
Teresa Nguyen Thi Lien Hoa, a Cho Bung parishioner, told UCA News that her family was living in a wooden house with a thatched roof that left people inside drenched when it rained. Sang helped her replace that with a 530-square-foot house with brick walls and a sheet metal roof. Sang provided half the building materials.
Hoa, 56, who earns 31 cents a day making rugs, considers herself lucky to have the house, even though its doors and floor tiles have not yet been installed.
Anna Nguyen Thi Chi, 54, a single woman who looks after her 80-year-old mother, said Sang built a new house for them since their relatives could not help.
According to Sang, his parishioners support their parish priest with modest stipends: 75 cents for a Mass or a donation of fish they caught in the river.
The singing priest plans to produce soon a third CD, titled "Phu Van," or "drifting clouds."
National Catholic Reporter, December 7, 2007