Issue Date: December 7, 2007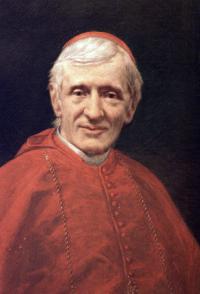 -- CNS/Crosiers
Cardinal John Henry Newman is depicted in a portrait in a church in Rome.
A cold shoulder to Cardinal Newman
By MICHAEL TRUE
Immersed in Catholic higher education for 40 years, I have heard administrators and clerics, though few academics, speak about something called the Catholic intellectual tradition. The presumption is that there is one, or that it's obvious which of various and conflicting traditions within Catholicism the person is referring to.
Educated at public and private universities and teaching at 20 others here and abroad, I have yet to discover any fundamental difference between Catholic institutions and other institutions of higher learning, with two exceptions. First, faculty and administrators at church-related institutions seem oddly obeisant to church hierarchy. Second, the Vatican occasionally exerts an anti-intellectual influence as it did in Pope John Paul II's apostolic constitution on higher education, Ex Corde Ecclesiae.
Catholic educators rightly regard John Henry Newman as belonging to their tradition, even when they don't abide by the standards for higher education advocated in his classic work, The Idea of a University. Similarly, Catholic neocons admire Cardinal Newman's "conservative" politics but ignore his "radical" theology, expressed, for example, in his 1845 "Essay on the Development of Christian Doctrine" and the 1870 "Grammar of Assent."
Cardinal Newman's alma mater, Oxford University, was his model academic institution for good reason. "Catholics did not make us Catholic," he acknowledged. "Oxford made us Catholic." And his lectures as founder of University College, Dublin, the first Catholic university in Ireland, reflect his experience as tutor, lecturer and chaplain at Oxford.
In projecting an Oxford model, Cardinal Newman faced suspicion and opposition from the Irish Catholic hierarchy, however, who preferred a glorified seminary to an authentic university. As a result, this internationally known figure remained under a cloud during the reign of Pius IX, until Leo XIII named John Henry Newman to the College of Cardinals in 1879. Under John Paul II and Benedict XVI, John Henry Newman again lives under a cloud. Few American campuses name Catholic student centers after Newman any more, the national Newman federation is gone, and his canonization has been long delayed, even though the investigation has been completed.
The challenge of The Idea of a University remains, nonetheless, as inspiration for secular as well as religious academics. So does Newman's definition of a university as "a place to which a thousand schools make contributions; in which the intellect may safely range and speculate, sure to find its equal in some antagonist activity, and its judge in the tribunal of truth."
The watchword of a university's true representative, he argued, "is live and let live. … If he has one cardinal maxim in his philosophy, it is that truth cannot be contrary to truth; if he has a second, it is that truth often seems contrary to truth; and if a third, it is the practical conclusion that we must be patient with such appearances, and not hasty to pronounce them to be really of a more formidable character."
Catholic higher education obviously contributes to that great conversation associated with the best in Western culture. Among American universities, Georgetown and Notre Dame set a high standard of academic achievement, as do smaller colleges such as Holy Cross in Worcester, Mass., and St. Catherine's in St. Paul and Minneapolis, now acknowledging insights associated with intellectual traditions of Asia, Africa, the Middle East and Latin America.
Although Catholic institutions pass along a tradition of learning, they appear reluctant to critique that tradition, the responsibility of any college or university worthy of the name.
Do Catholic students confront the fact, for example, that for 500 years Catholicism crushed any alternative to itself in Western Europe, having heretics burned at the stake or boiled in oil, discriminating against, exiling and killing Jews, crusading against Muslims, silencing Galileo? What about the church's recent alliance with oppressive rulers, particularly Franco in Spain and Latin America dictators?
During my undergraduate years, Catholic students were expected to get permission from their local bishop to read major texts, from Voltaire's Candide to treatises by Jesuit Fr. Pierre Teilhard de Chardin. More recently, the Vatican called several major theologians on the carpet, including Georgetown theologian Peter Phan, former head of the Catholic Theological Society. In exploring the relationship between Christianity and Eastern religions, Fr. Phan wrote that interreligious engagement may be a means of bringing Catholicism "to an awareness of its errors -- and sins -- with the assistance of people of other faiths."
In his recent book, Head and Heart: American Christianities, on the interplay between the Enlightenment and evangelism in U.S. history, Garry Wills quotes Newman as saying, "I shall drink to the pope, if you please -- still to conscience first, and to the pope afterwards." Acknowledging the primacy of conscience makes Cardinal Newman suspect among some members of the Catholic hierarchy, and he had little patience with apologetics, preferring vigorous debate instead. "The energy of the human intellect 'does from opposition grow,' " he argued in Apologia Pro Vita Sua.
Can we take seriously any intellectual tradition, Catholic or non-Catholic, that ignores the values Newman upheld against considerable opposition throughout his long, luminous career?
Michael True, emeritus professor at Assumption College in Massachusetts, wrote People Power: Fifty Peacemakers and Their Communities.
National Catholic Reporter, December 7, 2007