Issue Date: December 14, 2007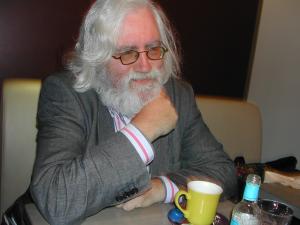 -- Margaret McClory
Theologian Eric Borgman
Like an Old Testament prophet
Eric Borgman is a Dutch force of nature whose opinions on Christianity in general and Catholicism in particular can be read on the op-ed pages of daily newspapers, heard on radio religion commentary and experienced in lecture halls at the Catholic university in Tilburg, where he is a professor of systematic theology. When he entered a restaurant in Utrecht for an interview, his bright eyes, long white hair and beard gave him the look of an Old Testament prophet. And he sounds like one, too.
Although Borgman, 50, is a member of the Dominican Lay Fraternity and gave one of the speeches at the recent conference on the order's recommendations concerning ordination, he immediately dismissed the proposals as "a last gesture of despair."
"It won't succeed, nothing will succeed!" Borgman thundered, his voice arousing the curiosity of other diners. "Nothing happens at the diocesan level in this country, everything is blocked, nothing works!"
There is only one question worth asking, he said: "What does it mean to be church in this situation at this time?"
The answer, he declared, is not to be found in ecclesiastical condemnations of secularization and not in rambling on and on about the culture of death. "That only reinforces the belief that the Catholic church has nothing to offer. The real answer is getting to know the people and dealing with the issues that are important to them." The church, he said, ought to have "a public presence at the center of society" where people are wrestling with the big questions like "what is community, how can a society be integrated, how do we deal with insecurity in a global society, how can we hope when we don't see a future? We need a theology of the public domain."
Borgman is convinced the themes of theology -- transcendence, compassion, salvation -- can speak to the world if translated into intelligible language and related to the signs of the time. "It's necessary for the church to stop emphasizing that there's something that only we have and start pointing to where God is already at work in the world, start showing the good that is already happening," he said.
"We'll not get leadership from the clergy," he insisted. "They only ordain people who are celibate and pious and can't lead anything." He paused for a moment. "You know, " he said, "we could really use some bishops who embody the tradition of Catholicism. That could be a beginning."
National Catholic Reporter, December 14, 2007