Issue Date: December 14, 2007
A writer, a rock star and a peacemaker
'Starting Out in the Evening' quietly studies a literary life; 'I'm Not There' is a confusing look at Bob Dylan
By JOSEPH CUNNEEN and KEVIN DOHERTY
Starting Out in the Evening is a quiet film that might drop into oblivion except for Frank Langella's masterful performance as Leonard Schiller, an elderly minor novelist whose life seems over. Heather Wolfe (Lauren Ambrose), a young graduate student from Brown, interrupts his work on a new novel, a project that has already consumed more than 10 years of his life. She asks for help with her master's thesis, which she naively hopes will lead a new generation to read his work.
Moviegoers are right to be suspicious about these May-December encounters, and though director Andrew Wagner handles their relationship with tactful humor, Heather seems too coy and intellectually naive to be taken seriously.
More satisfying is the story of Leonard and his devoted daughter Ariel (Lili Taylor), worried about her biological clock because of her intense desire for a child. Ms. Taylor is radiant in the plot as she is torn between her dream and her love for Casey (Adrian Lester), a personable young black admirer whose resistance to fatherhood had led to an earlier breakup.
Mr. Wagner alternates cleanly between the two halves of his story, making clear that Leonard cares deeply for his daughter, even as he is flattered by Heather's attention. Mr. Langella deserves an Oscar for the way he breathes dignity into every expression and movement of this old-time intellectual.
The movie, based on Brian Morton's novel, captures the atmosphere of an older New York literary generation. The movie's restraint, apart from an unwise musical score, works to its ultimate advantage. Leonard comes to appreciate Casey after the latter shows genuine concern for him when he is physically weakened by a stroke, but the movie refuses to tie up its plot lines with a neat bow.
Although Heather may not have made Leonard a hot literary property, she has forced him to reflect on his life and recognize that his characters haven't been doing anything interesting lately. Starting Out in the Evening makes us care about the concerns and limitations of the lives it presents largely because it brings them to vivid life yet refuses to sentimentalize them.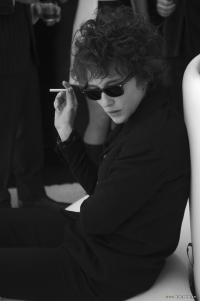 -- © Weinstein Company
Cate Blanchett in "I'm Not There"
The much anticipated biographical film about Bob Dylan, I'm Not There, is so confusing even ardent fans of the singer/songwriter will find it a disappointment. Todd Haynes, its director and screenwriter, has attempted to concretize Dylan's protean quality by using six different actors to play him at different points of his life, including Christian Bale, Heath Ledger, Richard Gere and the 13-year-old African-American star Marcus Carl Franklin. Even more surprising is the casting of Cate Blanchett as Dylan.
These different actors perform in a non-narrative that jumps back in forth in time, covering Dylan's life as an imitation Woody Guthrie, a finger-pointing folk-singer, a superstar, an evangelist and finally as a recluse.
In an attempt to convey a kaleidoscope-like vision, the film frequently switches from black-and-white to color, each segment paying homage to cinematic styles found in Fellini's "8 1/2" or Robert Altman's "McCabe and Mrs. Miller." Such impressionistic posturing makes it difficult to locate the enigmatic artist. Perhaps this was the film's initial point, but it strains so hard to achieve this goal that it leaves us with a view of Dylan that rings as false as others that have been offered.
The one shining moment is Ms. Blanchett's portrayal of Dylan as the pop star of the mid-1960s when he was at the top of his creative powers and yet ready to collapse under the stress of his worldwide success. Fuelling himself with drugs and involved in the Andy Warhol art scene, he constantly battles a press and public intent on pigeonholing him for their own needs. The chameleon-like Ms. Blanchett creates a chilling flashback of the artist on the brink of disaster.
Director Haynes has always tried to bring art to the multiplex ("Far From Heaven"). Here he takes on a performer so unique and elusive that viewers are better served by the excellent documentaries of Dylan by D.A. Pennybaker and Martin Scorsese.
Director Jonathan Demme ("Silence of the Lambs") has moved back into documentary filmmaking with Jimmy Carter: Man of Plains, offering a sensitive portrait of perhaps the most active ex-president in U.S. history.
A look at Jimmy Carter's 2006 coast-to-coast tour for his book Palestine: Peace or Apartheid, it highlights his argument that Israeli policies have created a host of human rights violations in the daily lives of Palestinians. Its publication even brought accusations of anti-Semitism, but the film gradually reveals the ex-president's thoughtful position by letting the interviews and lectures he gives along the way reveal his basic convictions.
Whether talking to Jay Leno or Charlie Rose, Jimmy Carter's gentle but firm style supports his conviction that the injustices of the Israeli occupation must be recognized, but that a solution can be achieved through negotiations and consensus. Many, of course, see his position as impractical in a dangerous world. Mr. Demme dramatizes the issue by filming President Carter's meeting with a group of Phoenix rabbis who denounce his book.
The film offers new and archival footage from meetings at Camp David to barbecues at Jimmy Carter's Georgia farm. What ultimately comes through is his openness and concern for others, even helping people build homes in hurricane-ravaged New Orleans.
Kevin Doherty teaches film at Manhattanville College in Purchase, N.Y. Joseph Cunneen is the author of Robert Bresson: a Spiritual Style in Film (Continuum).
National Catholic Reporter, December 14, 2007