Issue Date: December 14, 2007

The missing multitudes at the Wall
By COLMAN McCARTHY
It's called simply the Wall. For many, it's a healing wall. For a few, it's a wall for wailing. Twenty-five years after its dedication in November 1982, the Vietnam Veterans Memorial is Washington's most visited public site. A black granite chevron nearly 200 yards long, the Wall carries 58,256 names of American men and women killed in a war doomed from the start in 1962 and damned at the end in 1975.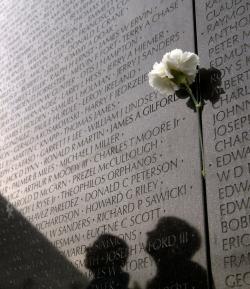 -- MCT/Pete Souza
The Vietnam Veterans Memorial in Washington
Families weep at the Wall. Surviving soldiers touch the engraved names of fallen comrades. Day and night, people lay so many mementos -- pictures, prayer books, old battle flags, boots, dog tags, poems, plaques -- that the National Park Service stores the collected leavings in an ever-bulging federal warehouse.
In mid-November, a parade of several thousand Vietnam veterans marched along Constitution Avenue to the Wall for its rededication. Yet for all of the memorial's stark grandeur and for all of the emotions that are rightly stirred, the Wall is incomplete.
Why aren't the names of the 2.4 million Vietnamese war dead also engraved? Why no Cambodians and Laotians? Why not the names of the estimated 100,000 Southeast Asian men, women and children killed since the war's end by land mines? Aren't the lives of every victim worthy of remembrance? Or only Americans?
If an inclusive wall were to be built, and not a nationalistic one, it would easily stretch for two miles, not 200 yards -- from the nearby Lincoln Memorial to the U.S Capitol.
Something else was missing at the rededication: Robert McNamara, Henry Kissinger and Alexander Haig, the surviving Big Three who carried out the vile policies of Lyndon Johnson and Richard Nixon to trash Vietnam, Cambodia and Laos and slaughter millions of villagers and peasants.
Of course none of these warlords showed up. In the 32 years since the American defeat, Mr. McNamara, Mr. Kissinger and Mr. Haig have never reached out in any meaningful way to campaign for programs or legislation to serve Vietnam veterans who were physically or mentally traumatized by combat. Going to the Wall would risk the kind of scorn voiced by W.D. Ehrhart, a Marine infantryman wounded in the bloody battle of Hue, who wrote in The Philadelphia Inquirer on July 4, 1989: "Not once in all these years have I ever heard a single high-level policymaker of the Vietnam war apologize for what he did, ever admit he made a mistake, ever show the slightest sign of remorse for all the havoc and misery, the shattered lives and shattered nations left gasping in the wake of his decisions. …
"They asked my friends and me to get down and dirty in the rice fields only to abandon us under fire. We did the killing and the dying, and then they left us to find our own way back while they went on with their honorable lives as if nothing at all were out of order."
It's happening again. Those who revved the invasions of Afghanistan and Iraq -- Donald Rumsfeld, Paul Wolfowitz, Richard Perle, Ken Adelman, William Kristol, Karl Rove -- have moved on. Instead of being treated as pariahs for their lies and cons, they perch at think tanks, opinionate on Fox or, like Mr. Rove, are legitimized by Newsweek as a columnist.
As with Vietnam veterans, those returning from Iraq find themselves betrayed.
The Nov. 14 issue of The Journal of the American Medical Association carried a study reporting rampant mental health problems among Army regulars and reservists. The illnesses, ranging from posttraumatic stress disorder to depression, often go untreated or undertreated by what the study called an "overburdened" military medical system. In five or 10 years, the effects of exposure to depleted uranium can be expected to show up -- and likely denied by military brass as Agent Orange illnesses were denied after Vietnam.
And a final missing reality at the Wall: nothing to honor those people of conscience who refused orders to fight in Vietnam. Muhammad Ali was one: "Many people said I was afraid to go to war. The truth is, it was tougher to stand up for my religious belief against the U.S. government and millions of people who turned against me for my decision."
Had we listened to Ali and brave dissenters like him, perhaps there would be no Wall.
Colman McCarthy teaches peace studies at several colleges and high schools in the Washington area.
National Catholic Reporter, December 14, 2007