Issue Date: December 14, 2007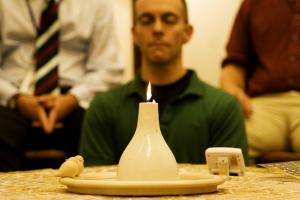 -- © B. Gaus
Students gather twice daily for 20-minute meditation sessions at the John Main Center on the Geeorgetown University campus in Washington.
Sitting in silence
The prayer that emboldens and dissolves differences
By THOMAS C. FOX
Contemplative prayer, a discipline revived in the West during the 1960s and having spread into Christian communities in the 1970s, is a growing movement, according to some of its most prominent teachers, who say the practice provides a healthy counterpoint to the hectic modern world.
Traditional religious differences seem to dissolve as Christians, Jews, Muslims and Buddhists join in meditation sessions. You find meditators, especially the young, in church halls, in local communities and on college campuses across the nation.
The purpose of contemplative prayer, its teachers say, is not only to deepen one's spiritual experience but also to help form and embolden Christian communities. Christian meditation communities now work with the poor in São Paulo, Brazil, meet in parishes in Buenos Aires, Argentina, teach nonviolence in Mumbai, India, and chant in Taizé, France.
"Contemplative prayer is expanding exponentially," Benedictine Fr. Laurence Freeman, director of the World Community for Christian Meditation, told NCR. "There are more groups, more countries. ... The reason is that over the years -- we're talking about 30 years now -- more and more of the people who started are maturing spiritually in this practice. They are now teachers. They are starting groups. They are running workshops. They are leading retreats."
The organization Freeman heads now has meditation groups in 123 countries.
The image of those who meditate regularly also requires some revision. Children as young as 6 have been taught meditation techniques during their classes in the Townsville diocese in Australia. Last September, a Christian meditation center opened at Holy Nativity Episcopal Church in Los Angeles with an ecumenical blessing ceremony attended by Episcopal Bishop Jon Bruno and Catholic Bishop Ed Clark.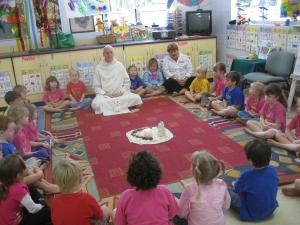 In the diocese of Townsville, Australia, Benedictine Fr. Laurence Freeman leads children in meditation.
The World Community for Christian Meditation was formed in 1991 as a means of continuing the contemplative legacy of Benedictine Fr. John Main. The organization, with headquarters in London, sponsors retreats, seminars, lectures and other programs, including interfaith dialogues, and produces a quarterly international newsletter.
Spiritual leaders in the contemplative prayer movement say that regular meditation, once or, preferably, twice a day, is the key to breaking out of dualistic thought and into an inner space of peace, consciousness and awareness, a place to which the Spirit is constantly inviting us, were we only to listen. It is there one gains deeper contact with God, a clearer perspective on self and the great mysteries of life.
Benedictine Fr. Thomas Keating, responsible for popularizing contemplative prayer in the United States beginning in the mid-1970s, teaches a practice called centering prayer, which he said is not contemplation in the strict sense of the word, but a method of practice to facilitate the beginning of contemplation.
"Contemplation," he has written, "is basically the predominance of the gifts of the Spirit over our own activity during the time of prayer. At the same time, it gradually works itself into daily life through the active gifts of the Spirit: counsel, prudence, fortitude and knowledge."
Christian contemplation is most often achieved through stillness and silence, allowing a place and time to open oneself to the Spirit.
"We go into silence to listen to messages from God," said the Rev. Cynthia Bourgeault, an Anglican priest and author of Centering Prayer and Inner Awakening. "If we can get our own noise down far enough, we can hear God speak to us. God is always present. It's we who are absent. We run away and hang out in our noise and our ideas and our talking. So when we are being silent we simply restore a condition of 'is-ness' and we discover that we are joined to God by a great umbilical cord of love that never lets us down."
There are subtle variations of contemplative prayer. Each aims to still the mind and break out of the dualistic world in which we live and sometimes pray. In contemplative prayer one rests in silence and does not vocalize prayer. Instead one thinks of a sacred word or mantra, repeating it and returning to it when the mind wanders. In this quiet repetition, thoughts eventually dissolve, replaced by what meditators call "pure thought" where one lets go and unites in deep prayer with God.
"Thoughts arise and each is an opportunity to return to God," said Bourgeault, a teacher and adviser to the nonprofit Contemplative Society. "In centering prayer what we are doing is using our typically overstimulated modern mind with all its thoughts, and we are using these thoughts as the raw material to practice this motion of letting go and opening up."
Franciscan Fr. Richard Rohr said prayer, as we generally speak of it today, does not adequately meet our spiritual yearnings. "Prayer has become a functional practical thing of making announcements to God, making announcements to the church assembly. While I am convinced that true prayer is, in fact, a descriptive word for a different consciousness."
Rohr, like Bourgeault, said the bustle of the modern world is moving us toward contemplative prayer, almost as a survival tactic. It is also providing an opportunity to transform our consciousness and through it, our way of being human. He speaks about participating in a revolution of human consciousness.
"When Jesus went out and prayed for 40 days," Rohr said, "he wasn't saying 'Hail Marys' and 'Our Fathers.' He was looking out at life with a different set of eyes. The contemplative prayer mind frames reality differently. ... It doesn't look at life in terms or either/or, all/nothing, win/lose."
Fr. Edward Hays, a spiritual writer and a priest in the Kansas City, Kan., archdiocese, explains: "The purpose of meditation is to live contemplatively. That's the ultimate goal. That's the destination. That's why you are doing it. It's not a practice you do 15 or 20 minutes a day. It's a movement into a lifestyle."
Hays cautions that if you sit quietly, "out of the depths can come some dark demons and if you let them float up you become aware -- much more aware -- of your inner self, negative and positive. And then you can deal with those things. You become instantaneously more aware of when you are upset, angry, irritated, jealous or rude. And then you can correct it."
Rohr cites Trappist Fr. Thomas Merton, who wrote in the 1960s, as contemplative prayer's earliest modern disciple. "Merton almost single-handedly exposed that we had lost our earlier contemplative mind, from basically the 14th century on, as the whole West became dualistic. And it really hasn't served us very well," Rohr said. "Merton, in effect, said to his own community at the Abbey of Gethsemani in Kentucky -- and was not liked for saying it -- 'You are good guys and holy men, but you are not really contemplative. You are just introverts who like a quiet lifestyle. You are still praying with a dualistic mind, with either/or thinking.' "
Rohr, who is currently writing a book on contemplative prayer, said contemplation will lead to a healthier way of approaching life.
"We have been taught for too long to be judgmental. This stems from our dualistic thinking. In contemplative prayer we break out of dualism and develop a new mindset. We learn to see life through the lens of acceptance. It is in this acceptance we become more understanding, more aware and more compassionate people. Only after we offer an appropriate 'yes' to the moment, to the event, to the person can we, if required, offer loving critique."
Thomas C. Fox is a former NCR editor and publisher.
National Catholic Reporter, December 14, 2007