Issue Date: December 14, 2007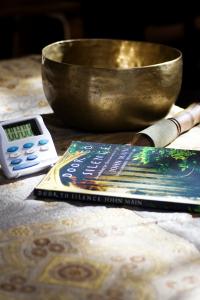 -- © B. Gaus
Items used to aid meditation at Georgetown's John Main Center
Praying with a mantra
The John Main Center for Meditation and Inter-Religious Dialogue at Georgetown University has become a focal point of meditation among college students. The center is named after a British Benedictine monk who helped popularize Christian meditation beginning in the mid-1970s.
Students gather at the center twice daily, seven times a week, for 20-minute sessions. The center also serves as a focal point for talks and other interreligious activities.
The center came to life as a result of a 2003 fall semester visit of Benedictine Fr. Laurence Freeman, a Main disciple. "I was invited to teach theology at Georgetown," Freeman said. He began talking about meditation and says he found a strong interest among students.
That led to conversations with faculty and staff and in 2004 the university opened a couple houses off campus to be used by students who wanted to gather to meditate. As word spread, interest grew. Freeman became the first director of the center. After he left Georgetown as a visiting professor, others took over as codirectors. This year, Freeman is back and is directing the center once again.
There are subtle differences in Christian meditation practices. The center uses the Main approach, which involves the continuous quiet repetition of a mantra.
With interest in meditation having grown on campus, the university allowed the center to move into a building in the center of the campus.
Next year plans call for the opening of a special-interest dorm community of students coming together around the themes of spirituality and meditation.
Last year, four Georgetown students traveled with Freeman to the Way of Peace sponsored in Belfast, Northern Ireland, by the World Community for Christian Meditation located in London. The gathering was attended by the Dalai Lama.
The connection between Christian meditation and interreligious dialogue is natural, said Freeman. "In contemplative experience we pass beyond divisions into the common ground. Differences remain but they are no longer barriers to friendship. Meditation is a universal spiritual wisdom entered through silence, stillness and simplicity."
-- Tom Fox
Meditating at Georgetown center
NCR sent e-mail messages to students who meditate regularly at the John Main Center for Meditation and Inter-Religious Dialogue, asking them why they meditate. Their answers follow:
Raymond Schillinger
Undergraduate, class of 2008
As a senior at Georgetown University, I have had the privilege of practicing meditation for more than half of my tenure here. Laying the foundations of the John Main Center at Georgetown has enabled me to simultaneously lay the foundations of a calmer, more meaningful daily life as a byproduct of meditation. Another fact: I'm Jewish. Although the [World Community for Christian Meditation] is a Christian organization, I find that the spiritual tradition of meditation connects to the deeper sense of spirituality in any faith, including the Judaism I practice. Recently, I have been invited to share my experience with the campus Jewish Students Association to further the awareness of meditation in our own tradition. The response, not surprisingly, has been overwhelmingly positive, owing largely to the intrinsic value and universality of meditation.

Sarah Gormley
Undergraduate, class of 2011
In his "Final Soliloquy of the Interior Paramour," poet Wallace Stevens expresses a sentiment similar to my own in relation to mediation:
We say God and the imagination are one ...
How high that highest candle lights the dark.
Out of this same light, out of the central mind.
We make a dwelling in the evening air,
In which being there together is enough.
During meditation at Georgetown, when the lights are dimmed and the candle is lit and I shut my eyes and look inward, I dwell not only in my own personal peace, but also in the sensation of a common dwelling with those around me, sharing a collective tranquility.
Adam Alfi
Business School, Class of 2011
Although I am not Christian, I see enormous value in a religious experience and discipline that can be shared by peoples of all faiths. I find that meditation relaxes me and that incorporating such a pleasant and spiritually meaningful practice into my life contributes to my overall happiness. It also doesn't hurt that there are many well-documented and researched health benefits.
Bryon Jansen
Undergraduate, class of 2009
I meditate before any events that are physically or mentally demanding. I have found that this allows me to experience a sort of rebirth. This process helps me to let go of all the responsibilities and distractions that I need to free myself from in order to take full advantage of the present moment.
Alejandro Hernández
School of Foreign Service, class of 2009
When I meditate I sit quietly on a chair with my back straight and I gently close my eyes while I repeat the mantra "Maranatha" in my mind. I meditate because meditation brings greater peace into my life as well as a refreshing and lasting sense of clarity and security. When I neglect my meditation practice I start to feel anxious about everyday things and I seek other ways to "disconnect" from my thoughts. It is only then that I realize the great power of meditation and the fact that all of us, each in our own way, seek that sense of correct relationship with the world that meditation gives us.
Tim Ralls
School of Foreign Service, class of 2008
Though I do not meditate every day ... meditation is a way for me to escape the world around me and to also put aside all my worries at the moment. It seems to help calm me the most after a really long and busy day and less so if I have had a really good day, though it is always harder to meditate after a long day. The moment of quietness and calm right after meditation is always that much greater. I do it for the calm moment at the end, when even the readings of the day are a blur and all I feel is calm.
Mariel Pullman
Undergraduate, class of 2010
The meditation center is a unique part of the Georgetown campus. College life is a stressful time and the center is a great way for students and professors to get together, relax and nurture their spiritual side, which often gets ignored during our college years. Meditation is like the fire that John Main describes that burns the external world away. It's at the same time simple and demanding, but it has been a good exercise for me to practice the attention that meditation requires and to escape the stresses of everyday life for 20 calm, focused minutes.

Katy Tucker
Undergraduate, class of 2010
I've always been a rather introspective person, which surprises many because I am outspoken, optimistic and far from shy. But since early adolescence I have found myself pondering deep and frightening questions of existence, the concept of God and my reason for being. When I emerge from contemplative moods, I appreciate the reality around me more. I have a sense of the miracle of consciousness, life and beauty. Meditation channels my natural wonder inward, directs my attention from those silly distractions of life to the insight of existence. I meditate because it is those periods of silence and stillness that give meaning to life.
National Catholic Reporter, December 14, 2007