Issue Date: December 14, 2007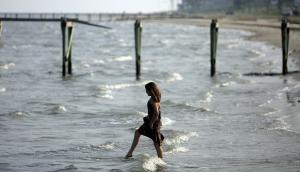 -- Getty Images/Mario Tama
A woman wades into the ocean in front of a destroyed dock June 1 in Waveland, Miss.
Relief for the shattered spirit
By DEBORAH HALTER
The ground shudders in delight when cargo-laden freight trains rumble down the century-old rail route running along the gulf waters in coastal Mississippi. Several miles inland, tractor-trailer rigs hustle their cargo along on I-10. The region's airports are buzzing, too.
But through slower eyes, the landscape is cluttered with the debris of disaster. Mile stretches after mile of still-broken bridges and boardwalks, hulking steel shells where businesses used to be, boarded-up windows like sightless eyes looking out over the water, and patches of broken concrete slabs that no longer support old mansions.
In coastal Mississippi two and a half years after Hurricane Katrina, folks who were insured or had resources sufficient to rebuild their houses (although not always their lives) are beginning to feel normal again. Most Mississippians are valiantly bootstrapping their lives and land, rebuilding and renewing their homes and hearts. This is saying a lot for a state that is perpetually out front where no one wants to be -- poverty, teen pregnancy and illiteracy.
But even persons who before the storm enjoyed social and economic safety nets now have discovered they can afford either a mortgage payment on inflated real estate or a premium for wildly bloated homeowner insurance, but not both. And as time passes, the energy and stamina for rebuilding predictably dwindles, national attention and compassion go elsewhere, and funds begin to dry up.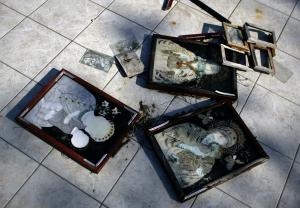 -- Reuters/Carlos Barria
Religious pictures are found May 9 on a floor where a house stood before Hurricane Katrina struck in Pass Christian. Miss.
For people without money or life skills, the rigors of recovery are eroding their sense of endurance. Their houses continue to rot, rodents skitter across their floorboards, their attics leak, and their coping skills dwindle. These Gulf Coast residents are haunted by the lingering, almost lethal shadow of the storm: the delayed onset of posttraumatic stress disorder, which quickly spirals downward into despair. For these survivors, the coastal landscape is a shadowland of poverty and red tape in which nothing good can grow. Catastrophe's clutter remains a daily reminder that life is still not normal here.
Worse, adequate mental health care in coastal Mississippi washed away with the hurricane. The ranks of mental health workers are thin. Even when people successfully endure the red tape and long lines of waiting for government or donated money for psychological testing, counseling or therapy, the wait for actual services can be even longer.
The work remaining to be done here far outreaches human and material resources, and this is nowhere more evident than in people's emotional and spiritual lives. For these people, coastal Mississippi is split into two landscapes -- the disintegrating neighborhood outside the window, and the suffering spirit inside the soul.
Part of my work here is to provide pastoral care for all persons involved in rebuilding the coast, whether paid workers or volunteers or clients. I'm learning that when life is a daily struggle that goes on for months and then years, the spirit can enter its own, eerie survival mode: praying that the house gets fixed, that the in-laws move out, that the electricity bill gets paid. The spirit shrivels in a kind of purgatory in which no human effort suffices for escape. Redemption rests in God, but God seems to have left the building.
A new spirituality is in order. But what does that look like? What happens when a 20-foot wall of water chases away your God and leaves you with unanswerable spiritual questions? How do you pray when the old prayers don't work anymore -- not because you've lost your faith, but because it no longer seems workable?
This "delayed-onset" crisis of faith is slippery. It's not that folks don't want to pray, but that they no longer know how. When you've lost everything -- or when insurance has replaced everything except the things that mattered most -- praying the old prayers in the old ways can feel foreign and fruitless. By comparison, an outright loss of faith seems simple, more manageable.
Working among people of damaged faith, I am noticing a manifestation of the national yearning for mystical elements of prayer so long ago abandoned by mainstream Christianity. In an American culture bombarded by noise under sun and under moon, and in a Gulf Coast culture shredded by disaster, many people I've worked with here seem attracted to the kind of prayer that can't logically be reached by approved liturgical syntax or the rhythm and rhyme of traditional piety.
For these people, government and charity aren't enough to fix their houses, and going to church on Sunday isn't enough to mend their spirits.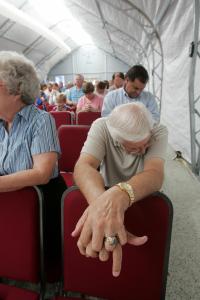 -- Getty Images/Mario Tama
Parishioners attend Sunday Mass in St. Clare Catholic Church's temporary tent sanctuary June 3 of this year in Waveland, Miss. The church's building was destroyed by Hurricane Katrina in 2005.
Some of these people are experiencing the healing quality of sitting alone, un-entertained and un-expectant, simply opening up space inside for God and Self to be together, remaining quiet enough to hear one's heart beating, to hear one's blood flowing. In their silence, I have seen people marvel at this "new" way of praying that is independent of circumstances or finances or outside relationships.
This sense of no-thingness seems to empower them with the realization that God is already here, not out there, and that God requires nothing more than nothing at all.
One woman came up to me after about 20 minutes of silent, wordless prayer and said, "You've given me a skill I can take into my daily life." After thanking her, I remarked that I didn't usually think of prayer as a "skill." And she said, "Well, I never thought of having to learn how to pray, but I just did."
I asked her to describe her experience. "It felt like this," she said, holding her palms-up hands in front of her. "Get quiet. Do nothing. Wait. Don't concern yourself with the results. When your time is finished, get up and go about your business and don't be concerned if you have no product to show for your time."
Her extemporaneous description of this prayer was the best I've ever heard. Getting quiet and meeting God within sounds like such a simple act, but it goes against the American grain. In fact, I think of silent, wordless prayer as a variation on Gertrude Stein's famous quip that when you get to Oakland, you discover "there's no there there."
This kind of prayer -- simply resting in God -- confounds folks who want to hear an Amen, like dessert at the end of their four-course worship. This kind of prayer has an unsettlingly unfinished feel about it, an ambiguity and formlessness that makes productive use of it impossible. As one fellow said not quite jokingly, "Great, but now what do we do with it?"
Nothing. You don't build it. You don't insure it. You don't worry about it when the winds come. You don't do anything. Not anything at all. Simply being still and resting in God becomes enough to fill the void that remains after the disaster, after the demolition, and after the rebuilding. For people who have lost so much, the relief of discovering that they have not lost God is second only to the consolation of knowing that God has not lost them.
Deborah Halter is a seminary intern providing pastoral care for persons involved in disaster rebuilding efforts in Mississippi under the auspices of the Evangelical Lutheran Church of America.
National Catholic Reporter, December 14, 2007