Issue Date: December 14, 2007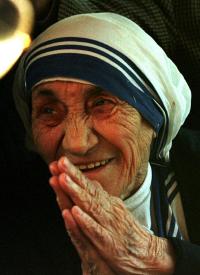 -- CNS/Reuters
Mother Teresa in 1997
Loving the darkness
Mother Teresa of Calcutta's mysticism of Christ crucified for the poor
By LEO J. O'DONOVAN
Many visitors to Rafael Moneo's Cathedral of Our Lady of the Angels in Los Angeles come away remembering best the grand procession of figures on John Nava's sand-colored tapestries along the north and south walls of the nave. In this Communion of Saints marching toward the sanctuary, unnamed Angelenos, young and old, stand beside men and women whose holiness few would doubt. Among the latter perhaps the most beloved are Pope John XXIII and next to him, as if sheltered in his genial rotundity, the frail figure of Mother Teresa of Calcutta.
The fresco-like tapestries soften the angular architecture and enhance its acoustics. More important, they draw visitors' eyes toward the light of the great cross-window above the high altar. No one seems to see that light more clearly than the saint of Calcutta, of whom Malcolm Muggeridge wrote so aptly: "In a dark time she is a burning and a shining light; in a cruel time, a living embodiment of Christ's gospel of love; in a godless time, the Word dwelling among us, full of grace and truth." But now we learn that the light and joy that radiated from her smiling face were accompanied by unimaginable darkness in her soul.
Since September, with the publication of Mother Teresa: Come, Be My Light, edited with commentary by Missionary of Charity Fr. Brian Kolodiejchuk, the postulator for her canonization process, a wider public has been startled to learn what several authors had recently intimated. A TIME magazine cover story announced that "newly published letters reveal a beloved icon's 50-year crisis of faith."
"Her ministry to a doubting world," wrote Jesuit Fr. James Martin on the op-ed page of The New York Times, "may have just begun."
Forty years after her decision to become a nun, Mother Teresa could say confidently: "I've never doubted even for a second that I've done the right thing; it was the will of God. It was his choice." Through her first (1931) and final (1937) vows she rejoiced to have become "Jesus' little spouse." At the same time, however, she could write to her former Jesuit confessor in Skopje that rather than finding her spiritual life "strewn with roses," more often her companion was "darkness." Five years later, she made an extraordinary private "vow to God, binding under [pain of] mortal sin, to give to God anything that he may ask, not to refuse him anything."
These were the parameters of her ardent life: an almost indomitable will determined to surrender all to God in love -- while vividly aware of the dark risk. What might a wholehearted "Yes" to God cost?
She found out, in part, while on a train to Darjeeling for her annual retreat. There the 36-year-old nun "heard the call to give up all and follow him [Jesus] into the slums -- to serve him in the poorest of the poor." It was Sept. 10, 1946, the "Inspiration Day," as the Missionaries of Charity were to call it. Mother Teresa was deeply reserved about discussing details of the experience, but she later specified it further by writing in the Rules of the Congregation that the "general end of the Missionaries of Charity is to satiate the thirst of Jesus Christ on the cross for love and souls" -- and thus the words "I thirst" are placed next to the crucifix in every chapel of the society.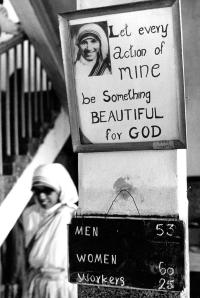 -- CNS
The words of Mother Teresa are posted at the Missionaries of Charity home in Calcutta, India.
She addressed herself to the Jesuit archbishop of Calcutta, Ferdinand Périer, in a remarkable document that indicated her desire to leave the Loreto sisters to pursue her "call within her call." On Jan. 6, 1948, the 19th anniversary of her arrival in India, Mother Teresa met the archbishop after Mass, and he said, "You may go ahead."
It may seem that this mission was providentially foreordained. But she was utterly alone when she set out on Aug. 17, 1948, for "the dark holes of the poor," not even understood by many in a church that was yet to recognize itself fully as the church of the poor. And the many trials that accompanied the gradual establishment of the new congregation were as nothing compared to the inner trial she began to undergo.
"For there is such terrible darkness within me, as if everything was dead. It has been like this more or less from the time I started 'the work,' " she wrote to Périer within weeks of moving her community to the new motherhouse. Darkness was her most common word for the experience, and it continued until the end of her life, according to the clear testimony of people who knew her in her last decade. (There was one respite of "love with joy untold" -- for but a month -- in 1958.)
When she spoke of darkness in other people's lives, she meant the absence of God. It felt the same way for her. She spoke an "agony of desolation," deep loneliness, terrible difficulty in speaking about her experience, an icy coldness, being miserably dry. God seemed not to exist, heaven to be "an empty place," prayer impossible, her belief a fiction, everything around her dead. Counseled by Périer that such feelings result from a purification intended to attach one to God alone, she found new ways to express her sense of nothingness in God's presence. (To another Jesuit adviser she later wrote: "He has destroyed everything in me.")
The theme of contradiction in her life was among those that she revealed to Fr. Joseph Neuner, a renowned theologian who gave a retreat in Calcutta in 1961. He counseled her that "the only response to this trial is the total surrender to God and the acceptance of the darkness in union with Jesus."
His counsel awakened a profound response. "I can't express in words -- the gratitude I owe you for your kindness to me. -- For the first time in this 11 years -- I have come to love the darkness." Without any apparent alleviation of her pain, she could nevertheless live it as a share in the redemptive suffering of Christ.
"A hearty 'Yes' to God and a big smile for all," was the typically vigorous retreat resolution she reported to Neuner. She also reported a new prayer, which became thereafter a constant theme: "Take whatever he gives and give whatever he takes with a big smile." And she sent him a letter with the stunning words: "If I ever become a saint -- I will surely be one of 'darkness.' I will continually be absent from heaven -- to light the light of those in darkness on earth."
From the beginning she had understood that her vocation was "to love and suffer and save souls." Now, as the Letter to the Colossians has it (1:24), she found that the sufferings of Christ were being completed in her. "Christ is undergoing his passion again," she said in 1980. In Ethiopia in 1985 she saw that passion "being relived in the bodies of crowds and crowds of people."
And so she hewed more and more to her "Gospel on five fingers," summarizing Matthew 25:31-46 to her sisters by reminding them that whatever they did for the hungry, the destitute, the sick, "You-did-it-for-me." More and more frequently she spoke of finding Christ in two places, the Eucharist and the poor.
This identification with Christ and all who belong to him, especially in their poverty, might well be the starting point for a deeper understanding of both incarnation and redemption. Unfortunately, Kolodiejchuk frequently interprets Mother Teresa's suffering, without comment, primarily as reparation for human sinfulness. She herself did understand that her suffering was something God "willed," as God had likewise "willed" the suffering of Jesus. It is not enough to correct this view by saying that God "allows" this. Isn't it rather the case that instead of taking human suffering as recompense for sin, God enters into it precisely to change and redeem it?
Further reflection on the remarkable testimony in this book should acknowledge that Mother Teresa's love of Christ and his poor was incomparably more real and profound than the relatively little theology she knew. She knew more, as Karl Rahner would put it, than she could say. Her reading of scripture is literalist; her view of authority is excessively hierarchical; she never seems to address the Holy Spirit; she seems in practice almost to bracket the Resurrection (though she believes entirely in the glory of the risen Jesus). But her love of Christ brings you to your knees. She sought him among "the poorest of the poor," brought him miraculously there, and then found the poor newly in him, worthy of all loving understanding and respect.
Come, Be My Light is a treasure of profoundly contemporary witness. But it suffers from many typographical errors and inconsistent annotation. Most of all, the commentary on the letters should contain less paraphrase and more analysis. The material fairly cries out for closer reading and interpretation, particularly with respect to what is said about suffering and salvation.
What kind of mysticism does this book suggest? In the first place, a pragmatic mysticism, occasioned by a most contemporary sense of human suffering that is rooted at the same time in a profound awareness of "the fellow sufferer who understands" (in Alfred North Whitehead's term). Second, a mysticism deeply sensitive to internal contradiction, to a temporally unresolved struggle of the soul before God and God's people.
Ultimately, though, I would say it is a mysticism of Jesus crucified for the poor, loved for himself, but also for them and in them, without whom the depth of his identification with the Father would not be known. It is in their "distressing disguise," as the already popularly canonized saint of Calcutta put it, that he is most revealed, to the glory of his Father. One kneels beside her in gratitude for what she has shown us: that we must look to the cross in the window to see the light.
Jesuit Fr. Leo J. O'Donovan is president emeritus of Georgetown University.
National Catholic Reporter, December 14, 2007