Issue Date: December 14, 2007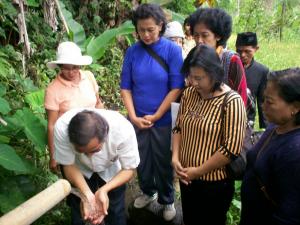 -- UCAN/Stefanus Tartono
Indonesian Catholics join the face-washing ritual Oct. 28 at the natural spring in Lor Senowo.
Nature hike and Mass renew urban Catholics
By UCA NEWS
Dukun, Indonesia
Wading barefoot across a stream comes naturally to many people, but one woman on a Sunday nature hike was uneasy.
"I suggest you all take off your shoes and sandals, they will hamper your steps. Better to go barefoot, because after crossing the stream, you will have to go through muddy ground," a guide instructed the woman and her companions.
Reluctantly, Antonia Sri Yulianti, 58, waded through the 1-foot-deep stream, holding friends' hands.
Yulianti was among 160 parishioners of St. Paul Church in Sendangguwo, Semarang, who traveled 30 miles south to Dukun town for an Oct. 28 program that combined nature exposure with an inculturated Mass.
It began with a hike of about a mile and a half to a natural spring in Lor Senowo, a hamlet in the town's Sumber village, for a face-washing ritual.
This "meditative exposure to God's creation" has been organized more than 10 times, Fr. Vincentius Kirjito of Our Lady of Lourdes Church in Sumber told UCA News during the hike.
He and Fransiskus Xaverius Sutar, head of St. Peter Canisius mission station, which covers Lor Senowo, initiated the program.
The priest said he offers the program whenever he gets enough requests. He recalled that around 2005, city dwellers started asking him to help them experience Mass in a rural setting where they could deepen their faith in a natural environment.
Sumber lies on the slope of Mount Merapi, an active volcano.
On Oct. 28, the parishioners arrived at Lor Senowo by bus and walked to the spring from a mission building made of volcanic stones from Merapi.
Participants stop at several places along the hike to meditate on aspects of nature that they are also reminded to preserve. They pass rice fields and land planted with vegetables and fruit trees, to see, in the words of Kirjito, "how God has created Indonesia with beautiful land, complete with water and diverse plants, fruits and vegetables."
The face-washing ritual, with water from the natural spring channeled through a bamboo tube, is the highlight of the natural exposure program.
"During this ritual we express fraternity with the water. We let the water stroke our faces. We feel the water vibrate and the energy touching the joints of our body. We believe the water will respond kindly to our gentle treatment of it," Kirjito explained.
After the ritual, he invited all to walk back to the worship house, located among the villagers' houses, to celebrate Mass together.
Instead of a responsorial psalm, the Mass features traditional dances and spiritual songs in Javanese accompanied by gamelan music, played mostly or entirely on percussion instruments. After Mass, they eat nasi doa (prayer rice). "Eating is a prayer," Kirjito reminded the parishioners from Semarang.
The group then had a chance to express their thoughts about the program in various forms such as dance, song, humor, poems and pantomime. "All may stage performances here. I am sure God will not be angry seeing the happiness of his children," the priest assured them.
First-time participant Yulianti told UCA News she could not contain her happiness, and two other members of her parish, Agnes Nurcahya, 31, and Andreas Bintang Ananta Nugraha, 22, shared her sentiments.
"I am very happy about 'having a chat with nature,' during which I feel free from daily routine and the city's noise and buildings. The nature gives freshness that comforts my heart!" Nurcahya exclaimed.
Before boarding the bus to go home, Yulianti said the special Mass taught her that "people should not always pray in a strained way but through relaxation, joking and joy."
National Catholic Reporter, December 14, 2007