Issue Date: December 14, 2007
Book probes poetry's power to stir the soul
By CECILE S. HOLMES
Religion News Service
Poetry is that combination of words with the power to move, delight, nurture and transport us beyond the here and now. It can also nourish our souls, say the authors of a new book celebrating how poetry can kindle the spiritual in attentive readers.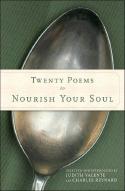 "Poetry slows us down, it asks us to look, and look again. Poems have a way of reminding us we are part of something larger than ourselves," said Judith Valente, coauthor and editor of the new volume, Twenty Poems to Nourish Your Soul (Loyola Press, Chicago).
Valente, a Chicago-based on-air correspondent for the PBS show "Religion & Ethics NewsWeekly" and Chicago Public Radio, wrote the book with her husband, Charles Reynard, a judge of the 11th Judicial Circuit in central Illinois. Their book is both the chronicle of a deeply personal journey and an opening for others seeking a deeper connection to the divine.
The 20 poems included are drawn mainly from modern American poets. Most are not overtly religious, nor are they the sort of poems usually found in anthologies of religious or spiritual poets.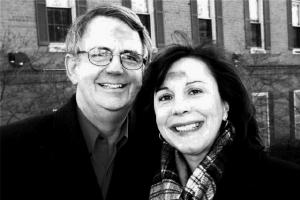 -- RNS/Courtesy of Loyola Press
Charles Reynard & Judith Valente
Instead, the poems collected by Valente and Reynard lure readers into slow recognition of the divine presence, steeping them in identifying how mystery moves into life through poetry.
"Finding God by paying attention is the theme of this collection," Valente writes in her introduction. "God isn't mentioned by name very often in these poems, but God's presence suffuses them."
The poems are organized around 10 themes rooted in the spirituality of St. Ignatius. They are attentiveness, gratitude, acceptance, simplicity, praise, work, loss, body and soul, mystery, and prayer.
Two poems are offered with each theme, along with a short commentary that explores why the poem is meaningful to Valente or to Reynard, and then suggests readers reflect on its meaning in their own lives.
For example, in the section on praise, the poems are "The Greatest Grandeur" by Pattiann Rogers and excerpts from Walt Whitman's "Song of Myself."
Valente writes of Rogers' fluency in science, noting: "It's almost as if in each poem, Rogers is saying, 'How can there possibly be this much to marvel at?' " Reynard takes on Whitman, describing "Song of Myself" as a hymn of "praise to the world" and deeply reverential. "In the profoundly ordinary, the poem finds the sacred substance of what makes us human," Reynard says.
In recent months, Reynard and Valente have been conducting workshops in which they help professionals learn how poems can become "soul friends" and pathways to solitude and deeper spirituality.
Cecile S. Holmes, longtime religion writer, is an associate professor of journalism at the University of South Carolina.
National Catholic Reporter, December 14, 2007