Issue Date: December 14, 2007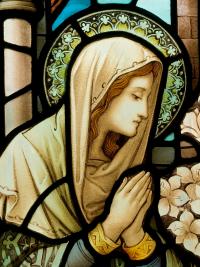 -- Dreamstime.com
I could no more give up prayer than I could give up breathing. Prayer kept happening to me.
Stuck on the lowest rung of prayer
After years of trying to shape up, she finds grace, courage in intercession
By EVE KAVANAGH
Over the past few months, as my religious congregation has engaged in a process of examining our spirituality in today's global context, I have found myself looking at the history of my prayer over the last 45 years or so. And I realized, not for the first time, but with more focus, that I never knew prayer was a problem until I entered religious life. I had thought prayer was simply part of life.
The first problem for me was the form of prayer that is sometimes called "discursive meditation." It is a thinking-oriented approach, and I couldn't do it. Luckily, in the early years I had to stay put, and so I passed the time browsing endlessly through scripture, and grew to love it.
The second problem was that somehow it was conveyed to me that a prayer life was ponderously serious. Indeed, if I was not diligent about it, I could lose my vocation and even my faith. That prospect was so stressful for me that one day I decided to put it to the test by giving up prayer. (I never shared this decision with anyone.) And what I discovered was that I could give up the methods and time frames, but I could no more give up prayer than I could give up breathing. Prayer kept happening to me.
It was mostly intercessory prayer. Then, of course, I remembered classes in spirituality where the professor presented us with a "hierarchy" of prayer. I can't recall the whole list, but I do remember that intercessory prayer was on the lowest rung of the hierarchical ladder.
So there I was on the lowest rung. Obviously I had to shape up.
After the Second Vatican Council, we were introduced to all kinds of methods besides discursive meditation. I tried, if not all, at least many of them, one after the other, year after year, hoping, I suppose, that I would find a method that fit me and would help me to become a good Religious of the Sacred Heart by becoming good at prayer.
To this day I don't know what it means to be good at prayer. But the wonder is, I don't care. Somewhere along the way, and without noticing it, "I-Me-I" stopped being important in my so-called interior life. Rather, the world that God loves so much became the focus of my prayer. Through no conscious effort on my part, my prayer had become looking at the world as best I could, with whatever courage I could muster, and interceding -- for its poverty-stricken people deprived of abundant life, its children deprived of any meaningful future, its women and men deprived of dignity, its misguided leaders and its sensitive, fragile environment.
I didn't know that any of this had anything to do with the spirituality of my congregation, the Society of the Sacred Heart, until I heard a former superior general describe our spirituality as "the spirituality of the pierced heart." What I understood that to mean is that we take the suffering of the world into our hearts because we share in the pierced heart of Christ. I recognized that I had been doing that all my life.
This gave me the courage to go on with my own prayer -- a prayer of solidarity leading me to intercession. I have always found God in bodies -- other people's bodies. But now I find God within my own body -- in the chaos of feelings and emotions I experience daily, the shared grief over the mess, the anger at the incredible injustice and destruction everywhere, the helplessness and confusion, the desire for change and transformation, the compassion for ever-present suffering, but also the joy and delight in the beauty, laughter and goodness that keep popping up all around, and the neighborliness that is part of daily life on New York city streets, where thousands of ordinary people quietly live the beatitudes every day.
I now believe that my feelings are not a burden or an accident of temperament, but the grace of baptism -- the result of putting on Christ way back then in my infancy and slowly but surely taking on the attitudes, desires, feelings and emotions of the Word made flesh.
And I am still on the lowest rung of that "hierarchy" of prayer. I also believe that with me there is the Risen Lord who "lives always to intercede" for us who are going to God through him.
Eve Kavanagh, a native of Ireland and a member of the Society of the Sacred Heart, U.S. Province, is a community health nurse for Little Sisters of the Assumption Family Health Service in New York. This article, adapted for NCR, first appeared in Heart, a publication of the U.S. Province.
National Catholic Reporter, December 14, 2007