Issue Date: December 21, 2007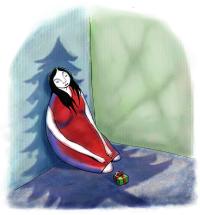 -- MCT/Hector Casanova
For the lonely or grieving 'a holiday with all the expectations of merriment can be alienating.'
Parish celebrates 'Blue Christmas'
By RENÉE LaREAU
Columbus, Ohio
For many people, Christmastime is a festive, frenzied blur of shopping, baking and merrymaking. But for just as many others, the holiday season can be a lonely, empty time, a time when loss, grief and loneliness come into sharp relief.
To help those who struggle during the Christmas season, one parish has designated a special liturgy that the lonely and the grieving can call their own.
Though it shares a name with an Elvis Presley song, the "Blue Christmas" Mass at the St. Thomas More Newman Center in Columbus has nothing to do with the King. It does, however, have everything to do with welcoming and offering healing to those who feel blue during the holiday season.
"It's a Christmas Eve Mass we do that is really for people who have a hard time with the holidays," said Paulist Fr. Larry Rice, director of the Newman Center at Ohio State University.
With most of Ohio State's 52,000 students out of town for their holiday break, Christmas is a natural time to reach out to those in the wider community, Rice said.
"There are so many people who are lonely or grieving loss or bad family histories," Rice said. "For them, a holiday with all the expectations of merriment can be alienating."
To advertise beyond its own congregation, the Newman Center sends announcements to funeral directors, counseling services and other agencies that help those who are grieving.
For the most part, "Blue Christmas" is indistinguishable from a traditional Christmas Eve Mass, but Rice said he has made some important adjustments to establish a different tone.
"There's a very clear and explicit welcome at the start that acknowledges there are people who struggle with the holidays," he said. "It's very low-key. We invite people to bring whatever they are struggling with."
Rather than including hymns that are joyful and triumphant and meant to be sung with full heart and voice, musicians select a repertoire that's quiet, reflective and primarily instrumental.
"Creating a peaceful atmosphere for folks is really important," Rice said.
The evening's preaching takes on a different tone as well, he said. "The homily is directed more toward the core, theological meaning of the Incarnation, of God joining us in all of our struggles and our pain."
Rice first conceived the idea for Blue Christmas after reading about Protestant communities that offer a similar service on Dec. 21 -- the winter solstice and the longest night of the year.
Rice decided to adopt the idea, making one intentional alteration: the date.
"We felt we really wanted to do it on Christmas Eve, when people are feeling their loss most acutely," he said.
This Christmas, the Newman Center will offer the Blue Christmas Mass for the third year in a row. Last year, the liturgy attracted 350 people.
"People afterward said it was the first time they felt comfortable at a Christmas Eve Mass in 25 years," Rice said. There's definitely a need out there."
Renée LaReau is a freelance writer living in Columbus, Ohio.
National Catholic Reporter, December 21, 2007