Issue Date: December 21, 2007
Blackwater protesters convicted
By PATRICK O'NEILL
Currituck County, N.C.
Seven people were convicted Dec. 5 in North Carolina District Court for trespass stemming from an Oct. 20 demonstration at the headquarters of Blackwater Worldwide in Moyock, N.C.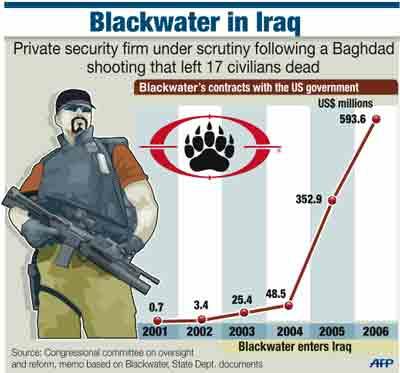 Six of the activists were also convicted of resisting arrest after refusing to walk to police cars. A seventh defendant, Mark Colville of New Haven, Conn., was convicted of damage to real property after Judge Edgar Barnes watched a YouTube video showing Colville placing red-paint handprints on Blackwater's sign. All received suspended jail sentences, fines and court costs. Colville also was assessed $450 restitution.
Blackwater has been under intense scrutiny since Sept. 16 when one of its security details fired on civilians in Baghdad's Nisour Square killing 17 civilians, an attack witnesses said was unprovoked.
The Oct. 20 protest, designed as a reenactment of the Nisour Square shootings, began when the protesters drove a station wagon riddled with faux bullet holes and splattered with red paint past Blackwater's gate. All six then pretended to be dead. A seventh person, Mary Grace of Madison County, Va., was convicted of trespass only after she knelt in prayer on Blackwater's property.
Barnes ordered the courtroom cleared during most of the Dec. 5 proceedings. Katy Parker, legal director with the American Civil Liberties Union in North Carolina, told The Virginian-Pilot of Norfolk that she had never before heard of a similar action being taken by a North Carolina judge.
"It's a clear violation of constitutional rights, not only of the defendants but the press and public," Parker said. "They have a right to a public trial, so any trial that goes on behind closed doors is a farce."
Convicted at the bench trial with Colville and Grace were: Steve Baggarly, Norfolk, Va.; Beth Brockman, Durham, N.C.; Peter DeMott, Ithaca, N.Y.; Laura Marks, Ayden, N.C.; and Bill Streit, Louisa County, Va. All seven filed notice of appeal, which, under North Carolina law, entitles them to a jury trial. No date was set.
In an interview following her conviction, Grace, a mother of two who teaches English as a second language, said she told Barnes she had tried lobbying and letter-writing to express her opposition to war, but none of it worked.
"We have a moral and legal responsibility based on international law and our First Amendment right to access the government for redress of grievances," Grace said. "I oppose war. I oppose abortion. I oppose capital punishment. All killing is against the law of God."
The defendants often used the courtroom as a forum to speak out against Blackwater's actions, comments that were met with objections from the district attorney and judge.
"Do you understand that I have the authority in this courtroom?" Barnes asked at one point.
Streit, a Catholic Worker who refers to himself as a married priest, said: "We were kind of educating him [Barnes] as we went along. I think he was kind of threatened by the whole thing -- that we were not threatened by him or this courtroom."
Patrick O'Neill is a freelance writer living in Raleigh, N.C.
National Catholic Reporter, December 21, 2007