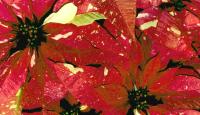 Poinsettia
"Country Quilt"
like us not quite
perfect, its errant
bracts of cream
and green nestle
near in gladness.
Earth and science
come together
at the crib of one
newborn Child.
-- Kathleen Gunton
Orange, Calif.
Miracle
when Christ came to town
he skated on our pond

snowballs we packed with stones
melted in our hands
-- John Knoepfle
Springfield, Ill.
Vespers
First I walk the long strides
Till I reach my cadence.
Pace and breath harmonize
Like a monk's evening chant.

Then my soul widely sighs,
And my memory wakens
To the dreams of angels,
Shepherds and the Magi,

And the warm light they found
That night in the exile
When home was giv'n to those
Who've nothing left to lose.
-- Michael Dallaire
Vancouver, British Columbia
Epiphany Daily
Four set out for Bethlehem
One Wiseman missed it all,
Missed meeting
Mary and the Child
Missed Joseph by the stall.

But the Shepherds said,
"Don't worry.
If each and every day
You treat everyone
like Jesus,
You'll meet him on the way."
-- Sr. Mary Catherine Vukmanic, OSU
Louisville, Ky.