Issue Date: December 21, 2007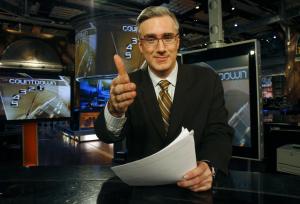 -- MCT/Philadelphia Inquirer/Gerald S. Williams
Keith Olbermann on the set of MSNBC in Secaucus, N.J., Feb. 28
The future face of television news
By RAYMOND A. SCHROTH
The television screen focuses on a storefront marked "Hillary" as a SWAT team, poised for action, huddles a few yards away. A flock of birds swoops across the screen. Inside Hillary Clinton's Rochester, N.H., headquarters, a man with what he said was a bomb strapped around his waist terrorizes four (or was it five? or three?) young hostages and demands to speak to Sen. Clinton.
Friday, Nov. 30, was a good cable news day -- a rich collection of arrests, accidents, scandals and a hostage crisis.
I switched on MSNBC, determined to hold that channel for four days, because, according to a story in The New York Times on Nov. 6, NBC has decided to market its cable outlet as a liberal alternative to the right-wing Fox News in its ratings race with both Fox and CNN.
The hostage crisis held me for five hours, as anchors, reporters and analysts proved they could keep talking, talking, talking, whether anything was happening or not.
They cut to other "breaking news stories." On Chicago's South Side, an Amtrak train smashed into the back of a freight train and was derailed. On Aruba, two young men recently arrested, for the third time, in the presumed death of a disappeared American student tourist, were released again. In Florida, three young men were arrested in the murder of football player Sean Thomas.
As the hostage crisis dragged on, MSNBC and CNN vied for tidbits. MSNBC explained that there was no "live" video because the hostage-taker was most likely watching television. Chris Matthews said the one-minute tape delay was to spare viewers a sudden burst of deadly violence, presumably the culprit blowing himself up. We were told 100 times that Rochester has a population of 30,000 people, that the hostage-taker, Leeland Eisenberg, 46, had salt-and-pepper hair and was a known eccentric and a heavy drinker who wanted to be hospitalized. He was an "older man" "who couldn't get anyone to listen to him," now turning in desperation to Sen. Clinton.
At 3:40 CNN declared the crisis "over" because "both" hostages had been released. At 6:15 MSNBC showed the "fifth" hostage, a young man, jogging out. Finally Mr. Eisenberg, mild-mannered and neatly dressed, stood in the street, took off his sweater, undid his "bomb" belt made of road flares, lay prostrate and placed his hands behind his back to be cuffed. Saturday's New York Daily News recounted his sad life, including his charge that he had been raped by a priest in Massachusetts.
For this viewer it was five hours well spent, certainly better than watching football.
Saturday afternoon -- except for a religious interlude -- was crime all the time. A father kills his daughter, who was getting between him and his fiancée, and blames an overdose of Paxil. Another man tortures, sexually assaults and kills his fiancée; the jury, convinced he's guilty, finds him not guilty for lack of evidence. In Toronto, a handsome-pretty blond couple marry, then together seduce, torture, rape and kill a series of young women.
The low point on MSNBC, "To Catch a Predator," replays "Dateline" episodes wherein middle-aged men are entrapped on the Internet into meetings with what they believe are teenage girls or boys. The man enters a suburban house and finds himself face to face with reporter Chris Hansen, who gets his name, leads him into an incriminating discussion, then reveals that they are on TV, as the camera crew pours into the room. As the trapped man flees, the police arrest him, cuff him and drive him away.
Meanwhile the star of the MSNBC renaissance is said to be Keith Olbermann, the nightly newscaster who, according to articles in the Times, the Oct. 8 Nation and American Journalism Review (February/March), may represent the "future of journalism." Mark Lisheron in American Journalism Review calls him a combo of Eric Sevareid and Groucho Marx. Marvin Kitman in The Nation argues that he deserves the mantle of Edward R. Murrow, who in his post-World War II CBS newscasts combined news and opinion, and called in his "Murrow Boys" correspondents from around the world for expert analysis. Today's TV news has been crippled by the false notion that the "truth" is a bland balance between two extremes or an uncritical reading of a government news release.
On Keith Olbermann's hourlong "Countdown" over three days the lead stories made the Bush administration look bad, and, with "Countdown's" often humorous coverage, ridiculous. Mr. Olbermann reads the lead, then calls in an analyst, such as Newsweek's Jonathan Alter, for a second opinion. Condoleezza Rice, dubbed "the worst national security adviser to ever hold the job," is castigated for planting a reporter to ask her if she was running for president. Rudy Giuliani's billing taxpayers for time spent with his mistress got two nights of outraged glee. The big story was the National Intelligence Estimate's conclusion that although Mr. Bush was talking in October about Iran causing World War III, Iran had halted its nuclear arms program in 2003. The question: Since Mr. Bush is briefed every morning by the CIA, how could he not know this before last week?
Critics who say we need another Murrow are right. But Keith Olbermann? Eric Sevareid he's not. His first half-hour, where he puts events in an ironic perspective, is refreshingly candid. But the "humorous" half is often silly. His "Worst Person in the World" segment exposed the "corruption and hypocrisy" of his CNN anti-immigration rival Lou Dobbs, whose equestrian daughters ride jumping horses at stables that employ "hundreds" of illegal immigrants from Latin America to shovel manure. Forty tons of it.
Today at least 600,000 viewers tune in to "Countdown" -- largely because they are fed up with Mr. Bush and the war in Iraq. I don't know how many of the 600,000 stick with the station for the rest of the evening, for "Lock-Up," which tours prisons like Stateville, where the most hardened criminals throw feces and urine at one another, and San Quentin, where everyone -- "white, black, all brothers" -- yells "Good night" to all.
Jesuit Fr. Raymond A. Schroth is a humanities professor at St. Peter's College and has a blog on the Newark Star Ledger's NJVoices.com.
National Catholic Reporter, December 21, 2007