Issue Date: December 28, 2007
The 10 best films of 2007
By JOSEPH CUNNEEN and KEVIN DOHERTY
Inevitably, some strong end-of-the-year movies will open after we write this column. But here's the best of what we saw in 2007 in the order in which we saw them.
Pan's Labyrinth: Released early in the year, this was the most haunting yet compelling foreign movie to arrive in some time. Combining the realism of the Spanish Civil War with a child's fairy-tale universe, Mexican director Guillermo del Toro portrays a young girl's struggle to make difficult moral decisions in both worlds. At times one wonders which world the director wants us to see as real in this adult film with images that will haunt the viewer long after the lights go up.
The Lives of Others: This German winner of last year's Oscar for best foreign film, a triumph for first-time director Florian Henckel von Donnersmarck, is the standout on our best 10 list. A study of East Germany's state security service, it maintains our intense involvement without having recourse to melodramatic bombast. Two main characters, Wiesler, the regime's dedicated spy, and playwright Georg Dreyman, overconfident because his work is admired in the West, play out an intense struggle. The former (Ulrich Mühe) is especially brilliant as he is gradually transformed from steely-eyed inquisitor to self-sacrificing human being.

-- CNS/Zeitgeist Films
A scene from "Into Great Silence"
Into Great Silence: The product of a six-month stay at a Carthusian monastery in France, this nearly silent documentary presents the daily lives of the monks in a powerfully suggestive way. We share the rhythms of the sacred in beautiful surroundings while observing the men planting, cooking, chanting, chopping wood, getting a haircut and walking on the grounds where some talking is permitted. Everything is clean, orderly, minimal and harmonious, conveying the reality of the sacred without preaching it.
Killer of Sheep: Charles Burnett's 1977 master's thesis in fine art at UCLA, shot in Los Angeles' Watts district in black and white, is a powerfully brooding film that centers on a man who works in a slaughterhouse. Its anecdotal structure is filled out by a memorable score (Paul Robeson, Scott Joplin and others). Mr. Burnett's nonprofessional actors create a world that is deeply depressed, yet vitally alive, marvelously spontaneous, yet nearly hopeless.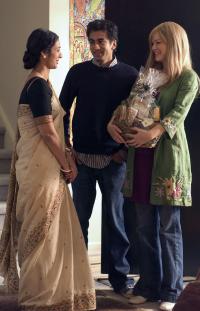 -- CNS/Fox Searchlight
Tabu, Kal Penn and Jacinda Barrett in "The Namesake"
The Namesake: This film by the India-born director Mira Nair offers a sympathetic presentation of how a couple from Calcutta adapt to America. Based on Jhumpa Lahiri's successful novel, it captures the book's warm humor and gentle tolerance and is enhanced by a cinematography that includes crowded street scenes of Calcutta and New York. Kal Penn is fine as the arbitrarily named Gogol, a boy who first rebels but comes to appreciate his heritage.
Away from Her: A movie about the effects of Alzheimer's disease, it makes fine use of Julie Christie to give new life to an Alice Munro story. Filmed with incredible grace by Sarah Polley, it is an intimate reflection on the continuing need we have of others. The actors appear so frail one fears they may disappear into the screen, but when Ms. Christie places a hot pan in the refrigerator, the first clue to her decline, there is a subtle dignity in her gesture. Amazingly, the director is able to bring genuine humor as well as reality to this delicate subject.
Ratatouille: The most exuberant of Disney's Pixar animation movies to date, it succeeds in getting us to root for Remy, an epicure rat who abandons his family's taste for garbage when his sensitive nose leads him to Gusteau's restaurant. He even helps Linguini, the new garbage boy, get a reputation as a cook by adding some ingredients to a soup in preparation. Our instinctive disgust with the very idea of rats helps build a witty film that pays an elegant tribute to good taste.
My Best Friend: This is an unpretentious farce in the best French tradition starring Danny Auteuil and Dany Boon. The former, a successful antique dealer named François, has only 10 days to prove he has a real friend; how he manages to team up with a sociable taxi driver, Bruno, is the entertaining core of its sure-footed story. When the taxi driver discovers François has just been pretending friendship to win a bet, he breaks with him completely. But Bruno gets on a quiz show and has to call François for help on a question of art, bringing about a comically satisfying ending.
3:10 to Yuma: A remake of the 1950s Glen Ford/Van Helflin film, this version brings together all the best elements of the American Western. Good-guy farmer Christian Bale joins a posse to escort outlaw Russell Crowe to Yuma to catch the train that will bring him to federal prison. No easy task, as deputies are picked off by members of Mr. Crowe's psychopathic gang who hope to free their leader. Combining jacked-up violence and a sharp pas de deux between Mr. Crowe and Mr. Bale, the film is as much a psychological thriller as an allegorical horse opera.
Before the Devil Knows You're Dead: This contemporary New York story plays like Greek tragedy, featuring Philip Seymour Hoffman and Ethan Hawke as adult brothers who botch a robbery of their parents' suburban jewelry store. Veteran director Sidney Lumet draws on an innovative script that combines cold nihilism and strained humanity to create a massive verbal/physical battleground. As usual, he gets the most out of his actors, who give some of the best performances of the year.
Kevin Doherty (Macguffin1@optonline.net) and Joseph Cunneen (scunn24219@aol.com) failed to receive an Oscar nomination for their NCR movie columns.
National Catholic Reporter, December 28, 2007