Issue Date: December 28, 2007

Peace broker pitches a Tent of Nations
By COLMAN McCARTHY
"We meet to lay the foundations for the establishment of a new nation: a democratic Palestinian state that will live side by side with Israel in peace and security," said President Bush on Nov. 27.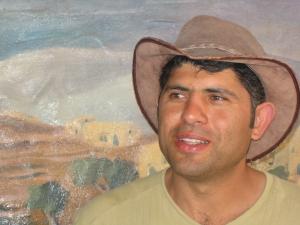 Daoud Nassar: "The most effective way to reach peace is meeting people face-to-face. It's possible to resolve grievances in a nonviolent way."
On the day those lofty, overdue words were directed to Israeli Prime Minister Ehud Olmert and Palestinian President Mahmoud Abbas as they met in Annapolis and Washington, someone else was in the nation's capital trying to lay a foundation. It was Daoud Nassar, a Middle East peacemaker who has been working for years to ease the mistrust between Israelis and his own Palestinians. To date, the results have been small but not so small as to discourage this man of great drive and stout faith.
At 37 and physically trim, the native of Bethlehem is married and the father of three. A Christian who is fluent in Arabic and English, he earned an accounting degree from Bethlehem University and a master's degree in tourism management from Bielefeld University in Germany.
Of late, some of the tourists he has been managing are visitors to the Nassar family's ancestral land, a 100-acre hilltop site between Bethlehem and Hebron on the West Bank. The attraction is the Tent of Nations, an enclave that serves as an educational and cultural center for both local Palestinians and Israelis and international visitors.
"The most effective way to reach peace," Mr. Nassar explained to a group of high school students I teach in Washington, "is meeting people face-to-face. It's possible to resolve grievances in a nonviolent way."
It's no exaggeration to say that such a notion is the magnet that pulled together the Olmert-Abbas meeting. Nor is it too much to argue that if the Israeli government, habitual in violating human rights, is sincere in its claims to want peace, then one place to start is the Tent of Nations and the Nassar family land.
At best, only the barest rudiments of normal living can be found on the Nassar property. "We are not allowed to have electricity or running water in my area of the West Bank," Mr. Nassar explains. "Israeli officials sanction only development permits for Jewish settlements. We collect rain water during the January to March rainy season." The Nassar land, purchased in 1916 by Daoud Nassar's grandfather, is surrounded by Jewish settlements. Plus checkpoints. And more checkpoints.
Until the Olmert government relinquishes the West Bank, which is the essential dynamic for the needed two-state solution, the Tent of Nations is likely to remain only that: makeshift tents, not a functioning facility with the basics and maybe a luxury or two like a dance floor when it's time for celebrating breakthroughs for reconciliation.
Daoud Nassars's connection to the United States, and the host of his visit, is Mark Braverman, a Columbia- and Harvard-educated psychologist with a practice in Bethesda, Md. A Jew with family roots in Israel, he visited the Tent of Nations in the summer of 2006. He returned to Israel and the West Bank last July, leading a delegation from the Interfaith Peace-Builders, a Washington nonprofit with ties to the Fellowship of Reconciliation. A friendship developed with Nassar. "I saw the real situation on the ground," said Mr. Braverman. "Most Jewish Americans who go to Israel get the tourist tour and the one-sided story on how Israel is defending itself against the terrorist Arabs. My experience with the Nassar family and countless other Palestinians -- from villagers to educators -- has convinced me that the opposite is true. The Israeli occupation is the barrier to peace."
You'd think the Olmert government would want to bolster a Palestinian like Daoud Nassar, a man of nonviolence, instead of bullying him with the pettiness of denying him electricity and water. It's a policy of collective punishment, seen on a larger scale in Gaza and its one and a half million Palestinians.
By bringing his message and heroic witness to the United States, Mr. Nassar intends to enlist Americans in his just cause. The next time U.S. peace brokers are in the Middle East, they might drop by the Tent of Nations. Daoud Nassar has plenty to tell them. And show. He can give the visitors a shovel and bring them to his vineyard to plant olive trees. "Planting," he says, "is a powerful sign that there is still hope for peace and justice."
Trees and peace. Call them growth industries.
Colman McCarthy teaches peace studies at colleges and high schools in the Washington area.
National Catholic Reporter, December 28, 2007