Issue Date: January 11, 2008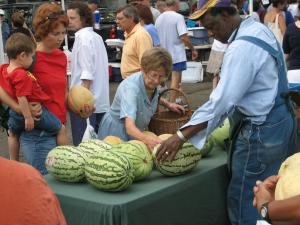 -- Richard McCarthy
Mississippi farmer Ben Burkett helps shoppers select a melon from his July crop. Burkett is a cofounder of the Crescent City Farmers Market.
Slow Food fosters community in New Orleans
The feel-good idea of expressing human love with food -- one central to Slow Food's mission -- also turns out to be helpful for fundraising purposes. When Katrina ravaged New Orleans' vibrant food communities in 2005, a small committee at Slow Food USA, led by New Orleans convivium leader Poppy Tooker, sprang into action and launched the Terra Madre Relief Fund to disburse grants to affected food producers. The first year, according to Slow Food USA development director Gina Fiorillo-Brady, they gave $12,000 worth of grants. Much of the money came from Slow Food USA members and food producers, but, recounts Fiorillo-Brady, "There were a few people who just called and said, 'I have no idea what Slow Food is,' " but wanted to help anyway.
This year, they gave $5,000 to Mary Queen of Vietnam Catholic Church in New Orleans East. The church, the anchor of close-knit Vietnamese-American community, mobilized members to begin the work of rebuilding their community long before the federal government stepped in. They successfully lobbied the city of New Orleans, with help from the Loyola University Poverty Law Clinic and others, to shut down a landfill. When it opened in February 2006 as a collection point for storm debris, it put dozens of acres of community gardens at risk. The $5,000 grant will help them develop their farmers market and contribute toward the purchase of a 20-acre plot of land next to the church, for an urban farm.
Richard McCarthy, an economic development specialist at Loyola University in New Orleans and cofounder of New Orleans' Crescent City Farmers Market, recounts how Slow Food stepped in, rallying members countrywide and forming a "cross-class coalition" to aid New Orleans, with the idea that "we'll step up where government has failed." His own farmers' market also received a grant from the Terra Madre Relief Fund.
After the storm, McCarthy and his family went to Houston and were told they might not be able to return for a year. But they were back by October to reopen the market by November. McCarthy has an obvious fondness for markets' positive social effects as compared to the stress of going to the mall or the isolation of shopping online. After Katrina, he saw friends reconnecting with one another at the market, and learning how each had fared in the storm. If government failure was one of the major stories of Katrina, McCarthy says, civic engagement was the other.
"Two and a half years ago, nobody sat around saying we should have a disaster relief fund," Fiorillo-Brady said. But the Terra Madre Relief Fund was born out of a need, and it will endure for the same reason.
-- Kathy Gilsinan
National Catholic Reporter, January 11, 2008