Issue Date: January 11, 2008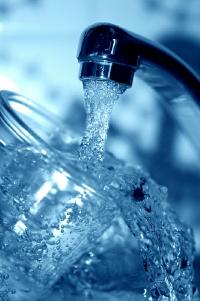 -- Dreamstime.com
Do the Earth a favor: Turn on the tap
Americans have turned more and more to bottled water in recent years in their quest to maintain health and conquer thirst. In 2007, they spent an estimated $15 billion on a bevy of varieties of H2O. They are expected to increase their purchases to $16 billion in 2008. The market has grown so much that many stores offer a veritable paradise of choices. Some bottled water comes from springs nearby; some is flown in from thousands of miles away. Some has a high "style" quotient and is bottled with bubbles or a light fruity taste. Some is nothing more than tap water flowing through a municipal system. A few brands, usually from Europe, are bottled in glass, but most come in plastic. All of it is pricey, more expensive than gasoline, and the fact that it is healthier than a can of soda is a selling point that's hard to beat.
If, for the practically minded, it is hard to understand the allure of paying for something that is often is nearly free (and often higher quality) at home, well, that's where perception comes in. Lured by corporate marketing and packaging, Americans have learned to like bottled water's aura of status and safety, combined with the ever-popular element of convenience.
Further, for the last decade or so, a mantra in the worlds of sports, health and personal appearance has been "hydrate, hydrate, hydrate." People seeking everything from well-functioning muscles to well-tuned brains to more youthful complexions have tried to consume the 64 ounces of daily water that some experts advised.
As a result, bottled water is everywhere, from backpacks to corporate conference rooms. Environmentalists calling for change, including many in the Catholic church, want aficionados to consider some basic facts, provided by groups that track the environmental impact of bottled water:
Seventy-four percent of Americans drink bottled water, and one in five drinks only bottled water.
Worldwide, consumers spent $100 billion on bottled water in 2005.
Making bottles to meet Americans' demand for bottled water required the equivalent of more than 17 million barrels of oil last year -- enough fuel for more than 1 million U.S. cars for a year -- and generated more than 2.5 million tons of carbon dioxide.
Each year, 4 billion pounds of polyethylene terephthalate, or PET, plastic bottles, which are recyclable, end up in landfill or as roadside litter. Only a small number are recycled.
About 40 percent of bottled water comes from the same sources as tap water. In blind taste tests, most consumers couldn't taste the difference between tap and bottled water.
Bottled water isn't subject to the same stringent quality controls as tap water. It is no safer than tap water and sometimes much less safe.
Large beverage corporations are sometimes draining water supplies that communities in less-developed countries rely on. The United Nations estimates that more than 1 billion people worldwide currently lack access to safe drinking water and that by 2025, two-thirds of the world's population will not have access to drinking water.
-- Laura Lloyd
National Catholic Reporter, January 11, 2008