Issue Date: January 11, 2008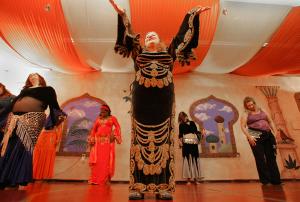 -- RNS/Roadell Hickman/The Plain Dealer
Toni Kearns, who uses the stage name Ameenah, leads her belly dancing troupe in Akron, Ohio.
Belly-dancing as a vehicle for spiritual exploration
By DAVID BRIGGS
Religion News Service
Middle Eastern music plays softly as the dancers gracefully raise their hands from their sides and lift them high, ending with their palms together above their heads.
The movements of the women, short and tall, young and old, thin and not-so-thin, have a meditative quality. Their expressions are peaceful, some are almost beatific.
Now that's belly-dancing.
Not the Hollywood kind in which barely clothed women in sequins and pushup bras dance seductively until even James Bond raises an eyebrow, but the kind in which women fill classes at gyms, YMCAs, recreation centers and places such as the Visions of the Nile Belly Dance School in Akron, Ohio.
Belly-dancing has exploded in popularity. What began as a fun way to exercise has for many women turned into a spiritual practice that empowers them to explore their physical and artistic selves free from male judgment.
Rachel Kraus, an assistant professor of sociology at Ball State University in Muncie, Ind., surveyed 74 women ages 18 to 65 in 15 belly-dancing groups in the South and the Midwest and found three-quarters considered it a spiritual experience.
She told a joint meeting of the Society for the Scientific Study of Religion and the Religious Research Association that belly-dancing is meeting a spiritual need for many U.S. women, particularly those not affiliated with organized religion.
"Several people talked about communing with God, thanking God, worshiping God" during the ritualistic dance, she said.
The findings resonate with many dancers.
"I just feel divine," said Toni Kearns, founder of the Visions of the Nile school. "The spirits are happy you're doing this."
Dance for centuries has been part of religious worship, but the skewed image of belly-dancing presented in American popular culture does not immediately bring to mind a path to spiritual growth.
The belly dancer as seductress-harlot is not their world, dancers say.
In contrast, the ritual movement, dress and music in belly dancing helps women commune with the divine.
"It's just such a calming, relaxing form of meditation, almost," Laurel Modic of the Hareem Shar'eem troupe said before a rehearsal at the Slovenian Society Home in Euclid, Ohio.
At the Vision of the Nile school, some women spoke of belly-dancing as an alternative form of spirituality.
Kearns, who has the stage name Ameenah, said that when she had open-heart surgery last year, most of the people at the school "danced with the intention to send me healing energy."
Jessica Booth, who took up belly-dancing 2 1/2 years ago after finishing college, said she does not go to church because she is at Visions of the Nile on Sunday mornings.
"For me, it's definitely all in the soul," she said of belly-dancing. "It's almost an out-of-this-world experience."
In her research, Kraus found that the women most likely to find a spiritual element in belly-dancing were those not connected to organized religion. Her theory was that women who regularly attended worship were more likely to have their spiritual needs met in traditional ways.
Deborah Flynn, a member of the Visions of the Nile dance company with the stage name Yasmine, said she has visited many Christian churches, but many "unknowingly are very patriarchal."
The nearly all-female world of belly-dancing offers a way for women to bond, she said.
"We found our own spiritual path," she said. "We're all probably heading in the same direction, but it's not through the patriarchal hierarchy of the church."
David Briggs writes for The Plain Dealer of Cleveland.
National Catholic Reporter, January 11, 2008