Issue Date: January 11, 2008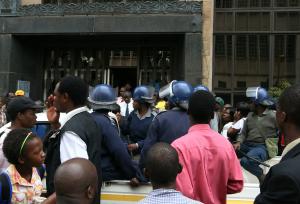 -- AP/Tsvangirayi Mukwazhi
Riot police arrive to restore order at a bank in Harare Dec. 31, as hundreds of people wait outside a bank to beat the deadline to exchange their old 200,000 Zimbabwean dollar notes for new currency. The old money became worthless at the end of the day.
Bleak future stares Zimbabweans in the face
By NCR CORRESPONDENT
Bulawayo, Zimbabwe
In crisis-torn Zimbabwe, the new year offers few signs of hope for a better future for millions here battling continued hardships as the nation approaches crucial polls.
Despite the domestic and international consensus that President Robert Mugabe has ruined a once-vibrant economy and destroyed just about everything he inherited when he came to power in 1980, he is still tipped to win -- some say steal -- the ballot.
Mugabe is seeking another five years in power. If he wins and finishes the term, he would be one of Africa's longest serving presidents and 88 years old.
He has in the past said he will rule until he is 100.
2007 will go down as the worst since the economic and political crisis set in a decade ago. Zimbabwe has gone from economic star of southern Africa to what the World Bank calls one of the worst investment destinations in the world.
Standing in line has become a way of life. People stand in long winding queues for scarce basic commodities and at banks to withdraw money that devalues daily. The inflation rate was pegged at 15,000 percent for 2007.
Cuts in water and electricity services have turned urban areas into mirrors of rural life: Women and children form long queues to fetch water from boreholes. Families cut firewood for cooking and heating -- parks and public areas have been denuded of trees.
To escape this increasingly hellish life, an estimated 4 million people have fled the country as economic refugees. By some estimates that is 60 percent of the adult workforce. Professionals seek menial jobs in neighboring countries and farther abroad to support families left behind in Zimbabwe.
Mugabe blames the high prices and deterioration of services on business leaders who he claims are sabotaging the economy to incite a people's revolt against his government.
The only thing on an upward trend is human rights abuse as Mugabe's regime suppresses any form of dissent, activists say.
However, despite the continued hardships, Mugabe remains confident his ruling Zanu PF party will win the polls, which must be held early this year.
The mood on the streets is one of muted protest. Ruling party activists and state security agents have made themselves ubiquitous to tamp down any signs of dissent, according to reports by the Zimbabwe Lawyers for Human Rights.
Thomas Hove, a vendor in the heart of Bulawayo's central business district said 2007 was his worst year ever. "You have to wonder that if things are this bad for us who survive on selling vegetables, how then for large business concerns," he said as he kept an eye out for the police, who confiscate the wares of vendors they accuse of trading in areas not designated for their business.
Though Hove says he is eager to cast his ballot in the coming elections, he said he does not see things getting better soon.
"Everybody hates Mugabe but there still is a strong sentiment here that he will win. If that happens, it means we are set for more misery and hardships," he said. Hove, like others, is concerned that the fractured political opposition has already handed Mugabe victory by failing to approach the elections as a united front that would include smaller political formations.
A Bulawayo-based political analyst told NCR that there are signs that the year ahead will see the political and economic crisis deepening if Mugabe wins the election.
"We have heard the language Mugabe speaks. Already he has threatened to bring back the controversial price cuts that created widespread shortages of basic commodities, and he says mines should be given to blacks. One has to imagine what will happen when he wins," the analyst said.
Last August, Mugabe accused businesses of profiteering and ordered prices of goods and services to be slashed by half. Goods quickly disappeared from shop shelves, and as the new year begins, shelves remain bare.
Mugabe is already in campaign mode and his strategy is clear. When the Zanu PF endorsed him as their presidential candidate at a party congress in December, Mugabe said in his acceptance speech that he would not abandon the people because "their welfare is my welfare."
He has promised to give villagers and indigenous farmers tractors, farm implements, seed and fertilizer. The opposition Movement for Democratic Change and other critics here see this as a brazen attempt to buy votes ahead of the elections.
However, the government said this is all part of efforts to aid black farmers struggling to feed the nation and turn around the country's waning fortunes in the agriculture sector following a controversial land reform program that saw the expropriation of white-owned farms.
2007 also saw industry-wide work stoppages as workers pressed for salary adjustments. In a first here, judicial proceedings stopped when court personnel walked off their jobs in protest for higher wages.
Teachers, doctors and nurses -- all government employees -- are demanding pay hikes beginning this month. The teachers have said if they don't receive an additional 300 million Zimbabwean dollars (about $200 in the informal exchange market) in their pay packets, they won't report for duty when schools open later this month.
The writer's name is being withheld because of the dangers of reporting in Zimbabwe.
National Catholic Reporter, January 11, 2008