Issue Date: January 25, 2008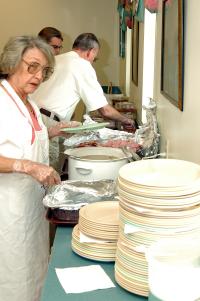 -- Photos Southern Cross/
Michael J. Johnson
Liz Hennessy, her husband Dick and a Savannah College of Art and Design student serve lunch to approximately 120 people at the Social Apostolate of Savannah, Ga.
Serving in the gaps in Savannah
By PATRICIA LEFEVERE
Savannah, Ga.
Missionary Franciscan Sr. Pauline O'Brien has no problem describing the role the Social Apostolate of Savannah plays in the life of this city. "We grow with the gaps," she said, meaning the gaps in social services that affect many of the city's homeless and at-risk population. Her eyes sparkle as she counts the ways.
In the past 12 months the Social Apostolate has obtained birth certificates for more than 800 homeless persons. The document fills a gap for firsttime applicants for a state identification card, which Georgia requires of all residents.
The agency has also developed a housekeeping course that fills a gap for tenants threatened with eviction for lack of cleanliness in maintaining their residences. This past summer it was able for the first time to grant vouchers for uniforms and nursing shoes to those who were entering the job market but were unable to fill the clothing gap required for their work.
When Missionary Franciscan Sr. Mary Catherine Moore opened the charitable mission in 1968, she and Savannah's bishop at the time, Gerard Frey, wanted to put people in the pews in touch with the poor. Last year the 14 parishes in the deanery and a number of other churches contributed $61,000 of the agency's $300,000 budget.
Moore directed the drop-in mission for 25 years, creating a welcoming center and a place where the needy could get some hope as well as a sandwich, groceries, guidance and referrals to emergency services. "She established excellent contacts" with agencies in the city and across Chatham County, said O'Brien.
In 1993 Moore handed the reins to Missionary Franciscan Sr. Mary Therese Brown. But six years later, Brown, only 36, suffered an aneurysm and had to leave, and O'Brien became director.
"These women were my mentors," said O'Brien, who had taught school in Savannah when she was 24, and had previously lived with Moore. A native of Ireland, the nun holds degrees in English, pastoral ministries and spiritual direction. One of seven siblings, the nun's parents, one set of grandparents and a brother were all psychiatric nurses. She has a sister who is a registered nurse as well as one who is a Franciscan and a brother who is a priest. Caring for people is in her DNA, she said.
Directing a ministry in a former paint store on the corner of Pine and Liberty streets puts O'Brien on the fringe of Savannah's historic squares and townhouses and not far from a public housing project. The homeless can walk or take a bus to the agency.
Once there they can get a lunchtime meal, have a shower, collect a bag of groceries and toiletries, utilize the health care provided by the weekly clinic staff and buy used clothing in the thrift shop. Many are directed to city and county services as well.
But their chief need is affordable housing. Finding public housing in Savannah means waiting a year or more, O'Brien said. Not all who obtain housing are able to keep up with rent and utility costs, thus the Social Apostolate is a resource for many while they are getting on their feet. It also lends help with local and out-of-town transportation, as well as assistance with prescriptions, job needs, school supplies and baby items.
Success story
Latacia Avila related a "success story" involving a woman with whom she's been working for over a year. Avila, the agency's assistant director, thought the client -- who is in her early 60s and has a mental disability -- ought to be in senior housing. The city has only one public complex for persons with such handicaps.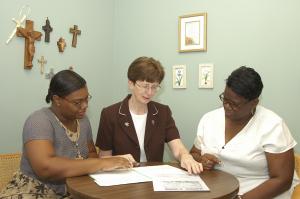 The Social Apostolate staff, left to right: Latacia Avila, Sr. Pauline O'Brien, and Dell Mitchell discuss the challenges in obtaining a client's birth certificate.
With Avila's help, the client completed all the paperwork for senior housing March 1. Previously the agency had obtained her birth certificate from Pennsylvania. In July she returned to show Avila a copy of her lease. Before coming to the Social Apostolate, the "woman had been so frustrated that she couldn't get someone to sit down and guide her through the paperwork," said Avila, noting the client's poor eyesight.
"What jumps out at me is how quickly everything is processed here. We don't have the long waits, because everything is done in a timely fashion," said Avila, formerly the executive director of the Chatham-Savannah Authority for the Homeless.
Avila says that the Social Apostolate owes much of its efficiency and compassion to its volunteers. Some 80 helpers -- many of them seniors, a lot from Catholic parishes -- assist with the work, including fundraising. Last year the thrift shop, a golf tournament and personal donations netted over $100,000 -- a third of the agency's budget. Individual donors contributed $52,000 in 2006, an increase of more than $10,000 over the previous year.
In addition, the agency received public grants of $82,000 and private grants from foundations of $74,000. O'Brien credits a dynamic, community-involved advisory board, the volunteers and local churches all with keeping the agency's doors open.
Parishes, especially those in downtown Savannah, also benefit from the Social Apostolate as they have a place to refer the homeless, said St. Joseph Sr. Jackie Griffith, director of Catholic Social Services for the Savannah diocese.
"The Social Apostolate is the focal point or entry point for the homeless or near homeless," Griffith said. "Folks know they can go there and receive hospitality in a compassionate environment." The organization is "about more than getting money for your utility bill. It's a stop on the road to self-sufficiency," she said.
During the renovation of the paint store -- the agency's fourth location -- an architect adapted the largest part of the building to create an attractive dining area. The room seats 28 and serves three to four shifts. In recent months some 90 to 130 people have gathered for lunch four days a week. The numbers increase in cold weather and at the end of the month when benefits run out. Last year some 14,500 meals were served.
On Thursday many visit the makeshift clinic where a nurse can monitor blood pressure; test for pregnancy, tuberculosis and HIV/AIDS; check on other medical conditions; give injections; and refer people to a physician. Some 16,000 took advantage of the medical services last year and a few hundred received prescriptions.
A good fit
Although many find bargain fashions in the street front thrift shop and others obtain vouchers for school uniforms, the agency has only recently provided vouchers for nursing shoes and work uniforms. In July O'Brien was able to help a woman find three tops and three bottoms in a size 5X for $89, thanks to vouchers and the collaboration of uniform stores that extend discounts to the agency's clients. "I wanted to keep the woman motivated; she'd already lost 100 pounds," O'Brien said.
Whatever success the agency has had in its near-40 years of outreach to the poor has come in large part through community support and networking with other agencies, said O'Brien, who noted that the city had given $30,000 toward repair of the agency's roof.
But community leaders such as Robert Colvin, president and CEO of Memorial University Medical Health Center here, point directly to O'Brien's "love, dedication and selfless service" as the heartbeat of the ministry. In honoring the Franciscan three years ago, Colvin said she is known "for her iron fist in a velvet glove." He called her "fearless," relying upon her faith and the strength of her calling "to serve those whom most of us never see."
National Catholic Reporter, January 25, 2008