Issue Date: January 25, 2008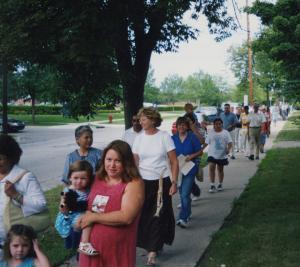 Parishioners process from St. Mary's after Mass Aug. 15, 2005, to Cathedral Mental Health Care's clinic, where the priest and the people blessed the building prior to its opening.
Cathedral parishioners meet vital need
In an old convent, doctors, nurses, others offer mental health care
By JODI McFARLAND
Saginaw, Mich.
A single mother in suburban Saginaw, Cheryl needed psychological care and had no place to go.
That's when she heard about Cathedral Mental Health Care, a free clinic providing mental health services to clients who have no insurance or who cannot afford insurance copays for psychiatry visits.
The program is an outreach by members of the Saginaw diocese's St. Mary Cathedral Parish. Volunteers believe it's the only freestanding, no-cost-to-patients mental health clinic in the Midwest.
"They're a godsend," said Cheryl, 51, who has bipolar disorder and chronic manic depression. "They're saving lives. That's how I felt when I went in there."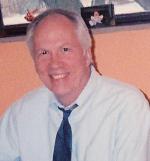 Dr. Harold Lenhart
Cathedral Mental Health Care opened in a former convent on All Saints Day 2005. Volunteers comprise its staff; what started with one doctor, two or three nurses and six to eight therapists now includes two psychiatrists, six to eight nurses, 22 therapists and some 20 more volunteers, said Dr. Harold B. Lenhart, one of the service's founders and a member of St. Mary Cathedral Parish.
In its first year, the initiative served about 200 patients with 705 appointments, Lenhart said. "We haven't advertised our services because we're afraid we'll get completely overwhelmed. We've done 1,000 appointments [in 2007], and that's a lot."
Lenhart, 60, is a member of the parish's Health Professionals Committee, which was offering blood pressure checks, flu shots and other such services. "Looking around the room, we said a lot of us are in the mental health field -- maybe we should go with our strength," he said.
Lenhart is a licensed psychiatrist in private practice who also works full-time at HealthSource Saginaw, a county-owned hospital. He sees patients three to four hours a week at Cathedral Mental Health Care.
Cathedral Mental Health relies entirely on donations, and no one draws a salary.
"We feel it was the Holy Spirit directing us to do this because everything kept falling into place," Lenhart said.
His wife, Pamela Blondin, agreed. A retired social worker, Blondin volunteers 2.5 days a week as the program's director, handling intake interviews and coordinating the operation.
"It's really like a miracle," said Blondin, 61. "When we decided to do this, within four days someone donated office space to us. Before a request for a fax machine … appeared in the bulletin, we'd get a call from someone who would say, 'Would you like one?' "
Cathedral Mental Health is like any other doctor's office, "except we're in an old convent, so the waiting room is the hallway, and our magazines are several years old," Blondin said, laughing.
Clients see the doctors or talk with therapists, and the agency coordinates with another charity to help those without prescription coverage to get needed medications.
Blondin meets all clients. "I see everyone first who requests services to make sure they're eligible," she said. "If they have insurance someone will take, we send them there, but if they don't have insurance or can't afford their copay, we take them."
Though Medicaid covers Cheryl's two prescriptions, her copay to see a doctor was too high.
She lives on Medicare, Medicaid and state aid for her 12-year-old son. At the end of each month, she has about $50 to cover gas and other expenses, she said.
Doctors diagnosed Cheryl 11 years ago. When her adult son lost his battle with bone cancer three years ago, her illness worsened. Community agencies stepped in, but after three years without a hospitalization, officials told her they couldn't treat her any longer.
That's when Cheryl discovered Cathedral Mental Health Care. She sees Lenhart monthly and a therapist every two weeks.
"The people are just so ready to help you, have such compassion, and they really listen," she said. "When you walk in, you know other people sitting there, and we all have problems. We all are waiting, knowing that we're going to be taken care of."
Lenhart said some clients have moved on after securing private insurance or improving in health. "Some will need to see us indefinitely," he said.
"Three-quarters of clients come to see a doctor and to get medication prescribed. Some live in foster care homes, homeless shelters. Volunteer client advocates try to help them get shelter and food."
Though many volunteers are members of St. Mary Cathedral Parish, discussing faith is optional for the clients.
"A lot of the people who come to us and work with us are pleased at the option of discussing faith," Lenhart said. "We talk about spiritual matters, but we don't push any specific religious beliefs on anyone. We do have posters up to make it clear that people are welcome to join us at the cathedral for worship. We've seen a few people in church."
Cheryl, who has a Lutheran background, said she can see the Spirit at work at Cathedral Mental Health Care. "They have this peace about them," she said. "Everyone is just so friendly and patient with us. It's remarkable. Why couldn't our family have grown up like that?"
Lenhart noted one particular freeing aspect for the therapists: "We don't have to do anything to keep insurance companies happy. We have to take notes that make sense to us and focus on helping people who can't get help elsewhere. People are grateful, there's a loving, giving spirit, and there's hardly any paperwork."
Jodi McFarland is a journalist living in Midland, Mich.
National Catholic Reporter, January 25, 2008