Issue Date: January 25, 2008
Cynicism, nihilism and wisecracks
'Sweeny Todd' is a brilliant adaptation; 'Juno' is a touching screwball comedy
By JOSEPH CUNNEEN and KEVIN DOHERTY
A brilliant adaptation of Stephen Sondheim's successful Broadway musical, Sweeney Todd: The Demon Barber of Fleet Street should be prefaced with a warning. The violence is bloody and not for the faint of heart. It boasts remarkable performances by Johnny Depp and Helena Bonham-Carter. Mr. Depp plays the vengeful barber of Victorian London with such sustained conviction one fears he will melt in his own fury. He can sing as well, adding a Brechtian flare of brooding anger to Mr. Sondheim's truncated lyrics.
The tale is simple: Todd returns to England to get even for the loss of his wife and daughter at the hand of the slimy and powerful Judge Turpin (Alan Rickman). In an all-encompassing rage, he opens a gruesome barbershop in which he cuts throats faster than he can get customers to sit in his chair. In the process, he helps supply the downstairs meat pie business run by Mrs. Lovett (Bonham-Carter), whose unique recipe includes human flesh. Together, they make up the gristliest partnership in town.
Ms. Bonham-Carter, who has always been associated with delicate corset-clad roles, provides the edgy counterpart to Mr. Depp's Todd in a performance that is cruelly self-serving yet with a romantic strain. Mr. Depp's deadpan posturing during a fantasy sequence of what married life would be like with Mrs. Lovett is the height of cynicism. In addition, Sacha Baron Cohen of "Borat" fame provides some of the film's best scenes as Todd's rival barber, Signor Adolfo Pirelli. With his phony Italian accent and prissy moves, Mr. Cohen proves himself a surprisingly versatile actor.
Director Tim Burton's trademark vision, which combines horror and fantasy, is abetted by the film's art direction and set design. Aided by special effects, Dickens-era London never looked so ominous with its lamp-lit streets, smoke-filled air and dusty alleys. You can almost smell the poverty. The consistency of this image and the brilliance of its stars make "Sweeney Todd" easily the best musical of the year.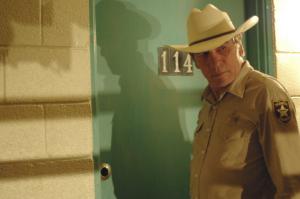 -- CNS/Miramax/Paramount Vantage
Tommy Lee Jones in "No Country for Old Men"
No Country for Old Men may have been the most highly touted movie of 2007, but it was probably also the most disturbing. Taken from Cormac McCarthy's stark novel of West Texas in the 1980s, it presents a world so nihilistic that viewers will find no comfort during its two-hour run. Josh Brolin plays Llewelyn Moss, a veteran who stumbles on a drug deal that went bad on the wind-blown prairie. Out of the carnage he takes a suitcase that has been left behind with $2 million dollars inside, a decision that will change his life.
He is constantly hounded by others in search of the loot, especially the psychopathic Anton Chigurh (Javier Bardem), the most startlingly evil character seen on film in years. A single-minded thug who carries around an air compressor used to kill cattle, he casually eliminates everyone in his way, occasionally playing a cat-and-mouse game with those whose fate is decided by the flip of a coin. Moss barely escapes from seedy hotels and Mexican border hospitals as the inevitable web closes in on him.
The slow pace builds nail-biting tension in this hide-and-seek game between Chigurh and Moss. They both work out schemes to catch or avoid each other, each ending in explosive climaxes; as in other laconic westerns, actions are allowed to speak for themselves.
The one exception is Tommy Lee Jones, the local sheriff who is about to retire, delivering speeches on death and justice in a world he finds difficult to understand.
Directors Joel and Ethan Coen make clever use of a Hitchcock formula, staging the graphic killings in the first half of the film. By the end, little is shown, and the audience is forced to speculate on what happened to others. "No Country for Old Men" is a film of horizontals, from the endless stretches of desert to the many motels and desert camps, which come together to create a morally bankrupt landscape. Viewers are left with a vision that will not only haunt them long after the film is over, but force them to struggle to make sense of a world that contains evil on such a grand scale.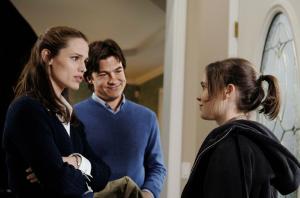 -- CNS/Fox Searchlight
Jennifer Garner, Jason Bateman and Ellen Page star in a scene from the movie "Juno."
Juno succeeds initially on the basis of the acid tongue of Ellen Page, who gives one of the year's most memorable performances as a 16-year-old high school girl who tries sex and immediately becomes pregnant. Her hip dialogue and confident stance is amusing, but the movie finds its real center when she begins to reveal the unsure young woman beneath the bravado.
Taking full advantage of a superior comic screenplay by Diablo Cody and a soundtrack featuring the songs of Kimya Dawson, director Jason Reitman gives his film structure by marking the seasons of the year (and of her pregnancy) with runners from Juno's school racing around its outdoor track. Juno becomes pregnant at the very start, in a chair, with her high school partner, Bleek (Michael Cera), and seems amazingly calm about what to do next. As her supportive stepmother tells her father, "You know, of course, it wasn't his idea."
Bleek is willing to support whatever decision Juno makes, and she first approaches the local abortion clinic. But things seem too casual there; they even hand out flavored condoms. As Juno begins to consider carrying her child to term, girlfriend Leah (Olivia Thirlby) tells her that they have "desperately seeking spawn" notices next to pet ads in the Penny Saver throwaway. The next scene shows Juno, accompanied by her supportive father (J.K. Simmons), entering a well-furnished home in upper suburbia, where the decision is made to give the prospective infant to Vanessa (Jennifer Garner), who is more than eager to be a full-time mother, and her husband, Mark (Jason Bateman).
If "Juno" starts as screwball comedy, it grows into something more touching. The heroine's hip cleverness by itself could become tiresome, but she gradually reveals a real sweetness underneath her laugh-out-loud honesty. This development is encouraged by concern over the apparent breakup between Vanessa and Mark, and perhaps also by the fact that Bleek asks another girl to the high school prom. "Juno" doesn't wrap up everything in sweetness and light, but watching its heroine begin to consider that she might genuinely care for this young man helps us see beneath her wisecracking veneer.
"Juno" isn't an exercise in sociology, but it is so good that it makes us ask questions after we leave the theater. What kind of preparation did her parents give Juno for the dangers that accompanied her independent style? It's obvious the movie wouldn't have been successful as comedy if she had chosen abortion, but is it content to tell us there is no defense against the culture of sex-as-casual-distraction?
Kevin Doherty teaches film at Manhattanville College; Joseph Cunneen was a longtime editor of the ecumenical journal Cross Currents.
National Catholic Reporter, January 25, 2008