Issue Date: February 8, 2008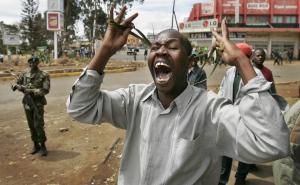 -- AP Photo/Ben Curtis
An opposition demonstrator reacts after police fire tear gas and live rounds into the air to break up a large opposition demonstration in Eldoret, Kenya, Jan. 16.
In Kenya, religious orders model peace
By JOE ORSO
The post-election, intertribal turmoil in Kenya had not reached the Dominican compound, set on a hillside near Kisumu, when a man approached in early January posing an ominous question.
What tribes did the people inside belong to, he wanted to know?
The man left before police arrived, and without learning that the priests were harboring about 30 refugees from three tribes -- Meru, Luo and Kikuyu. Dominican Fr. Martin Martiny, head of the compound, instructed guards on how to respond if the question came again. Tell anyone who asks that "we are all sons of St. Dominic," he said.
The situation illustrates a potentially daunting reality for many religious orders in Kenya, whose members, friends and family members may come from different tribes, including Kikuyu and Luo -- the major tribes violently contesting a national election and tearing the country apart.
With more than 250,000 people reported to be displaced, more than 800 reported killed since the turmoil began, and news reports speaking of "ethnic cleansing," priests, sisters and brothers are finding their lives and work to be mired in paradox. For African members, rising above ethnic identities for the sake of religious and national unity poses challenges few envisioned, calling some to a deeper understanding of religious life.
As they strive to stand for peace, they must make difficult decisions about how to keep themselves and others safe. As they reach out to others, hoping to bring a degree of comfort to a traumatized population, they struggle with their own sense of helplessness. As they remain steadfast in expressing religious and national unity within their communities, they watch in horror as violence continues to flare up, often along tribal lines.
Tales of pain, fear and disrupted lives and work as well as prayers for peace and safety have appeared on the Web pages of numerous international religious orders in recent weeks, as violence has escalated and spread. In some cases, religious orders were afraid to provide NCR with even vague information about members in Kenya, fearing for their safety. In other cases, leaders were unwilling to discuss tribal differences in their communities.
The ominous visit to the Dominicans came about a week after incumbent President Mwai Kibaki, a Kikuyu, assumed office, claiming victory in an election independent observers agree was flawed. The opposing party, led by Raila Odinga, a Luo, is responsible for organizing ethnic violence against Kikuyus, according to reports, but Kikuyus have also carried out attacks. Longstanding land and economic disputes add fuel to the ethnic anger.
Dominican Fr. Kevin Kraft, novice master, and one of several religious in Kenya whom NCR was able to reach by phone, said Dominicans quickly learned to see their community of Kenyan and foreign Dominicans as a possible target.
"If people are looking for people of other tribes, it's not going to make a difference whether they're religious or not," said Kraft.
It wasn't long before Kraft, an American, became a refugee himself. The morning after the stranger's visit, a bishop called saying he'd heard that Luo people had been burned alive in a bus. Although it turned out to be a rumor, Dominicans feared reprisals by Luo if the report -- true or false -- became public.
So Kraft, along with four novices and about 20 refugees who had taken shelter at the compound, left before noon that day and spent the night in Kisumu. Most traveled the next day to Nairobi with a convoy of about 14 buses and 50 other vehicles fleeing Kisumu.
In early January, a church was set ablaze in Eldoret, taking the lives of at least 30 people seeking shelter there. Eldoret, situated just south of Kisumu in eastern Kenya, hotbed of the recent violence, is home to a community of Religious of the Sacred Heart, who were attending a meeting in neighboring Uganda at the time. Later in the month, a Catholic priest was brutally killed at one of the roadblocks that dot the country. Angry mobs have set homes and businesses ablaze and thousands of people have taken flight in a mass migration from enemies who may once have been neighbors or friends.
Makeshift roadblocks have made traveling slow and dangerous, and in late January many students had not returned from Christmas break to the Catholic University of Eastern Africa, where Sacred Heart Sr. Josephine Adibo serves as lecturer and counselor to an international student population. Of those who had returned, many suffered from a deep sense of hopelessness, she said. Often she finds the best she can offer is to counsel people to use their pain to ease the pain of others, to become "wounded healers in a wounded world, especially on this wounded continent," she said.
Masses on the Nairobi campus have focused on peace, reconciliation and a solution to the crisis, with intercessions spoken in various Kenyan and African languages. Members of the campus community have donated blood to victims of the violence.
Mill Hill Missionary Fr. Hans Burgman, pastor of St. Joseph Parish in Kisumu, acknowledges sharing in the general sense of helplessness. His parishioners come from various tribes, including Luo and Kikuyu. Some have taken refuge from the violence in the parish hall with nothing left but their clothes. "That frustration of not knowing what to do for them is one of the most painful things," said Burgman. "You cannot resort to pious statements. You feel your powerlessness and they feel it, too."
Burgman, who has been in Kenya for 30 years, said his hope lies in people putting brothers and sisters before themselves and foregoing power for the sake of love.
But the violence has come painfully close. A young boy who used to sell rosaries outside the church was shot and killed by police, said Burgman, a native of the Netherlands.
"Police are just as much afraid as others. They're shaking with fear," he said. "We are living on a volcano. The foundations have been shaken from the whole structure of Kenya and it looks bad and it's still getting worse."
Br. Daniel Wang'ombe, a 31-year-old Marianist who lives in a Marianist community in Nairobi, said he and his brothers are modeling the peace they believe the majority of Kenyans want, but leaders are unable to provide. In mid-January, he and other Marianists had discussed experiences and agreed that their shared identity as Marianists runs deeper than their ethnic differences. Wang'ombe is a Kikuyu; 29-year-old Brother Moses Atito, a member of his community, is a Luo.
"It's our responsibility now as individuals to show that we can live together," Atito said. "We have to see each other as Kenyans, not as Kikuyu or Luo, and that's what we are trying to do."
And yet, some acknowledge an undercurrent of suppressed ethnicity. While differences might not come to the surface publicly, said Fr. Martin Solma, an American in the community, the African Marianists experience the deepening conflict from their particular ethnic perspectives. "They feel those things, sure," he said, but try to put them in the context "of religious principles that at least they want to make more important."
Sacred Heart Sr. Helen O'Regan, who coordinates an AIDS education and prevention program in her diocese, said getting necessary medications to displaced people has become a major challenge, posing risks to both people who are ill and caregivers. O'Regan, an American, has worked as a missionary in Africa for 30 years and helped build a province whose members today are predominately African.
Recently she was driving to visit a community of her sisters in Chekalini when she saw a roadblock with 10 or 15 youths ahead of her. She made a three-point turn, only to see more youth behind her putting stones across the road. But their barrier was not complete, and O'Regan didn't stop when a youth whom she said had "a beautiful smile" tried to flag her down.
While most of the violence is not aimed at foreigners, they are necessarily deeply impacted by the unfolding horror around them. O'Regan and the sisters in her community, whom she described as from various tribes, which she declined to name, pray together every evening. "And we feel the support of our sisters and their prayer from all over the world," she said.
"We are Religious of the Sacred Heart -- that's how we see each other and that's how we want to be," O'Regan said. "We have a call to witness union in Christ and our charism is to discover Christ's love and make his love known, so we first have to have that among ourselves."
Joe Orso is a freelance writer in La Crosse, Wis.
National Catholic Reporter, February 8, 2008