Issue Date: February 8, 2008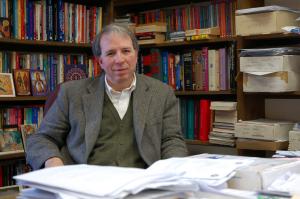 -- John Roper
Robert Ellsberg
Catholic book editor recounts lifelong moral journey
By THOMAS C. FOX
The year was 1969 and the nation was being torn apart by the Vietnam War. Some 500,000 U.S. troops were in Vietnam; 33,000 Americans had died, along with hundreds of thousands of Vietnamese. President Johnson had fallen victim to the war's unpopularity, declining to run for a second term. His successor, President Richard Nixon, continued to drag out the war, with a continuing loss of U.S. and Vietnamese lives.
Word of the massacre of some 400 to 500 Vietnamese farmers by U.S. soldiers in a village called My Lai was beginning to surface. Millions of Americans raised their voices and took to the streets demanding a halt to U.S. involvement in what many now regarded as an immoral and unwinnable war. The nation was in a frenzy. It was into this mix that a boy named Robert Ellsberg, only 13 at the time -- and later to become one of the nation's most prominent Catholic book publishers -- was personally forced to encounter the Vietnam tragedy. It happened when his father, Daniel Ellsberg, a highly placed Pentagon official, asked for his son's support in discerning a moral question whose outcome could put the father in prison.
"My father came to me one day and said that there was something he wanted to do," recalls the younger Ellsberg. "He thought it had a chance of helping end the [Vietnam] war, no guarantees. He thought it was worth doing, and involved some risk. In fact, it might involve his going to prison, essentially forever, as far as he knew.
"Would I be willing to help him?
"I said, 'Of course, of course I'll help.' "
The young Ellsberg accompanied his father on several evening trips to a vacant office where they methodically copied, sheet by sheet, a 7,000-page top secret Pentagon-sponsored history of the Vietnam War, a study that highlighted a pattern of government lies and deceptions that would eventually be published in The New York Times and a half dozen other major U.S. newspapers.
Even telling the story four decades later, Ellsberg's voice quiets almost to a hush. "I was pretty young to be dealing with those things," he said, "but I had been following my father's evolution [in thinking] for a couple years and was being drawn into a kind of community of moral discerners. They involved authors and people I was meeting who were willing to take on considerable personal risk to end the war, to stop violence. ... It had a tremendous impact on me. It was a formative time in my life."
The son's admiration for his father is visceral. "My father wanted to leave as a legacy the example of a person making a choice in a deliberate, calm, cool-headed and responsible way. He also wanted to introduce me to a moral community with the hope it would be helpful to me in my own life choices. And so at a young age I found myself asking, 'What was my life for? What kind of response was I going to make to the great moral issues of our time?' "
Answers to those life-forming questions can be found in Ellsberg's unfolding career path, most recently as publisher and editor in chief of Orbis Books, the book publishing arm of the Maryknoll religious order, the U.S.-based Catholic mission movement, whose members -- priests, brothers, sisters and laity -- are noted for their work in developing countries. Maryknoll and Orbis, whose prophetic vision has made it a player in many of the historical dramas of our time, share a reputation for placing social justice squarely within the work of Christian evangelization. (See related story.)
Daniel Ellsberg was arrested and charged with treason. The U.S. government case against him eventually fell apart -- but only after months of anguish for the family. Today, the elder Ellsberg lives in Berkeley, Calif. He writes and speaks widely and has been, in his son's words, working tirelessly for an end to the war in Iraq.
Robert Ellsberg early on decided he wanted nothing to do with war.
In 1973, at age 18, he had decided he would not register for the draft. In college he felt alone; most of his peers had simply not experienced what he had. "I felt very isolated and lacking not just a community of support, but a community in which it even made sense to worry about things like that."
By then he had long been immersed in the readings of Gandhi and Thoreau and found himself attracted to their philosophies of nonviolent resistance to immoral government policies. Although raised in the Episcopal church, Ellsberg said he had strayed away from formal religious practice and increasingly was being influenced by the example of draft resisters and nonviolent activists, many in turn influenced by people associated with the Catholic Worker movement. It would be a movement he wanted to learn more about.
He finally registered for the draft, feeling he lacked the personal resources, in his words, "to see that all the way through and go to prison at that time." Still struggling for greater clarity and not finding it in college, he dropped out of Harvard after his sophomore year. One day, almost by accident, he recalls, he found himself at the Catholic Worker house in New York.
There he encountered a woman who was struggling with questions similar to those facing him. Her name was Dorothy Day, a journalist turned activist who, along with Peter Maurin, founded the Catholic Worker Movement in 1933, espousing nonviolence and hospitality for the impoverished and downtrodden. Day -- today widely regarded as a saint -- became known for her social justice campaigns in defense of the poor, forsaken, hungry and homeless.
Ellsberg found himself drawn to the Catholic Worker House in lower Manhattan.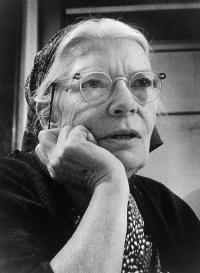 -- CNS/Courtesy of the Milwaukee Journal
Dorothy Day
"Dorothy Day seemed to embody the closest thing to a Gandhian spirit of living nonviolence as a way of life in a consistent fashion. I felt that the Catholic Worker was a place where I might learn something about life apart from just reading books."
Ellsberg ended up staying for five years, in large part to edit The Catholic Worker newspaper, published periodically from the house and mailed throughout the nation at its original cost of one penny per issue. Speaking of his time as editor, he said, "It wasn't that I had any special qualifications. I guess there was no one else to do the job."
It was during that time that Ellsberg's interest in Catholicism began to grow. "In my first few years there, [the Catholic Worker movement] struck me as representing the true, radical spirit of the Gospels. I didn't have much identification with the wider church and I didn't really have any particular formation in Catholic tradition or spirituality. ... Dorothy Day had told me that when she first became a Catholic she didn't really have any sense of the Catholic community that she was part of." That didn't happen until Peter Maurin, a French peasant philosopher, introduced her to it.
Ellsberg, still restless, eventually decided to leave the Worker house. "One of the reasons I stopped editing the paper was quite literally because I felt a kind of emptiness. I felt that I was saying all sorts of things and I didn't really know if I believed them or what they meant." He took a job as a hospital orderly in a home for terminal cancer patients run by a Dominican order of sisters in lower Manhattan -- and continued reading.
"I was surrounded by this atmosphere of death, but also it had a kind of peacefulness." Flannery O'Connor, the southern Catholic writer who died at age 39 in 1964, became his next mentor. Her letters had just been published and Ellsberg rushed to buy one of the first copies. O'Connor's The Habit of Being seemed to give him a sense of Catholicism as a worldview. He recalls that he was beginning then to see how Catholicism, seen through the lens of the Gospels, made a difference in how one looked at reality.
"I just felt this deep sense that I got it finally and I wanted to be part of that [Catholic] tradition. I went to tell Dorothy and told her I wanted to become a Catholic."
He also decided at the time to return to Harvard and finish his degree.
Soon after he returned to Harvard, Day died, in November 1980, but his association with her would not end. Ellsberg took up the task of editing her selected writings, which were published a couple of years later.
After graduating in 1982 he received a fellowship to go to Latin America for a year where, among other things, he studied Spanish at the Maryknoll Language School in Bolivia. There he came into contact with religious missioners, theologians and authors who were advocating a combination of justice and theology. It was called liberation theology. Many liberation theologians, Ellsberg recalls, were being published by Orbis Books -- and he was devouring every one of those books he could put his hands on.
"I was so turned on by that that I decided I wanted to study theology. So I went back to Harvard Divinity School and went into a doctoral program."
By this time Ellsberg was steeped in theology and in Latin America. He was alive in his newly adopted faith, infused with the spirit of the Catholic Worker movement, his association with Dorothy Day, and his affinity for the radical call to Christian nonviolence. His faith and career path had long been set by the events of his childhood and the strong influence of his father's life and moral decisions.
In 1987, he was recommended for the post of editor in chief at Orbis Books. He left his studies, went to Maryknoll in Ossining, N.Y. A few years earlier he had married his wife, Peggy, who currently is a professor of English at Barnard College. The couple has three children.
Ellsberg recently marked his 20th anniversary at Orbis. He was named publisher in 2006.
Dorothy Day remains for Ellsberg a kind of patron saint -- though some feel the worldly Day would never want that word associated with her name. At the request of the archivist at Marquette University, where the Day archives are housed, Ellsberg has just finished editing Day's diaries, which became available 25 years after her death. Day appears to be keeping Ellsberg's moral compass fixed.
Tom Fox is a former NCR editor and publisher.
National Catholic Reporter, February 8, 2008