Issue Date: February 8, 2008
A bridge between religion and the arts
Image editor Gregory Wolfe talks about the mission of his magazine
By ERIN RYAN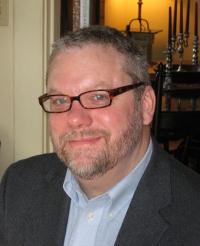 Gregory Wolfe
The year 1989 was an important one for cultural change, said Gregory Wolfe, editor of Image: A Journal of the Arts and Religion -- and not just because that's the year when Image began. That was the year the Berlin Wall came down, the year when "a lot of people made comments about Marxism having finally kicked the bucket." About the same time, people acknowledged the decline in Sigmund Freud's influence, said Mr. Wolfe, particularly Freud's notion that religion is by definition wish-fulfillment or escapism.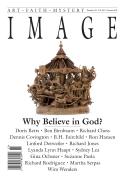 Before that ideological shift, Mr. Wolfe, 48, had perceived that a lot of modern artistic types were skeptical about religion, because, as he said, "if art is ... meaningful, it has to be about reality. It has to tell the truth." And if religion was not true, as Freud claimed, why should artists have anything to do with it? On the other hand, the church had been suspicious of the arts in the modern era.
Mr. Wolfe, who credits literature as one of the things that led him to become a Catholic, hadn't agreed with either side.
"I had reacted against the pre-'89 triumphalism of both sides, the ... secularists saying that no one was going to write about God anymore and ... the notion that Western civilization as a creative force had died somewhere in the past," Mr. Wolfe said. With Image, he said, "I wanted to prove both sides wrong. I wanted to attack that sort of religious Gnostic attitude, that ... the whole world was so tainted, so poisoned by whatever modernity was that was bad, and I wanted to say to the secularists that artists and writers like Dante and Bach and Rembrandt and Flannery O'Connor were still capable of emerging in the present moment."
In the late 1980s, Mr. Wolfe said, he was talking with his wife, Suzanne, and other friends about these questions. They knew there must be writers out there who were capable of creating brilliant literature that engaged with faith.
"Each of us had a writer or an artist or two that we liked, and we began asking around," Mr. Wolfe said. They thought at first they might find enough contemporary artists for "four or five issues."
Today, Image is still going strong. Though early issues were infrequent, by 1994 there was enough money to make it a regularly published quarterly. In addition to the editor, the journal now has two other full-time staff members, Mary Kenagy, the managing editor, and Julie Mullens, the director of programs. Together, they produce Image in an office at Seattle Pacific University -- a huge step from its beginnings, when it was produced in Mr. Wolfe's basement.
In recent years, author Annie Dillard has called Image "one of the best journals on the planet." Material from Image has been selected for "Best of the Year" anthologies: The Best American Poetry, The Best American Essays, The Best American Short Stories. From the first issue, the staff put great emphasis on the journal's production values, wanting it to stand up to better-known magazines on newsstand shelves.
"We sometimes joked, 'aesthetics before God,' you know, that Image has to be first-rate art, that faith is not a shortcut to anything," Mr. Wolfe said.
Each issue is almost like a thin paperback book. Image offers fiction, poetry, essays, interviews with artists and writers, book reviews and beautifully reproduced visual art, all with some connection to the Judeo-Christian faith tradition. The past issue, for Fall 2007, includes a conversation with theologian Walter Brueggemann and the visual art of British sculptor Stephen Cox. Other issues in the recent past have included interviews with Alice McDermott, whose novel about an Irish Catholic family, Charming Billy, won the National Book Award; and Pulitzer Prize-winning poet Franz Wright, whose most recent collection is God's Silence.
The editorial advisory board of this once-startup journal now reads like a "Who's Who" of artists and writers working today who engage with the realm of faith; among the names are Annie Dillard, Richard Rodriguez, Kathleen Norris, Patricia Hampl, Paul Mariani, Ron Hansen, Barry Moser. Denise Levertov was on the board, too, before her death.
"My argument -- which is hardly original to me; T.S. Eliot makes it brilliantly, probably better than anybody else -- is that unless you are engaged with the art of your own time, that is, the art that is in dialogue with the tradition, you can't have access to that tradition in a true, living way because it becomes real as people in current circumstances struggle to make it real," he said.
Growing up, Mr. Wolfe edited everything from his junior high school literary magazine on mimeograph paper to college publications. His father was involved in the conservative movement from the early 1950s, and the son spent his undergraduate years in the late 1970s at Hillsdale College in Michigan, a place he calls a "mecca of political conservatism."
"I was being groomed in some ways with my willing participation as a conservative 'culture warrior.' ... In fact my first job after Hillsdale was working for William F. Buckley Jr. at National Review," Mr. Wolfe said. "As a potential conservative culture warrior, I was going to do battle on behalf of this idea that the modern world was going to hell in a hand basket, thanks to secular liberalism. But the reality is that my love of art itself kind of undermined the tendencies toward ... ideological politics.
"If you really look at art, in my opinion, by definition it tends to point out the ambiguities of human life rather than the clear, unambiguous statements of the ideologue. And it began to undermine my beliefs about a number of things, including what politics could accomplish, and in fact I felt that conservatives had stopped conserving their culture the minute they said it was somehow dead or gone, that we could only look back to the past. And [I thought] that was a reactionary kind of attitude, not really conservative. A conservative believes there is something living to conserve," he said.
He converted to Catholicism when he was 23 and a graduate student at Mansfield College, Oxford University. He said that the two main highways leading him toward the church were art, including literary art, and ethics.
"I've never been a very good abstract thinker. I tend to need things incarnated, made concrete. So for me, art and ethics take the big ideas and make them concrete in a very palpable, powerful way," he said. "I began to be interested in issues to do with human life, and life and death, and sexuality and marriage and what seemed to me to be an increasingly coherent and unified cluster of moral understandings on the part of the Catholic church. ...
"And then of course there was the great art and literature of the Catholic tradition," he said, naming 20th-century French writers Georges Bernanos and François Mauriac; Americans Flannery O'Connor and Walker Percy; British writers Graham Greene and Evelyn Waugh, and Japanese novelist Shusaku Endo as people who "had a huge impact on my journey toward the church."
Mr. Wolfe said that he sees the Incarnation "as a model of balance, that it brings together those two poles of human and divine, justice and mercy, all these different tensions in which we live," he said. "It's hard to be balanced in that way. Sometimes we even tend to valorize being on one side or the other as if that makes us somehow more pure, more committed."
The Image umbrella sponsors more than the journal itself, and in fact, the arts-and-religion organization Mr. Wolfe has built leads one to call it an empire.
"You're not the first to use the word 'empire,' but I prefer the bland and neutral 'integrated suite of programs,' " he said, laughing. The official legal name of the suite is the Center for Christian Humanism, a nonprofit organization of which the journal is the flagship.
Part of that suite of programs is the Milton Fellowship, which has supported a number of writers who have gone on to publish books that won awards. Among them, Mr. Wolfe names writer Naomi Hirahara, who received an Edgar Award in 2007 from the Mystery Writers' Association of America, and writer Lise Goett, who won the 2001 Barnard Women Poets Prize for her poetry collection Waiting for the Paraclete.
In addition to his duties at Image, Mr. Wolfe speaks widely on topics related to the arts and religion. In 2003 he published the book Intruding upon the Timeless, a collection of his editorial statements from Image, and he has a forthcoming book, tentatively called Beauty Will Save the World, a collection of essays expected to be published in 2008 or 2009. He and his wife have four children between the ages of 22 and 11. And he is the writer in residence at Seattle Pacific University and the director of the MFA in Creative Writing there, a program that he founded in 2005 that he calls "the only MFA in the world at the moment that specifically attempts to combine a rigorous program of learning the craft of writing with deep reflection on the Judeo-Christian tradition."
Another program under the Image group is the weeklong Glen Workshop that Wolfe helps to lead each summer for people who want to hone their craft in a community of faith. The theme of the 2007 workshop focused on looking at ideas of beauty in the Abrahamic traditions, and how those ideas might help foster interfaith understanding. "The idea grew out of the kind of Christian humanist vision that traditions should seek common ground in this fundamental human need for beauty that we all have," Mr. Wolfe said.
Humanists, Mr. Wolfe explained, are people who "dig deep into their tradition" in order to find universal truths that resonate with others' humanity.
He gives as an example a scene in the 1986 movie "The Mission," in which an 18th-century Jesuit, played by Jeremy Irons, is approaching the Native South American Guaranis, who have reacted violently to previous missionary efforts. Mr. Irons' character sits quietly playing an oboe, drawing the people out of the forest and winning their trust "because he is expressing his humanity. He is saying 'I am human' before he is saying 'I have a message to bring to you,' " Mr. Wolfe said.
Erin Ryan is a staff writer for NCR.
Related Web site
Read more about Image at
www.imagejournal.org.
National Catholic Reporter, February 8, 2008