Issue Date: February 8, 2008
Women in dangerous places
'Persepolis' tells of a girl growing up in turbulent Iran; 'Atonement' depicts a tragic misunderstanding; '4 Months' looks a women's lives in communist Romania
By JOSEPH CUNNEEN and KEVIN DOHERTY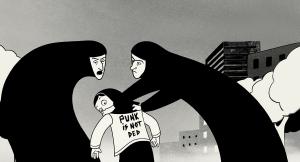 -- Sony Pictures Classic
A scene from "Persepolis"
An adult animated feature is hard to find, but Persepolis (in French, with English subtitles) gives viewers a chance to see a fine adult alternative to this mostly child-driven format.
Based on her graphic novel of the same name, director Marjane Satrapi (assisted by Vincent Paronnaud) presents the tale of a young woman's coming of age in the turbulent Iran of three decades ago. Marjane (voiced by Chiara Mastroianni) is seen initially as a feisty youngster growing up in a middle-class Tehran family with her mother (Catherine Deneuve) just as the Shah is overthrown.
Hope for a free and democratic nation fades quickly, however, as the new regime leads the country into greater and greater repression. The effect on women is especially devastating, suggesting an interplay between world politics and Marjane's awakening from pre-adolescence to young womanhood.
As she grows older, her instinctive rebellion, beginning with black market tapes of Iron Maiden and punk rock jackets, finds her getting into more and more trouble with the ever-present authorities. Fearing for her safety, her parents send her off to school in Vienna, where she enters young adulthood.
After a series of failed relationships, she finds herself desperately alone. But returning to her homeland proves just as difficult; "Persepolis" offers no easy answers or neat conclusions.
The movie's animation style accounts for much of its power. In an age of Pixar/Disney computer graphics, it offers a mostly pen-and-ink comic book look that turns the story's dramatic elements into a moving political cartoon. Particularly striking are images of the brutal eight-year Iran-Iraq war, offered in dark and light schematic sequences, along with the symbolic elimination of those opposing the conflict.
But all the artwork is not grim. The flowers of Marjane's beloved grandmother shower across the screen at the opening and closing of the film, a vision of hope and humanity.
"Persepolis" has been nominated for an Oscar and was successful on the festival circuit. Let us hope these accolades will help it gain a wider distribution, for this is a film that should not be missed.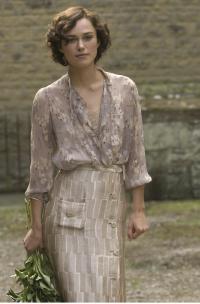 -- CNS/Focus Features
Keira Knightly stars in a scene from the movie "Atonement"
Atonement seems to have all the makings of the best film of the year: a beautiful cast, gorgeous cinematography, some of the appeal of what Hollywood old-timers used to call "a woman's weepy," and the prestige of Ian McEwan's novel, on which it is based. But it is also a reminder of how a cinematic presentation is a very different experience from that of a novel since it is much more limited in time.
The film "Atonement" seems to come in two disjointed parts, each with its own tone, rhythm and landscape. The novel's theme of atonement and its emphasis on class distinctions never comes through, perhaps because there are so many moments of self-conscious filmmaking that draw viewers away from its overall emotional impact.
The initial story begins at an English countryside mansion just before World War II, where the precocious 13-year-old Briony Tallis (played marvelously by Saoirse Ronan) sees things she should not between her older sister, Cecilia (Keira Knightley), and the caretaker's son, Robbie Turner (James McAvoy). Because of Briony's mistaken testimony, Turner is arrested on a sex charge, leading to the breakup of his relationship with her sister.
The second part seems almost like another movie, taking place years later at the beginning of the war, with Turner struggling to survive as part of the retreating English army at Dunkirk. Cecilia is now a nurse in London, and they both promise to keep their love affair going. At the film's end, there is a coda that takes place in the present, in which Briony, now a famous writer, reveals the plot's final twist.
But "Atonement's" cinematic excesses remain especially problematic. A flowing shot of the surreal beach scene at Dunkirk, where the defeated English are trapped, is a five-minute exercise requiring the use of hundreds of extras and the coordination of such disparate actions as killing horses, singing hymns, and drunken solders collapsing in a seaside bar. While powerful in itself, the scene ultimately distracts from the very feelings it is trying to evoke.
In addition, the musical score, which emphasizes the clack-clack of a typewriter (the power of the word is very important in this film), becomes a piano piece that mimics the cadence till it gets on one's nerves. Similarly, after a badly wounded solder mentions Debussy, his subsequent death is followed by a few musical notes of the composer.
Most of the acting in "Atonement," however, is first rate, and its distinctive parts have considerable emotional power, with their suspense intensified by scenes repeated from different points of view. The overall effect, however, remains one of emotional ambivalence. Our experience in viewing "Atonement" fails to find the needed consistency that might have developed its narrative with genuine power.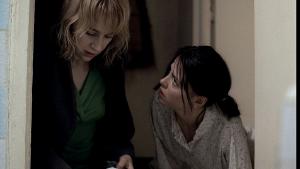 -- IFC Films
Anamaria Marinca and Laura Vasiliu in "4 Months, 3 Weeks and 2 Days"
4 Months, 3 Weeks and 2 Days, a brilliant Romanian film by writer-director Cristian Mungiu, is a relentless observation of two young women students, with Otilia (Anamaria Marinca) helping her insecure roommate Gabita (Laura Vasiliu) get an abortion. The time is 1987, when the procedure was still illegal under the communist regime of Nicolae Ceausescu. A deeply depressing movie, not only in its main action but also in its background scenes, it offers a succession of gloomy city streets, an overcrowded college dorm and a rundown deco hotel.
Gabita had said that she was only two months pregnant, but when the two women meet with the mysterious Mr. Bebe (Vlad Ivanov), who is to perform the abortion, the truth of the movie's title emerges. The students have limited funds, and Bebe, emphasizing the legal dangers to all, exploits the situation cruelly.
Through it all, Otilia remains loyal and unflinching, but when she finally gets away to go to a birthday party for the mother of her boyfriend, Adi (Alex Potocean), for whom she had previously shown affection, she turns on him fiercely and sits frozen in the midst of inane adult conversation.
Director Mungiu builds his film on long takes, his controlled camera constantly following Otilia through the dark streets of the unfriendly town. His young actresses speak their naturalistic dialogue as assuredly as veterans; every detail of their dangerous urban background falls effortlessly into place. "4 Months, 3 Weeks and 2 Days" is hardly an argument for abortion, since Gabita seems to believe there are no alternatives. Bishops, however, might well be encouraged to see the movie, not just for its aesthetic power but to ask themselves if a society in which abortion is illegal offers a genuine solution.
Kevin Doherty (Macguffin1@optonline.net) and Joseph Cunneen (scunn24219@aol.com) share responsibility for NCR movie review hits and misses.
National Catholic Reporter, February 8, 2008