Issue Date: February 8, 2008
A JESUIT OFF-BROADWAY: CENTER STAGE WITH JESUS, JUDAS, AND LIFE'S BIG QUESTIONS
By James Martin
Loyola Press, 272 pages, $22.95
Judas and the priest
An actor and playwright go in search of a theological adviser
Reviewed by RACHELLE LINNER
Jesuit Fr. James Martin, an associate editor at America magazine, is a popular spiritual writer, the author of the award-winning My Life with the Saints. Fr. Martin's conversational, engaging prose seems at first glance an unlikely vehicle for conveying theological ideas, yet this is precisely his gift as a writer.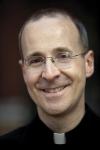 -- CNS
Jesuit Fr.
James Martin
These qualities are amply demonstrated in A Jesuit Off-Broadway, a narrative of Fr. Martin's six-month involvement with the LAByrinth Theater Company's production of Stephen Adly Guirgis' play "The Last Days of Judas Iscariot." The play is cast as a trial to "consider whether or not Judas deserved" his fate, a question the playwright first entertained as a third-grade parochial school student. He believed in a loving God, and the idea that God had consigned Judas to a place called hell "just stopped me in my tracks," the playwright said.
The play begins in Hell, with Judas in a state of almost catatonic despair. In addition to court officers and jurors, the play includes saints and disciples, testimony from Judas' mother, expert witnesses on despair (Mother Teresa and Sigmund Freud) and cross-examination of Caiphas and Pilate to determine responsibility for Jesus' death. Written in "characteristic salty language" and leavened with humor, it was "crafted to lead the audience into meditation upon some timeless questions."
In 2004, Fr. Martin was independently approached by Mr. Guirgis, whom he saw as a "God-haunted" playwright, and Sam Rockwell, the actor cast as Judas, to discuss the issues they would need to understand for the play to be coherent. During the months it was written, cast and rehearsed, Fr. Martin served as an informal theological adviser, educating the company about biblical scholarship and theology.
"As artists have done for centuries, Stephen was aiming to present his own interpretation of the story of Jesus, for his own time," writes Fr. Martin. The effort required that Mr. Guirgis balance historical research, "the artistic need to keep the interest of the audience, and the sordid history of passion plays always lurking in the background."
Fr. Martin intersperses a chronology of the play's development with the topics the cast addressed with passionate immediacy. They needed to know about contemporary understandings of the historical Jesus and his self-perception, the anti-Semitic polemic around his death, early Christological debates, Gnostic writings about Mary Magdalene and Judas, poverty of spirit and the Last Judgment, the nature of grace and redemption and the meaning of the religious despair that gripped Judas.
Fr. Martin's initial involvement grew so that by the time the play was in rehearsals and during its month-long run at New York's Public Theater, he was an enthusiastic participant, chaplain and friend.
"I hadn't sought out the opportunity to work on a play. I hadn't looked for a chance to work with actors. I hadn't expected to use, in this sort of way, all the readings I had done about the historical Jesus. Like many of the great blessings in life, it was unexpected and unmerited. I had encountered what one spiritual writer called the God of surprises," he writes.
Explicitly, A Jesuit Off-Broadway is about the creation and production of a play; implicitly it is a book about vocation. It's evident that Fr. Martin loves being a Jesuit priest. Theater is a challenging vocation too. The book offers a glimpse of its costly asceticism: the lifelong discipline of mastering a craft, a genuine poverty of time and money, and a humility imposed by constant casting calls and opening night reviews.
It may be true that, as the author says, given the lively history of his order "the idea of a Jesuit priest working with an off-Broadway acting company seems relatively tame," but the resulting book is anything but.
It reflects the intellectual and spiritual honesty of "The Last Days of Judas Iscariot" and, in the words of director Philip Seymour Hoffman, its portrait of a powerful "Christ who fought for people with desperate conviction." It was Mr. Hoffman's hope that "the play would make people feel closer to God, and make it easier for them to see things about God, and maybe not be so skeptical." A Jesuit Off-Broadway, informed by the same hope, deserves a wide audience.
Rachelle Linner, a freelance writer and reviewer, lives in Boston.
National Catholic Reporter, February 8, 2008