Issue Date: February 22, 2008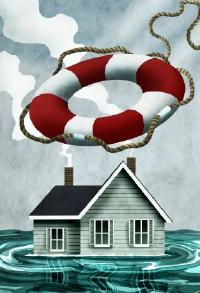 -- Paul Lachine
Subprime loan crisis swamps agencies
Housing advocates scramble to assist clients facing foreclosure
By EILEEN MARKEY
The subprime mortgage crisis plaguing the nation's economy has put extreme pressures on Catholic agencies in many parts of the country, swelling caseloads for counselors scrambling to help borrowers avoid mortgage foreclosures and upgrade financial skills.
Where foreclosures cannot be avoided, groups are helping families find other housing, or seeking creative solutions to keep them in homes they can no longer afford.
Dave Pesch, the housing counseling program manager at Catholic Charities of Erie, Pa., said his staff of four counselors can't keep up with the flood of clients in danger of losing their homes in the wake of the subprime mortgage mess.
"We have counselors working seven days a week," he said. "We are overwhelmed." Pesch's office, like several Catholic Charities affiliates across the country, advises clients on how they can avoid foreclosure and negotiates with homeowners' banks to work out refinancing or payment plans to keep clients in their homes. In some locations, such as Erie and St. Louis, the caseload has doubled or tripled in the past two years. "It's like a ship that starts to take on water."
The Center for Responsible Lending, a nonpartisan research and advocacy organization that has been warning about the dangers of subprime lending for a decade, projects that 2.2 million American families will lose their homes as a result of the debacle. More than 7 million homeowners hold subprime mortgages, and 14 percent of them were in default as of last May, according to the Federal Reserve. That number continues to grow because many of the risky mortgages came with low (below prime) introductory interest rates that are scheduled to reset to usurious levels in the next several months, according to the center's research. It predicts that one in five of the subprime mortgages made in 2005 and 2006 will end in foreclosure once the loan repayments spike to 10, 12 and 14 percent.
Borrowers signed mortgages far beyond their means and bought homes they couldn't afford, believing the housing market would reward them with rising real estate values, and many were steered into mortgages they didn't comprehend by mortgage brokers and real estate agents working together to win larger commissions, according to analysis by the center and other groups studying the crisis. The mortgages were then repackaged and sold to investors. Pension funds, municipal accounts, retirement funds and individual investors all have a sliver of the gamble on those 7.2 million subprime mortgages.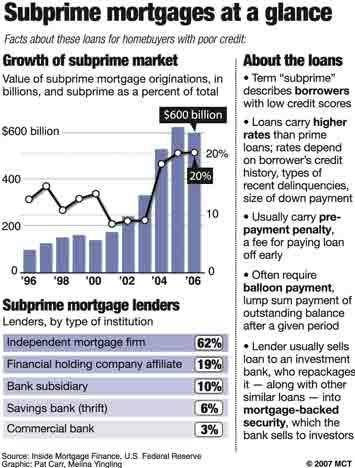 Minorities are feeling the impact the most, housing advocates say, because they hold a disproportionate share of risky, often high-cost, adjustable-rate loans that banks held out as carrots to people eager to own their own homes. According to a recent study by the Boston-based United for a Fair Economy, minorities hold 45 percent of the high-risk loans.
Karen Wallensak, director of the housing resource center for Catholic Charities St. Louis, described the arrangement as a house of cards.
"This has been looming for some time. Many of us in the housing field have been howling about it as long as we can, but of course when there was money to be made no one wanted to do anything about it," she said. "Now the wheels have come off the wagon."
There are 7,000 homes currently in foreclosure in St. Louis County, Wallensak said. "We are getting 150 calls a day from people who are behind on their payments. We can't help everyone."
Wallensak's 10 housing counselors are handling 100 foreclosure prevention cases each, she said. Counselors work with clients to determine whether they should push their bank to reset their mortgage payments to an interest rate they can afford, or whether they need to try to sell their homes.
"We work with the homeowner to identify what is wrong," Wallensak said. "Has there been an illness and lost income, or did the loan reset? We do the individual counseling and then we might work with the family as an advocate to their lender. Dealing with the bank is cumbersome and very time-consuming. We act on their behalf, because these are people maybe who work in a factory or at the drive-through at a fast-food place. They don't have the time to be sitting on the phone arguing with the bank."
Wallensak noted that African-American and working poor neighborhoods are the most affected, with vacant and abandoned houses contributing to blight. "These are neighborhoods that were just starting to pull themselves up, and now they are threatened again," she said. "It's scary."
Wallensak places plenty of blame for the foreclosure crisis on unscrupulous mortgage brokers, but said borrowers share responsibility.
"It took a village to get into this mess," she said. "We live in a society that wants what it wants now." Too many people bought houses they couldn't afford and the banks weren't screening applicants vigorously, she said. "Most of our clients have very misguided ideas of what they are making. They really just don't have a lot of skills in the area of personal finance."
In November, the U.S. Department of Housing and Urban Development awarded a $1 million grant to Catholic Charities USA to fund homebuyer and homeowner education. That grant was divided among 31 local affiliates, from Atlanta and Boston to Minnesota, New Mexico and California. The grant money pays for seminars educating first-time homebuyers on how to shop for a quality mortgage and how to calculate the extra costs of owning a home, and pays for one-on-one mitigation counseling like the kind done by Wallensak and her staff.
The $1 million from HUD is welcome assistance, local Catholic Charities said, but it is a drop in a deep bucket.
"A million dollars sounds like a lot, but it's divided between so many of us," said Kathleen Sinnott, housing counselor for Catholic Charities in Santa Rosa, Calif. Sinnott divides her time between organizing homebuyer seminars, advising foreclosure-threatened clients and advocating for borrowers with the often intransigent customer-service offices of multinational banks.
A variety of proposals for mitigating the crisis have been introduced on Capitol Hill and several have been enacted by individual states. The Bush administration's HOPE program encourages banks to reset the mortgages of certain subprime borrowers, only those less than 60 days behind on their payments, whose adjustable rate mortgages reset before Jan. 1, 2008, and who have decent credit ratings.
On Feb. 12, treasury secretary Henry Paulson announced Project Lifeline, an initiative with six private sector banks that aims to aid homeowners more than 90 days behind on mortgage payments. The plan offers them a 30-day suspension of the foreclosure process.
But Pesch says the crisis is far beyond the scope of voluntary solutions because it was dishonest and lawless behavior that built the house of cards. Pesch has been a major informant in a multiyear FBI investigation into a fraud ring in Erie that manipulated house prices and sold predatory subprime loans to low-income home buyers. One businessman has pleaded guilty and others are under indictment, according to the Erie Times-News.
In La Crosse, Wis., the Franciscan Sisters of Perpetual Adoration are trying to think a step ahead. The rural community already has a paucity of permanent affordable housing, said Sr. Anita Beskar, chairwoman of the La Crosse County Housing Commission, a coalition of organizations that work on homelessness, affordable housing and homeowner education issues.
The commission is developing a community land trust that would purchase homes in foreclosure and keep them in a permanent affordable pool, eventually reselling them to low- and moderate-income families who complete homebuyer education programs with one of the commission's partners. The trust will buy the house and land it sits on out of foreclosure. The homeowner family will remain in the house and pay rent to the trust, eventually buying the house back. However, the trust will continue to own the land beneath the house, which will help keep the price low, Beskar said.
Wallensak's office in St. Louis is applying to the Federal Housing Administration to buy distressed and vacant homes, rehabilitate them and then sell them to families that have completed home-buying and home ownership classes with the agency, she said.
"Once the crisis is resolved we work with the family for a year or longer to help establish a family budget, to teach financial skills and life skills if that's needed," she said. People who complete the training have a much lower rate of foreclosures, she said.
Eileen Markey is a freelance writer who lives in Bronx, N.Y.
National Catholic Reporter, February 22, 2008