Issue Date: February 22, 2008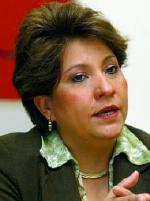 -- La Opinion/Chris Martinez
Janet Murguia
La Raza leader battles 'extremist' rhetoric
By MICHAEL HUMPHREY
Overland Park, Kan.
The immigration debate is a major diversion away from issues on which Hispanics should concentrate their efforts, said the leader of the National Council of La Raza, the nation's largest civil rights group for Latinos.
"When I took this job, I thought I would be talking more about taking advantage of our opportunities rather than defending our civil rights," said Janet Murguia, executive director of La Raza. "We should be talking about housing and personal advancement, building community. Instead we are fighting hate speech and distortions."
But the next time immigration reform arises in legislation, she is issuing fair warning to that vocal minority that derailed the last bipartisan attempt. Murguia says it's time for anti-immigration groups to show their true colors.
"Hate groups and extremists are driving the debate," she said. "We are starting to gather data to show their true nature. The FBI has a file on us, not because they fear us, but because they fear for us. Where I used to receive hate mail, now I receive death threats."
Murguia recently returned to her hometown of Kansas City, Kan., as the keynote speaker for Guilfoil Justice Day, sponsored by the Benedictine Sisters of Atchison, Kan. The event was held at the Church of the Holy Cross in Overland Park, Kan.
Her hometown area is not immune to the rancor of the immigration debate. Last spring, Kansas City, Mo.'s newly elected mayor, Mark Funkhouser, appointed to the city's Parks and Recreation Board Frances Semler, a member of the Minutemen, an anti-immigrant group. Hispanics in the city protested, joined by a diverse set of civil rights and pro-immigrant rights groups.
La Raza had leverage on the matter -- a national convention slated for 2009 that could have brought over $5 million in economic impact to the city. After several attempts to force the mayor to reconsider the appointment, the council pulled the convention in October and recently awarded it to Chicago.
It was not an easy decision for Murguia.
"As a Kansas Citian it hurt me to take that step," she said. "But when it was clear that the mayor had no sensitivity toward the issue -- and that other groups like Urban League and the Southern Christian Leadership Conference were feeling that same disrespect -- we really had no alternative."
Semler has since resigned and has become an icon for the anti-immigration movement. Her supporters argue that she should have the right to serve her community, despite her particular stance on one issue.
But Murguia claims the Minutemen and groups like them are not simply advocates for a certain political position. They are armed vigilantes with discreetly but deeply held prejudices that undermine reasoned debate.
"We've learned that we can document that these groups have ties that are troubling," said Murguia. "We have research that this rhetoric leads to hate crimes and we can show that these so-called expert commentators are actually extremists." She points to the Web site www.wecanstopthehate.org, which offers facts to counter what she claims are the largest distortions.
If such groups can be exposed for what Murguia claims them to be, she believes that cooler heads would negotiate an agreement that satisfies all of the legitimate concerns that arise from immigration.
For instance, La Raza does not oppose stricter enforcement on the border. "We are for securing our borders," she said in response to an audience question about the wall along the southern border. "But we are in favor of using the best available technology to do that. I don't think building a fence is the best use of our resources."
Another hot-button issue -- the one that Murguia says brought down the last reform initiative -- is the matter of amnesty. She says La Raza was willing to compromise by fining undocumented workers and placing them in the back of the line for their path to citizenship. Even this was considered amnesty.
"If anything that allows a path to citizenship is amnesty," she told the audience, "then the only alternative is a mass deportation. And that means tearing families apart, which brings shame upon us all."
Murguia said the story of her parents, who immigrated from Mexico, is the most powerful motivation she has to keep fighting for the dignity of immigrant families. One of seven children, Murguia grew up in a small house in Kansas City, Kan.
"We didn't even have rooms in the house," Murguia said. "They were just spaces set off by sheets and blankets."
But from that family, six of the seven children have postgraduate degrees. Two are judges. Murguia herself once served an adviser to President Clinton.
"For people who say, 'I can never do this, I don't have the money to make something of myself' -- that's a bunch of bunk," Murguia told the audience. "I went from that girl in the little house in Kansas City, Kan., to having an office in the West Wing."
Michael Humphrey is a Kansas City, Mo., freelance writer.
National Catholic Reporter, February 22, 2008