Issue Date: February 22, 2008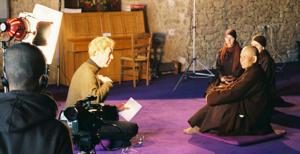 -- Journey Films
Filmmaker Martin Doblemeier interviews Buddhist teacher and author Thich Nhat Hanh, who lives in exile from his native Vietnam in Plum Village, France.
The road to forgiveness
A new documentary looks at how and when people choose to forgive
By LAURA LLOYD
Filmmaker Martin Doblemeier believes that forgiveness can transform the world. His new documentary, "The Power of Forgiveness," which will be shown on public television stations beginning in March, explores that idea through interviews with people who have forgiven those who injured them.
Being able to let go of the bitterness that follows being hurt isn't always easy, of course, whether for individuals or for nations. The difficulty in doing so is demonstrated powerfully on the film's Web site, where Mr. Doblemeier recently posed a question, "How do you feel about a Garden of Forgiveness at Ground Zero?" Such a garden has been suggested by a New York City Episcopal priest, Mr. Doblemeier said.
"In 10 days we had 6,000 hits," Mr. Doblemeier said. "Of the respondents, 97 percent said no to a Garden of Forgiveness and 3 percent said yes. Now, most of the people who go our Web site might be called progressive tree-huggers, faith-in-the-world types. Yet, they were not in favor of a Garden of Forgiveness."
Mr. Doblemeier said America is "an angry culture, angry on the highways, angry in the movies. We're a nation of people who are deeply hurt." Still, in making his film he was able to find a wide array of people here and abroad who are making creative efforts to foster forgiveness.
"Forgiveness is a decision," Mr. Doblemeier said. In other words, people don't have to wait until they feel like forgiving to do so.
A Roman Catholic, Mr. Doblemeier is a veteran maker of documentaries with spiritual themes. The 25 movies he's produced and directed include "Bonhoeffer," a documentary about the well-known German pastor who resisted the Nazis, and "Final Blessing," a film about the spiritual issues of the terminally ill. He decided to explore the topic of forgiveness in a variety of faith traditions and from a scientific perspective as well. He found out that almost all religions teach the importance of forgiveness, and some, like the Amish, make it a cornerstone of their faith. He also found that scientists are discovering that the ability to forgive can confer health benefits such as lower blood pressure and better cardiovascular health.
Forgiveness "is a wonderful virtue in itself and it's also good for our health," Mr. Doblemeier said.
He is happy that acts of forgiveness have health benefits, but he places greater value on the idea that corporate forgiveness can lead to a "transformation of the world." His film focuses on such transforming acts as a school program in Northern Ireland that nurtures nonjudgmental attitudes between Catholics and Protestants and efforts to foster reconciliation between Germans and Jews affected by the Holocaust. These acts, he thinks, have the most power.
"Jesus, when he was on the cross and said, 'Forgive them, they know not what they do,' wasn't forgiving because it was good for his health," Mr. Doblemeier said.
Mr. Doblemeier left out of his film some stunning acts of forgiveness. They include the story of South Africa, where Archbishop Desmond Tutu counseled forgiveness of the white minority that had viciously oppressed the black population, and Pope John Paul II's forgiveness of his unsuccessful assassin and his request for forgiveness from the Jewish people. For centuries, Jews had been persecuted and discriminated against by the Catholic world.
"There are a hundred stories of forgiveness, but, in making the movie fresh, we needed fresh stories," Mr. Doblemeier said. "As for the pope, what he did may have been how a pope should act. We were looking for more ordinary people than extraordinary."
"The Power of Forgiveness" is already being used as a teaching tool. Susan Hendricks, a social worker who leads a group of women in the maximum security Camille Griffin Graham Correctional Institution in Columbia, S.C., has used parts of "The Power of Forgiveness" to encourage discussion about forgiveness -- both of the self and of others. "This film is so important," she said. "It demonstrates to the women through stories how to forgive themselves and how to forgive others. A lot of them don't recognize this, that a lot of times you have to forgive yourself for what you've done."
She added that life in prison, where many of the inmates have life sentences, is a stultifying combination of beige walls and endless rules. "The film is powerful, powerful," she said. "There is so little stimulation for these women and there is so much need for restorative work here."
Journey Films, Mr. Doblemeier's production company, took "The Power of Forgiveness" to 25 special screenings in 2007, including one at a theater in Blacksburg, Va., the home of Virginia Tech, where a student gunned down 32 persons before killing himself, and another at the United Nations. The upcoming broadcast on PBS of "The Power of Forgiveness" is part of a strategy designed to spark conversations at both a national and local level about the ability of forgiveness to alleviate anger and grief. Groups who want to use study material for teaching "The Power of Forgiveness" can download them from the film's Web site at www.journeyfilms.com.
Mr. Doblemeier, who has been present at many of the screenings of the film, often in churches or synagogues, is optimistic that "The Power of Forgiveness" will have a continuing impact on people's lives through workshops and seminars. He has noticed that after the film is shown, people frequently come forward to talk to him. Sometimes they reveal they have been living with guilt and are in need of forgiveness themselves.
"I like the idea that the movie shows it is possible to have a positive resolution to a problem and for people to see others who are able to help," Mr. Doblemeier said.
Laura Lloyd is a Kansas City, Mo., freelance writer.
National Catholic Reporter, February 22, 2008