Issue Date: February 22, 2008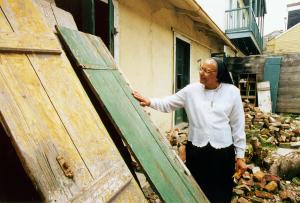 -- CNS/Frank J. Methe
Holy Family Sr. Sylvia Thibodeaux visits the remains of the French Quarter house where Mother Henriette Delille lived as a child in New Orleans.
Daughter of Henriette and Katrina hopes in God
By PATRICIA LEFEVERE
New Orleans
Sr. Sylvia Thibodeaux describes herself as a daughter of Henriette Delille and a daughter of Hurricane Katrina. The slavery of the past and the chaos and dying that swept over this city in 2005 are the bookends supporting a life of many volumes -- as a teacher, principal, civil rights advocate, missionary and congregational leader.
Delille, born a free woman of color in 1813 in a New Orleans family, did the unthinkable, renouncing the role expected for someone of her status -- as mistress of a white man -- and instead founded a religious order of black sisters to educate slave girls as well as care for the poor and elderly.
Thibodeaux joined Delille's Sisters of the Holy Family some 50 years ago and headed the congregation from 1998 to 2006. She credited the nuns with her early education, her father's schooling and the evangelization of many of Louisiana's black Catholic families.
As superior of the congregation in August 2005, Thibodeaux had to evacuate her nuns -- more than half of them elderly -- from New Orleans. Praying that she might summon the courage of Delille, she found herself, cell phone in hand, threatening to call a lawyer when the driver hired by the sisters tried to offload them at the Superdome rather than take them to a place of safety in Shreveport.
Thibodeaux, a tall, bespectacled woman with a low, commanding voice, prevailed. The nuns arrived in Shreveport 14 hours later, a journey that usually took under four hours. It was months before any of them could move back to New Orleans.
Two years later, the city still struggles to stand erect. Only 60 percent of its citizens have returned, largely because Katrina devastated New Orleans' infrastructure. A lack of affordable housing is the main reason so many have stayed away, Thibodeaux told NCR as she rode through the Ninth Ward and other parts of the Crescent City where the sisters have lived and ministered for 165 years.
The tour by car passed public schools that have yet to reopen, and houses along Reyes Avenue, Dale and Dwyer Streets that fringe the sisters' motherhouse, and still bear Katrina's scars. Debris is everywhere. Weeds and shrubs have grown tall and ghostlike, framing the broken windows and doors on abandoned, muddied homes.
"This is worse than parts of Africa I lived in. This is America. America!" exclaimed Thibodeaux, her voice rising. There is still no street lighting in much of the Ninth Ward; nor are there many gas stations or supermarkets -- 29 months after Katrina.
Dark avenues surround the motherhouse on Chef Menteur Boulevard, one of the few beacons of light in the neighborhood. Many of the congregation's 119 sisters -- 60 are still active -- have returned to their renovated headquarters.
Outside its front door Thibodeaux unlocked the FEMA trailer that was her home and office for months after Katrina. Inside the tiny, dim structure, she led the recovery efforts of her congregation, which suffered more than $14 million in losses and still faces civil lawsuits over the deaths of 14 residents of its Lafon Nursing Facility.
In November she and four other sisters moved to a refurbished home close to the Archdiocesan Center. "We work long hours. We need to put our feet up when we come home," she said, lounging in one of the new recliners that grace the living room.
At age 71, when most nuns retire or at least contemplate it, Thibodeaux has been asked to direct the archdiocese's Department of Religious, where she serves as liaison between Archbishop Alfred Hughes and the 730 religious order priests, brothers and nuns residing in the archdiocese.
A typical day for Thibodeaux involves meeting with small congregations "that are on the edge of existence. I try to keep them hopeful, but they're losing members and a way of living they've known all their adult life," she said.
No despair
In the wake of what Thibodeaux called "the worst natural disaster in U.S. history," she has had to face the reality that "congregations are dying." For her own Holy Family sisters, whose average member is in her mid-70s, the end could arrive as early as 2014, when it is estimated there will be no more active sisters.
Despite the paucity of new vocations and the aging and dying of members in all orders, Thibodeaux is not wringing her hands in despair. "Katrina has forced us to think about refounding, reconfiguration and reorganizing how we live as religious." Merging with another group might be possible, though she acknowledged the challenge involved, given the culture and history of her congregation. "We have so much to offer, so much to share that I think it's worth exploring."
Thibodeaux took hope too from having seen new groups begin. In 1973 the bishop of Benin, Nigeria, asked her to cofound an order of indigenous sisters whose families had been enemies in the Biafran civil war. She has had time to reflect on the life cycle of religious institutes after spending almost two decades in Africa, much of it in formation work with the Sisters of the Sacred Heart of Jesus -- who today number some 100 teachers, nurses, lawyers and administrators.
"We come into being. There is a period of expansion. In response to God's call, we develop ministries. When we have finished our task, we decline."
What Katrina did was "tickle us into thinking about how we continue what Henriette Delille intended. How do we respond to the needs of the poor and elderly?" she asked, especially now that "Katrina has resurfaced the poorest of the poor." Lately the sisters have aided the homeless in city parks and those living under the Claibourne Bridge.
The Holy Family sisters cannot isolate themselves and just care for their sick and aged, she said. "We must be creative and reinvite women and men who believe in our mission and our charism. We must have them walk with us and continue our work."
She felt those most likely to respond to the ministries of education and care for the African-American poor would be the graduates of St. Mary's Academy, a school run by the Holy Family Sisters that has produced Catholic and civic black leaders.
But the nun saw the church failing many African-American youngsters. "There's no affirmative action for black kids in Catholic schools in Louisiana. If you can't play basketball or help the school make money, it's very hard to get into a Catholic high school," she said.
Racism's different face
Racism "has a different face" and is less overt than it was during Thibodeaux's youth in the 1940s. She recalled being asked in the second grade to take a medal to the white church to have it blessed by the local priest. The nun who answered the door made Thibodeaux drop the medal into the white sister's palm so "she would not have to touch my hand." As a child of 7, "I may not have understood the gesture fully, but it stayed with me."
Once when she visited her family in Breaux Bridge, La., as a young novice and took one of her siblings to Mass at the white church, her father received a call informing him: "Your children were at church this morning." He knew what the call meant, she added.
Today indifference has replaced bolder forms of racism, she said. "I see it most in the services the church no longer makes available to black people," chiefly in education.
The consortiums of Catholic schools, begun in Louisiana since the 1960s, are being abandoned, she said. "Yet education has got to be for the long haul. Otherwise we're all going to pay for the 'mis-education' of black youth," Thibodeaux warned. "We'll pay in crime, unemployment, drugs, a poor workforce and medical problems.
She thought the decline in vocations has gone "hand in hand" with cuts in Catholic education for blacks and the poor. "Our sisters, whatever mistakes they made, were, and still are, the face of the church." Although she admires "the dedicated people running our schools ... money shouldn't be the criteria for everything, neither should be religion."
Thibodeaux said she hopes that Archbishop Hughes' recent pastoral on racial harmony would help all New Orleans Catholics understand that everyone deserves a decent place to live, three meals a day and good schooling. Hughes has initiated a pastoral plan of action designed to address and extinguish racial disharmony in New Orleans.
His pastoral speaks of the heroism of the city's own Henriette Delille, in whom personal faith and social concern converged. In June Hughes hopes to hand Pope Benedict XVI the positio detailing Delille's life, work and virtues, a major step toward her beatification.
Yes, Delille is a challenging role model, Thibodeaux said as she walked the lobby and outdoor terrace of the Bourbon Orleans Hotel, where once cotillion balls were held, where Delille instructed slaves and Thibodeaux trained as a nun.
"The church proceeds so cautiously," she mused. Too often it "accommodates" rather than leads. "We're afraid to lose the contributions of the rich. Yet Mother Delille did things that were so radical in her day. She did it very covertly, quietly," said Thibodeaux. "I don't know if I have the same kind of courage."
Those who witnessed Thibodeaux's transformative work during the civil rights era and in Nigeria and those who got safely out of New Orleans under her guidance recalled that the prayer of Delille was never far from her lips. Thibodeaux recited it as she tussled with the driver at the Superdome, and daily in the weeks after the storm upended the lives of all in the city:
"I believe in God. I hope in God. I love. I want to live and die for God."
She also drew strength from hundreds of other nuns, college students and volunteers who provided financial and spiritual gifts and hours of labor to the sisters.
As someone who has known what it felt like to sit in the back of the bus, to not be able to eat in restaurants, stay in hotels or attend colleges -- even 100 years after Delille's death -- Thibodeaux smiled broadly when asked if any good came out of Katrina's fury.
The storm revealed "our common humanity, our compassion and generosity," she said.
Patricia Lefevere is a longtime contributor to NCR.
National Catholic Reporter, February 22, 2008